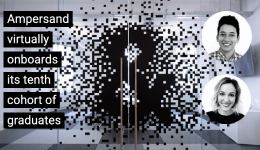 Ampersand has just onboarded it's tenth cohort of graduate developers onto its industry-leading junior talent programme. Hands on and fast-paced, graduates work closely with senior members of the development team to solve technical challenges early on in the programme, working on client projects after just three months of training.
Cris Quiroz joined Ampersand as a graduate in 2012. He now heads up the development team and the junior talent programme.
Cris, Head of Development
"We do things differently at Ampersand. We've moved away from traditional re-platforms, and instead deliver ecommerce projects via our Accelerator, which offers our customers a complete, scalable ecommerce solution in as little as 90 days. This means our developers - including our junior developers - work on faster, more frequent deployments, enjoy an increased variety of project work and take ownership of the complete project lifecycle."
Like many businesses across the city, Ampersand is having to rethink how and where they work.
Avery Kiesling, HR and Talent Manager
"Ampersand is now a hybrid agency, meaning that people can work at home or at the office, but we're making sure that our processes and communication are set-up for remote ways of working first. This model offers total flexibility for everyone, while fully leveraging the technology we already had at our disposal. Additionally, we're obviously introducing measures to ensure our office space is Covid-safe. We're doing everything we can to make all of our employees, including our new graduates, feel supported, safe and able to work where they want to work."
However, this meant that the ecommerce agency had to rethink aspects of the junior talent programme to make sure the class of 2020 enjoyed the same level of value as their predecessors.
"Part of that rethink has been the introduction of a structured mentoring scheme. Mentors will be on a two-week rotation where they will have dedicated pair programming sessions, daily stand-ups and code reviews. The goals of the mentor scheme are to create more meaningful, face-to-face time with senior members of the team, while also providing an opportunity to develop our future leaders, as the business continues to grow.
Cris
"A number of us on the senior team came into the agency via the junior talent programme. A lot of our graduates stay, progress and go on to mentor junior members of the team and influence decision-making at a strategic level, across the agency."
Ampersand is also responding to recent shifts in the recruitment landscape by widening the programme to attract early career professionals.
"The programme isn't just for graduates but also for early career professionals who want to upskill or retrain. You need to have some experience of programming, obviously that can be from your degree, but also from a stand-alone course, your work experience, or if you've been coding as a hobby at home. Above all, we're looking for developers who are passionate about technology, beautiful code and making stuff work."
Ampersand's 2021 junior talent programme is now open for applications. And for any budding front-end developers out there, watch this space, and keep your eyes peeled for exciting announcements in the spring.
Ampersand is growing. To view all of their current vacancies, visit their Careers page. Or, if you prefer, get in touch with Avery at ak@amp.co to find out more.