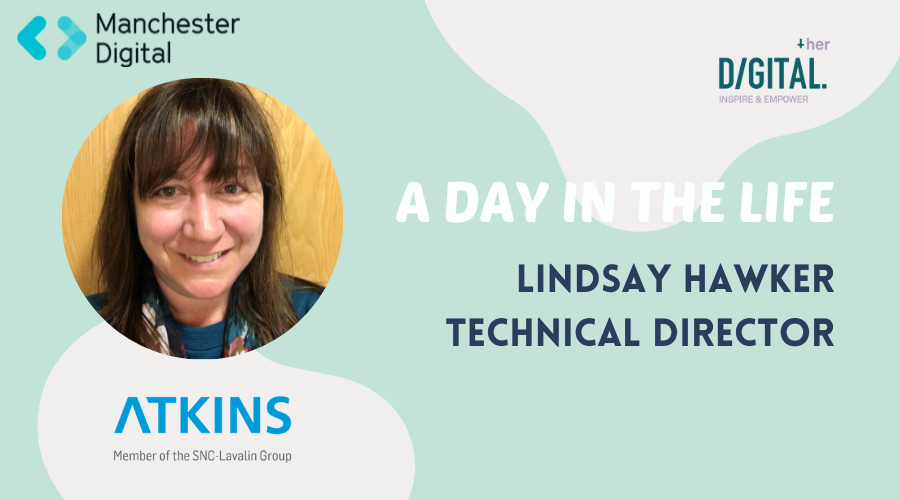 Lindsay Hawker, Technical Director
Ever wondered what it's like to work at one of Greater Manchester's leading tech employers or what specific job roles get up to each day?
Lindsay Hawker is a Technical Director at AtkinsRéalis.
We spoke to her to find out more about this role, her experience at AtkinsRéalis, and what an average day looks like.
Name: Lindsay Hawker
Job Title: Technical Director, AtkinsRéalis
Time in the role: 1 year
The demand for cyber security and technology-focused professionals is continually increasing, yet many organisations are struggling to fill vacancies. A lack of diversity exacerbates the perceived 'skills gap', resulting in the absence or insufficient representation of certain core competences. With female representation at only 28% in the digital sector, it's apparent that more needs to be done to attract underrepresented talent to these exciting, fast-paced sectors.
A 2017 Raytheon study found that 47% of individuals surveyed said that their interest in cyber security could be increased through more information about what the job might entail. With a view to sharing experiences, I recently chatted with AtkinsRéalis' Technical Director, Lindsay Hawker, to learn about how she found her way into the Tech industry and discover her advice for anyone looking to pursue a career in Tech.
1. Thank you for joining me today, Lindsay. Could you share your experience of how you got into Tech?
When I left school, I started my career as a Clerical Assistant and worked my way up over four years to become a Leisure Officer for a District Council running a sports grant scheme. I could do my job with my eyes closed and decided I needed to challenge myself a bit more so…. I joined the Army as a Radio Technician! As my career progressed, I moved into Systems Engineering and eventually completed an MSc in Cyber Defence and Information Assurance.
2. What excites you the most about working in Tech?
When I was younger, I remember my parents saying: 'we didn't have anything like this in our day'. The world we live in is changing at such a pace it is difficult to predict what it will look in years to come. What is certain, is that I will be saying something similar to my children as my parents once said to me.
There are infinite opportunities working in technology, from advancing medical science, to helping our environment, to having an impact on how people live their day to day lives. Whatever interests you as an individual, technology can play a part and that is what excites me. You can either be an observer of change or you can be part of the revolution!
3. What do you enjoy most about your current role?
Clients can have a vision but not know what that looks like in reality or how to achieve it. As a Technical Director I often get to help unpick that and go on the journey with them. It is really rewarding to create teams and be part of collaborative environments where ideas and designs come together. It is even more rewarding to see the outcome of what might have originally started as a simple idea or brainstorming session.
4. What does a typical day look like for you?
I currently work on developing an Artificial Intelligence (AI) strategy for a Client. A typical day will start with a stand-up where everyone in the Team will discuss what they are doing. I might attend a strategy workshop or look at defining objectives and key results to ensure we know how we can demonstrate value from the work we do. I might have a back log review to see if I can link identified opportunities to strategic themes, or prepare a brief or presentation. I may have several meetings in a day ranging from engagement with clients, building relationships with delivery teams and engaging with industry. Attending meetings are definitely a key part of my day! Resources in technology roles, particularly Data Science and AI are extremely limited. It is important to spend time building relationships and understanding my stakeholders if I am to successfully develop and implement a strategy with the time and resources I have available.
5. How does your current role vary from previous roles you've undertaken?
Whilst I have had a number of different roles working in technology from system engineering to project management, I think the core principles are very much the same. You need to start with a clear vision of what you want to achieve, you need a strategy for how you want to achieve it, and you need a team to help you deliver it.
6. What would be your main piece of advice for someone looking to pursue a career or energise their career in Digital, Tech or Cyber?
It very much depends on the area you are interested in, but if you are at the beginning of your career the first thing I would suggest is to look at emerging technologies and what is happening around you. As technology advances there is going to be more and more data and we need to know what to do with it: how we use it, how we store it, how we protect it. Tomorrow's technology will soon become today's and when it arrives companies will be looking to recruit people with the knowledge, skills, and expertise to keep them competitive.
You could start by looking at some of the National Strategies that have been published which you can find on the www.gov.uk website, such as the National Data Strategy, National Infrastructure Strategy and National AI Strategy, and identify common themes or areas of interest. You could also look at national institutes such as the Alan Turing Institute for data science and artificial intelligence, which regularly holds webinars and events. Most importantly, build a network with others that have similar interests and start to knowledge share, you never know who holds the key to your dream job!