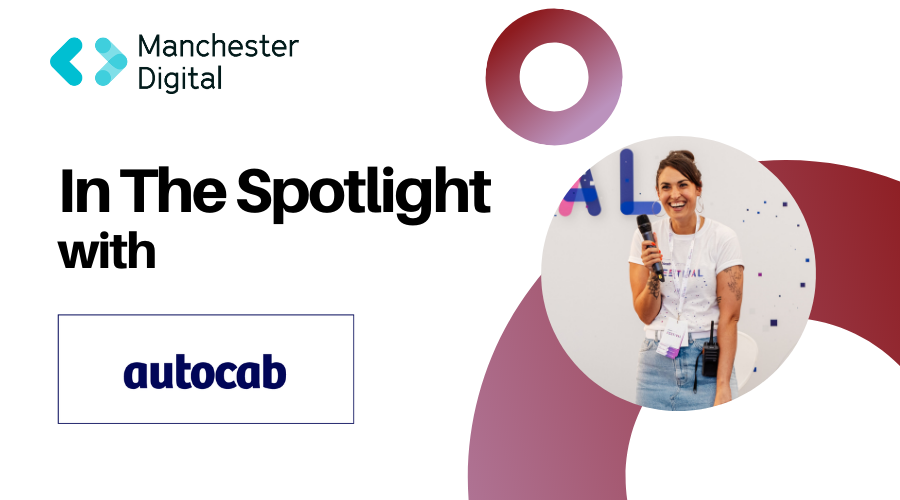 At Manchester Digital we like to interview our members to find out a bit more about what they do and their work in the Greater Manchester digital and technology sphere. This week we're speaking with Lucy Sunner, Head of Culture at Autocab, provider of booking & dispatch technology to the taxi and private hire industry.
What does your organisation do?
Autocab is an award-winning technology business supplying software as a service (SaaS) solutions, primarily to the private hire and taxi industry. Headquartered in Cheadle, Greater Manchester, it operates in over 30 countries around the world and employs 150 people.
Its booking and dispatch technology is used by customers for more than one million 'trips' each day, while the iGo network enables taxi and private hire operators to pass work to other firms and fulfil trips referred by 3rd-parties. This helps to meet passenger demand and means customers can use their local taxi firm's passenger app to book taxis across 90% of the UK.
iGo also acts as a key facilitator for the business travel industry, bringing together fragmented sources of supply and demand in a single platform.
Autocab's other offering is its Delivery Point app, which helps taxi firms connect with local businesses, such as takeaways and retailers, to offer a delivery service.
Uber acquired Autocab in 2021, and the Uber app will integrate with the iGo network. The two technology companies are working together on the pilot of Local Cab, which connects riders who use the Uber app directly with local taxi and private hire operators.
What do you think is currently the biggest issue facing the tech industry?
Recruitment. The entire industry in facing a crisis when it comes to the number of open roles they have and the number of strong candidates available on the market. This is leading to some fantastic salaries/packages for those already in the sector and it's creating a 'revolving door' situation with in-demand staff jumping from role to role – but it doesn't address the shortfall. Tech companies, educational institutions, as well as local and central government are going to have to work together better to tackle the skills gap. As an industry we need to consider offering (and supporting) additional training for employees looking to move into a more technical role and the wide-spread adoption of apprenticeship schemes to ensure the next generation of technical staff are building up experience and contributing to this growth.
What is your organisation's biggest achievement?
Our biggest achievement is our Local Cab launch, which enables passengers in areas across the UK to book a trip with a local taxi company via the Uber app. Local Cab is now live in over 22 locations across the UK including Oxford, Exeter, Bedford, Blackburn, Stockton-upon-Tees, Stranraer and many more.
Anyone opening the Uber app in these areas will see the 'Local Cab' option which will connect passengers to local taxi firms. Users will have to download the latest version of the app to be able to see the Local Cab product.
To meet this demand and enable use of the app beyond the 40 towns and cities Uber currently operates in in the UK, Uber is looking to work with local operators across the country, which is enabled through Autocab's iGo technology.
More recently, Local Cab launched in Edinburgh, with Uber partnering with a locally licensed operator to meet the 'high' level of demand for cabs in Edinburgh. Passengers in the city can now connect with Capital Cars on Uber - the only taxi firm involved in the Edinburgh partnership. The Local Cab option will appear when booking a ride alongside other choices including UberX, Exec, Comfort and Lux.
This has been a great achievement for the industry as a whole; helping generate incremental trips, creating additional revenue for your existing drivers and enabling recruitment of new drivers to handle demand.
What would you consider to be your organisation's biggest challenge?
One of the biggest challenges facing the industry is driver shortages. Taxi and private hire firms are currently experiencing a staggering 40% shortfall in driver numbers as demand on local operators increases across the UK.
With a significant amount of work lost during the pandemic, many drivers have made the switch to other industries, leaving a huge gap in the taxi and private hire industry. And with some firms getting close to pre-pandemic levels, it's been difficult for the industry to fulfil the demand.
To help with this, we have created a series of e-books and guides to help tackle driver shortages and increase driver recruitment, and we continue to focus our strategy on improving this ongoing issue.
What do you think the future looks like for Manchester's tech sector?
Incredibly bright. Start-ups are launching every week and already established companies are growing – the net result of which is that there has never been a better time to be part of Manchester's tech sector – which is no longer 'London's northern sibling' but a destination made up of a buoyant, innovative and globally-recognised companies that are changing the world.
Tell us something that we might not know about your company?
Although now acquired by Uber, Autocab started as a family-owned business and still has family members working at the business today!
Autocab's founder, Dr. Falah Abod, was a computer scientist with a vision to transform the transportation industry and 30 years ago sought about creating a new product to simplify the dispatch process.
Over a weekend, Dr. Abod designed a prototype system and began selling the kit out of the back of his garage. With a system more advanced than anything on the market, the hardware-based solution incorporated data terminals in taxis to connect the driver to the office and the business quickly took off.
The innovative solution Falah created to help the taxi industry, and businesses grow, has left a lasting legacy that still informs how we operate the business today.
Thank you Lucy!
To find out more about Autocab, click here.
Want to raise your business's profile? If you're a member, contact thom@manchesterdigital.com to discuss featuring your content on our site, social media or newsletter. If you're not a member, get in touch today to discuss the benefits of membership.