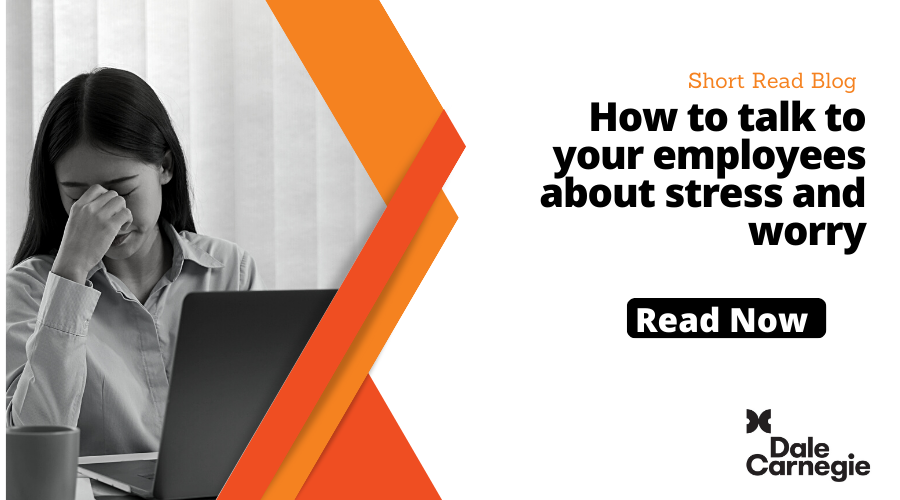 Much of the country is suffering from escalating levels of worry and anxiety due to external environmental factors – political, economic, and ecologic – along with the impact of rising inflation rates and the cost of living. People are feeling insecure about fuel, food, and energy costs with the very real prospect that it's only going to get worse. Whilst in the past, there was an expectation that people would leave personal problems and concerns at home, it is now widely accepted that this isn't possible – compounded by the fact we've been working from home for so long. There has been a natural collision of both these worlds, and it is now hard to separate them.
Evidence has shown that stress and worry in our personal lives impact our work quality and level of performance. As leaders, we therefore need to acknowledge, take interest and be empathetic to our colleagues' concerns and worries, particularly in the current economic climate. Leadership should be exploring what support they can provide. Many managers, however, don't do this because they believe they lack the resources or influence to do something. In the first instance, it's about opening the conversation and how to have those discussions.
Causes of stress and worry
We know historically that there are multiple causes of stress for employees, such as:
Pressure of deadlines
A lack of confidence
Burnout
Job insecurity
Changes in a job role
Work-life balance not right
The cost of living has without a doubt now joined the group of issues that cause stress. In an article by Deloitte that looks at cross-generational concerns, the cost of living, burnout and pay are all high on workers' agendas:
"For the first time in the history of Deloitte's Gen Z and Millennial Survey, now in its eleventh year, cost of living has emerged as the top concern."
Fears around the cost of living have overtaken climate change worries which came out top of the survey in the previous year. Whilst the data also showed an inevitable desire for a greater salary, it is too simplistic for businesses to think upping salary will be enough as there are layers to the concerns. Oftentimes, colleagues aren't looking for a pay rise to help alleviate the stress of increased bills; just some understanding and emotional support. A conversation about stress and worry should consider the whole picture; home life alongside ways of working including hybrid working.
Research shows hybrid working can be exhausting
Research by Deloitte, that surveyed everyone from from baby boomers to millennials made one thing clear, no one wants a long, arduous, and costly commute anymore. The shift to hybrid working has brought significant benefits for all:
improved work-life balance for 62% of American hybrid workers
improve productivity at home (48%)
better overall personal wellness (46%)
greater productivity at work (45%)
However, as hybrid working becomes more permanent, emerging data shows it can be emotionally exhausting. A recent report by the BBC, said,
"In a global study by employee engagement platform Tinypulse, more than 80% of people leaders reported that such a set-up was exhausting for employees. Workers, too, reported hybrid was more emotionally taxing than fully remote arrangements – and, concerningly, even full-time office-based work."
This research reinforce the need for leaders to engage with their employees, and to have conversations about individuals' personal circumstancess. Its findings on hybrid working clearly support the argument that there are layers to concerns and worries.
When individuals feel happy, there are clearly huge benefits both at work and home. Conversations therefore must take place with employees about stress and worry. The challenge is to identify the best way to facilitate such conversations, and develop some positive and proactive strategies to help ease individual's minds. We also need to accept that whilst some of the causes of stress and worry are taking place outside of work, the lines are blurred now, and the ramifications of stress and worry impact the health and productivity of employees.

Encourage your team to take their paid time off. We all know the value of time off when feeling stressed and overworked. Holidays can give us the rest we need, and the headspace required to deal with worries and overwhelm.
Ensuring our leaders practice empathy and have some understanding of colleagues' situations is clearly about recognising and understanding another human being is in distress.
Check in regularly – hybrid work has lessened human connection. When we were in the office, more informal conversations and non-verbal signs such as body language gave us a better understanding of how our teams and colleagues were feeling. Online calls aren't really the same, especially when the camera is off.
Block out diary time to check in on the phone with your team members individually and don't make it about work. Make it a 'catch-up call', about what's going on with them, just like you'd chat over lunch or at the water cooler. Doing regular check-ins even when there aren't any obvious concerns arounf your people will make you better aware if there is a problem.
Keep the workday at work– technology can be a blessing or a curse. The ability to be connected 24/7 means that many employees never actually 'switch off', with 57% of people checking their emails in bed and 79% when they're on holiday. Ensure your people know that they are not expected to be constantly available and that their 'free time' is important and to be protected.
Take a Mental First Aid Course – every organisation no matter its size is obliged to have someone in charge of physical first aid, and whilst the same rules do not currently apply to mental health, the risk to your business of someone becoming ill because of mental health problems is just as high. (Stress accounts for 37% of all work-related ill health). In fact, a study by Deloitte showed that for £1 spent on mental health support, employers could expect about £5 in return.
Underpinning all of this is clear company culture and stated policies around mental health support,
Create a psychologically safe environment that promotes conversation
In the first instance, business leaders must value employee engagement as there is much evidence showing the benefits of daily engagement for performance and managing issues. There is another big factor at play that drives this and that is the culture and environment of a business. To start conversations around stress and worry and for employees to feel they can express this, the workplace environment must have a feeling of psychological safety. Psychological safety in the workplace is,
the feeling of safety and security founded on trust and respect in the workplace" alongside "the confidence that candour and vulnerability are welcome."
Sometimes, just listening and lending some supportive words helps. Other times, lending experience and advice can make all the difference. But without psychologically safe spaces in the workplace, conversations cannot begin and therefore implementing strategies to combat stress and worry before it impacts health and productivity will be challenging.
More Resources
Download – tips from the book, 'How to Stop Worrying and Stop Living, in Dale Carnegie's Golden Book
Read (short blog) – Promoting employee engagement and mental health at the workplace.