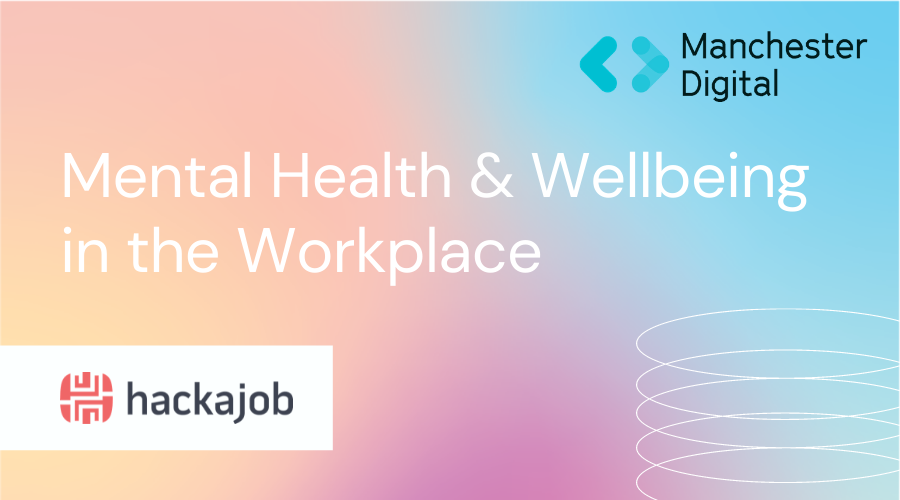 Manchester Digital are marketing Mental Health Awareness Week 2021 (10th - 16th May) by highlighting some of the fantastic work being doing by the North West's digital and tech businesses.
We caught up with tech talent specialists hackajob to find out how they support their employees, what initiatives they've put in place and how successful they've been.
How does your business go about supporting your employee's mental health and promoting wellbeing?
At hackajob, employee health and wellbeing is paramount. Something that some of our teams have implemented is a 'walking stand up' where instead of sitting on Zoom and chatting through team priorities, teams go outside walk whilst discussing tasks with one another. We're also encouraged to down tools and take a break whenever needed. We've also been given an additional paid day off, called 'the annual hackajob bank holiday' where we were all given extra time to unwind and relax after a year of working from home.
We're also going to be undertaking some mindfulness sessions which are available to all employees – we can't wait to get started!
Are there any measures that you have put in place over the past year in order to protect and support your employee's mental health following the move to remote working?
Our Co-Founder & CEO, Mark, is passionate about employee mental health. At hackajob, we're encouraged to put time in his diary if we'd like to talk to him about anything at all and our Head of HR and Operations, Elena, is also on-hand whenever we need. We've also been sent gifts and treats in order keep morale high. We've also implemented several virtual social clubs, including an exercise club. We have a hackajob step count competition on Strava which is fantastic!
Do you use any specific tools, platforms or software in order to support and promote mental health and wellbeing, and how successful have you found them?
We receive daily reminders messages via Slack in order to try a new app or listen to a piece of relaxing music or try a new exercise class. These little reminders help to cut through the noise and encourage you to take a step back from work.
What support is available to your employees who may be struggling?
Our CEO is incredibly supportive and offers one-on-one sessions with anyone who'd like to chat to him about anything – work or personal. We have weekly 1-2-1's with our line managers (as well as daily check-ins).
Are there any ways that your company culture encourages healthy habits amongst your workforce?
When in the office, healthy breakfasts are part of the agenda and are provided, completely free of charge, to all employees.
As well as this, we have the hackajob fitness club where we are encouraged to keep fit with any activities that we personally choose to do.
What initiatives or perks are available to your employees, and how important do you think these are in the promotion of mental wellbeing?
We can order our own ergonomic furniture for our remote working and we're also able to work remotely from anywhere in the world for 2 months of the year.
How do you ensure your employees achieve a healthy work/life balance?
We have weekly virtual coffee dates with employees across the organisation, as well as regular check-ins with our CEO.
How do you measure the success of mental health or wellbeing programmes?
We ask for regular feedback from employees – this is both available anonymised and face-to-face. We implement changes whenever they are needed – this is really important to us.
What differences have you seen since implementing workplace wellbeing initiatives (e.g. performance, staff feedback, employee retention, satisfaction scores etc)?
We have an informal approach to staff wellbeing, however we have seen performance go through the roof as a result of working from home and us implementing more flexible changes. At hackajob, we haven't really been affected by the pandemic and our sales have certainly increased! Satisfaction scores have also risen.
What advice would you have for startups or small businesses who may not have any mechanisms in place currently to support their employees?
Encourage your employees to down tools, get outside and get some fresh air – this is more important than you may think. Other than this, don't forget to thank your teams as they have been working for you throughout a global pandemic – not a mean feat. Remember to organise check-ins, socials, activities and make sure that everyone is included.
To find out more about hackajob, click here.
If you're a Manchester Digital member and would like to share your organisation's approach to mental health & wellbeing, or would like to take part in future features, please email thom@manchesterdigital.com.