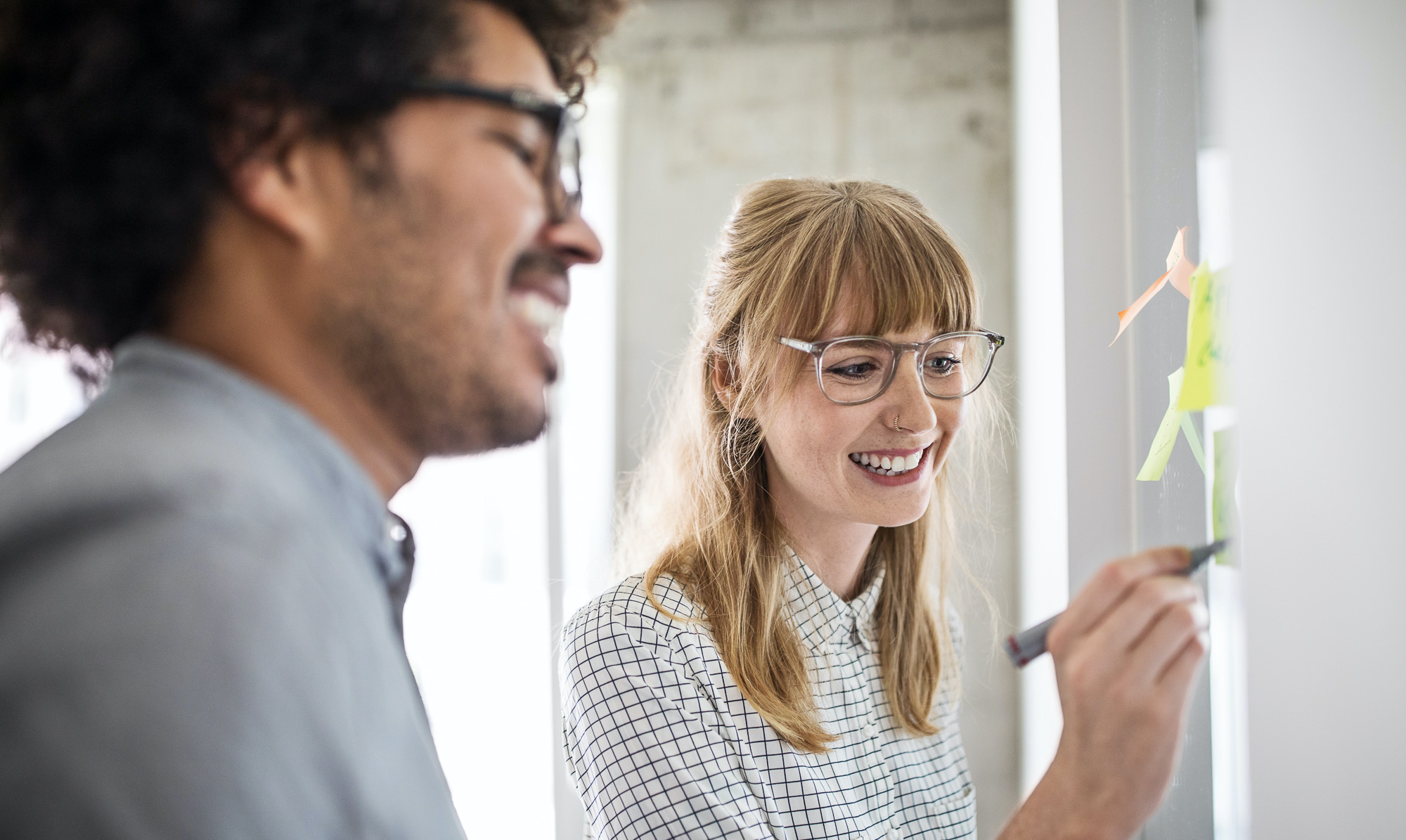 Principal Project Manager Caz has always been interested in mental health. With regular check-ins more relevant than ever, she shares her experience and best practices on how to collect, understand and action relevant insights to support the team's mental wellbeing.
Over the past year, our project teams across the world have mostly (if not fully) been working from home. Many of us have witnessed the new challenges that the remote set-up has imposed on our mental wellbeing and a team's ability to collaborate and bond.
Principal Project Manager Caz has always been fascinated by psychology and human behaviour. Measuring and tracking a team's overall health is something she has done for some time. And with the pandemic bringing increased focus to the mental health aspects, she feels that now more than ever, regular check-ins could make a real difference.
Measuring team happiness and mental wellbeing – where to start?
The concept of measuring team happiness isn't new for Caz. "It's something I found quite useful in my previous role as an Agile Coach where I'd started taking the team temperature on questions such as 'How useful was today?' on a scale from 1-5 in a quick anonymous poll", Caz says.
This was a great way to capture how engaged people were with the session. What it didn't tell her is the why and how she could improve future sessions.
From measuring engagement, Caz went on to measure the team's happiness, but found that the insights she got were limited. "Measuring one's happiness isn't necessarily going to give me a helpful view on their happiness in the workplace. There are many external factors that have an impact on people's happiness", she says.
To get down to the relevant insights, Caz has identified the following key considerations:
Identifying the right questions by understanding your target condition
Firstly, ask the right questions. Thinking of the target conditions, or what you want in a working environment, is key to derive relevant questions to help understand the state of the team.
"Whenever possible, it's worth defining a set of key target conditions together with the team to help avoid invoking your own bias on the questions", Caz says. "It's very easy to write leading questions when you think (consciously or unconsciously), you know what the team's problem is. But the danger here is that you may miss the mark and the team can't tell you what the actual problem is."
Possible target conditions may be: Team members…
understand the team's mission/vision/goal
believe in the team's mission/vision/goal
understand their role in the mission/vision/goal
feel that the goal is achievable
feel that they are adding value
feel that their contribution is valued

feel that they are heard
feel connected within the team
feel that they're working at a sustainable pace
feel comfortable to challenge others
feel that they have autonomy
are motivated for week ahead
Consistency is key in identifying trends as they emerge
Secondly, ask the questions regularly. Team health and mental wellbeing is something dynamic and may change quickly as expectations, project stages or stakeholders change. Identifying trends early is crucial as it may help recognise a change in the team's morale as it emerges.
This helps backtrack what triggered it and explore options to reverse a negative trend or build momentum around a positive trend. It further helps establish intelligence on triggers and the effectiveness of certain measures for the future.
Therefore, Caz is looking to run the survey at least monthly – she prefers fortnightly though.
The secret to a high response rate: accessibility and anonymity
A high response rate is key in measuring team health. Therefore, Caz wants her survey to be anonymous and as quick and easy as possible to fill in. "I keep this short and snappy – you don't want anyone spending more than two minutes on this", she says.
Caz uses SurveyMonkey to build her surveys. "The tool gives me what I need and indicates the forecasted time to fill out the survey", she says. She can also conveniently paste the link in the meeting chat at the beginning or end of a meeting. Filling out the survey as a part of a meeting can help bump up the response rate.
Analysing, discussing and actioning insights
Nothing kills engagement like asking people how they are and then not caring about their response. "I can't overstress this; don't ask about team health if you're not going to do something about it", Caz says. Therefore, she always discusses the results in a retrospective or team meeting and tracks any interventions she makes on the project so she can retrospectively get a feel for whether the action had any impact.
To make the results easy to analyse, Caz often uses single choice response options, taking out the middle ground so that people really need to explore their feelings in relation to a statement – there is no option to "neither agree or disagree".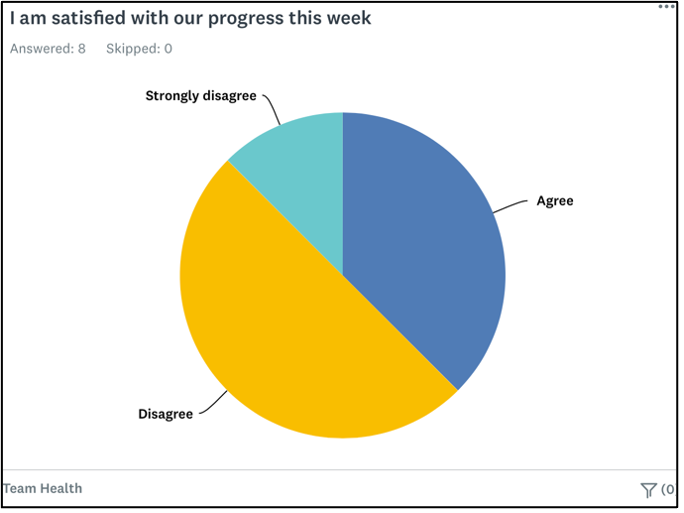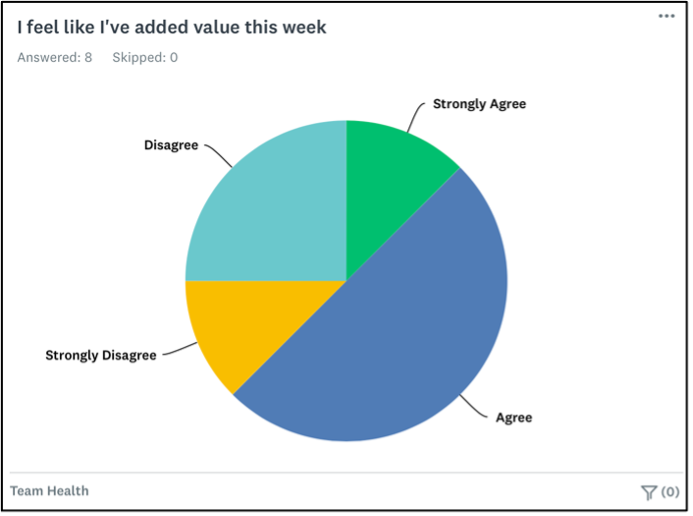 Caz remembers a situation where she got worried amid plummeting scores for the statement "I feel listened to" after some decisions had been made on a project. She put the team health scores in front of the team and asked them to be brave and share how they felt. "It's miraculous how one person speaking out can unblock the group's collective voice", Caz says.
The facilitator may need to be prepared to ride out an uncomfortable silence at first, but the discussion that followed revealed incredibly valuable insights. In this case it turned out that the team leadership had tried to protect the team from some noise and ended up masking important context the team needed to see the bigger picture.
"Just being able to have that conversation with the team and explain the reasoning, allowed the team to question and understand it", Caz remembers. "Within a month, the score had shifted back to positive."
Now, more than ever, is the time to implement team health indexing
Since joining Zuhlke, Caz feels that team health indexing has become more useful and important to improve the mental health of the teams. With the impact of Covid and because we're not seeing each other at the office every day, we've become a lot more mindful of mental wellbeing implications and need to go the extra mile to ensure that everyone on the team feels empowered and valued.
The best way to start is to just dive in. So, if you're interested in team health, why not put something together and poll your team about how they're feeling in relation to work right now?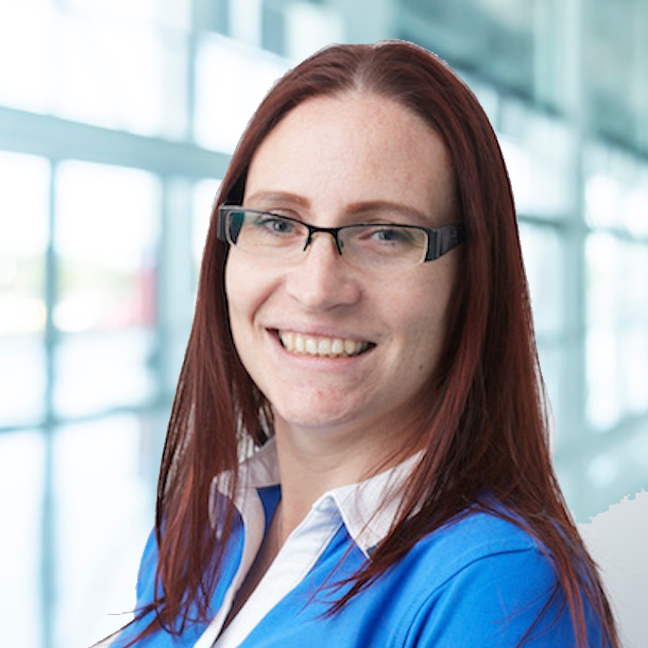 Caz Farrell, Principal Agile Project Manager