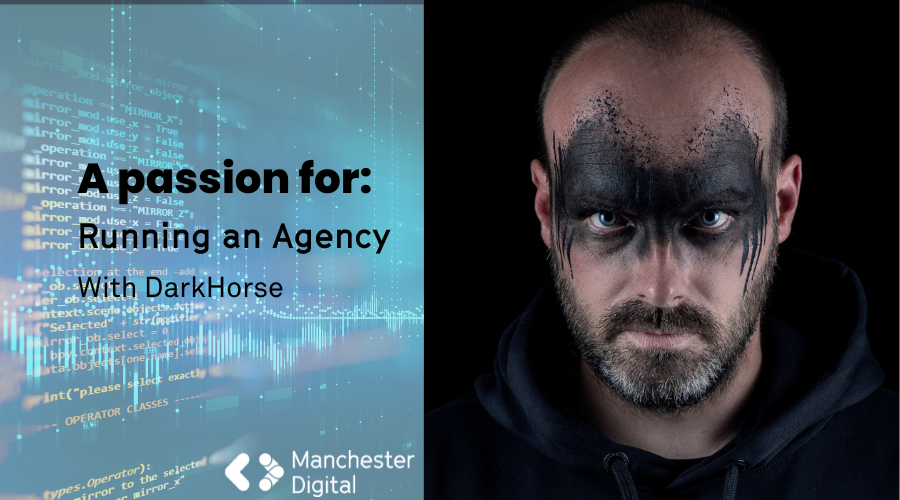 At Manchester Digital, we like to interview members to find out a bit more about their passions to help you get to know them.
This week we spoke to John Keating, MD and Founder at Dark Horse who runs a search Marketing agency specialising in helping ecommerce companies grow. Dark Horse launched in December 2019 and now employs 28 people, with clients all over the UK.
1) Let's start from the beginning. What got you into running an agency?
Dark Horse was born out of disappointment. My other company, Databroker, was subjected to the bang average from a couple of "top-drawer" digital agencies. Promises of great results that were dismissed when new, larger clients came onboard and we were passed to juniors, no proactive ideas, and vanity metrics being used as results and justification to continue paying. This was from "award winning agencies" with "celebrity" MDs lauded on the speaking circuit. It takes a paying customer to know the truth – not from those who have never given them a dime but "like" and repost their content. As a result, I was determined to create an agency that acknowledged and rejected the elephants in the room, the bad practice and the very comfortable establishment. #One area is the expertise we have on ecommerce platforms – we've studied them forensically. The aim is to know how to get the best from digital marketing on them as over 50% of our client's businesses are on these ecommerce platforms. Dark Horse is not for those with the deepest pockets. Our clients are in all different sectors; Clothing and fashion, sports and nutrition, home and living and many others. What we offer is hope in the darkness. We are who you turn to when you grow tired of mediocrity and want to fight back.
Setting up the agency, I decided to have only one value. I hate that word value, it's agency specific marketing nonsense; it's not a decal on the wall, it's not a desperate headline tacked on to our website for talent attraction, it's more an open letter of challenge to the mediocre out there. We've been running for 3.5 years, and we still stick to that value. In fact, it's even more important as we grow our client base and focus in on our niche of ecommerce businesses. We feel it and it's simple – do the right thing. Each of our team deliver against this. We don't just hire experts in PPC, SEO and Paid Social, we hire people with integrity.
Let's look at PPC for example. The team is a Google Premier Partner. They are recognised in the top 5% of the country for PPC, yet we are in the bottom quartile for accepting Google recommendations (according to the big G themselves) - which is actually a stat we prefer. The team won't settle for anything less than the best for the clients. Afterall, with over 63 years of combined experience in the team, I am confident in the decisions they make and results they produce. Every time following that one value – do the right thing.
2) How different was running an agency back then from how it is now?
It's tougher these days. The candidate market killed a few agencies off and it now dictates the need for a "culture" line on payslips. These days agencies have become friendlier, which is obviously a good thing overall, but how real that is, is debatable. The candidate market talked about "culture" and now it's the most important thing in the world albeit the must have on job descriptions is salary and not a culture section. If you, as an agency, are not offering a 2-day working week and paying for monthly trips to the Maldives then you are capitalist, draconian, Victorian workhouse gruel-giving f***. Expectation has definitely changed. But it's all about sustainability though.
Why are agencies living for kindness now? This wasn't the case in 2019 – it's still the same people running them. It didn't need to be vocalised back then but now it does. The rise of personal branding and the candidate market has made the truth even rarer and more polarising than ever. I feel that to be able to push on at max speed you need to embrace the mob culture and mathematical majorities whether you believe them or not.
Dark Horse would have rejected that mentality back then and we do so now. We won't sacrifice our principles. It's relatively easy when growing from a seed – sales and cashflow, it provides a laser focus and motivation. Creating opportunity and growing, that is a different set of pressures; process, brand, people and reputation is the space we are in now and it's way tougher to keep that initial momentum and growth trends.
Whilst we have some of that in place, the Dark Horse priority is making itself known. We've gone from a company nobody knew, to one that competitors are aware of and crawling our site daily to see what we will do next, rent free. We are known for all the right reasons and none of those agency bad practices we had been subjected to in the previous life. As we continue to grow, we will hopefully become more famous. We want to give competition, both client's and ours, sleepless nights.
Internally, we have a culture of openness, but we don't need to shout about it. The staff enjoy it and that is all I care about. The proof is our churn rate – which is very low. Those are the stats I am happy with.
3) What excites you the most about your work?
I get to consider doing things those other agencies and business owners won't. It's liberating. Most of my impact is on the marketing and commercial side of the business as I am not technically minded. Only about 1% of our ideas see the light of day but it doesn't stop me daydreaming them. I like seeing the development of our brand, Dark Horse isn't for everyone, and our brand is polarising – but that's the point, it wants to work with the dark horses within the industries and help those who don't have the deepest pockets. We excel at ecommerce companies, and we back up everything we say. We enable them to see the money being added to their bottom line. I like that. And progress too, is incredibly exciting. We have come from a relative nowhere and we are so close to hitting our first financial goals. We are nothing if not ambitious, and I don't see that stopping. Making money is pretty exciting. I realise that I am supposed to say something about growing a community, mentoring people or something related to our purpose. Making money shouldn't mean you add to the swear jar. We can celebrate that – people do behind closed doors!
I know there are some good agencies out there and I respect those agencies. However, there are a lot that average ones too making lots of money. Clients are more than just money – clients have homes and families/friends to look after. If we allow poor performance and vanity metrics, we aren't acting with integrity and responsibility. We are about righting the wrongs of the digital world and educating the customers about what they should expect. It is no longer acceptable to be mediocre and the more we can educate and inform, the better the digital marketing world will be. Behind trendlines are people. People are arguments, celebrations, memories – good and bad. We can influence outcomes.
Finally – I'm excited at what this team can become. At times, as the idiot in the room, I feel like the anchor holding them back. They can really fly, and I am sure they will.
4) Any new products we look forward to from you?
We've recently launched a new training programme for PPC – Ad:Versity. We want to offer a chance for those who don't have budget to outsource to still have access to expert training. Share our knowledge, so they can improve their own PPC results. It is predominantly designed for Marketers or Business Owners looking to start using PPC in-house or those Marketers who are currently using it in-house but want to include the use of more advanced features and tracking. It's also great for junior PPC executives looking to advance.
The training course is presented by our Head of PPC, Dave Karellen who has over 11 years' experience and he has designed the course to lead the client from basic setup through to tracking, advanced optimisation and performance automation. He knows his onions.
The key aims of the course are:
Learn Google-level PPC from an expert without leaving your desk
Own your PPC account and save that third-party spend as you get set up
Learn at your own pace with video-based modules, with levels starting from beginner to advanced - perfect for those starting out or those who want to spruce up their knowledge
Grow your revenue without growing your marketing budget
We feel that everyone should have access to the best resources and this online training course enables people that access. It won't break the bank either. Bonus.

5) Who are your industry heroes? (Or if there are no heroes, who can you recommend others to follow)
There are some really cool agencies that I respect, and that have seen amazing growth. I hold in high regard agency owners who grow their company to multimillion pounds without any degradation to quality. I also admire agencies who make their own path, don't imitate and are brave. In terms of people, I don't know many in the industry as my views prevent invites to events, judging and possibly even networking. That, or I'm just a nob.
I would suggest following and admiring anyone who tells the truth on social media. That includes those being negative and questioning, which is a pre-requisite for science, logic, numbers and things that can be benchmarked. The things that real life and civilisation is built upon. Not absolute pony such as "don't compare yourself," "happiness is not wealth" and other similar things. Those worth following will be accountable, and can have their advice validated by something tangible. They will have value which you can prove or disprove, and they will welcome curious minds questioning their viewpoint. In short, if an agency owner uses personal branding agencies or bangs on about being authentic, kindness, culture, or whatever the majority wants to read, these people are not for me. Commenting on Steven Bartlett or Justin Welch posts… have a word.
Make your own mind up on heroes and consider the purpose of their posts. Pictures from an agency's latest social for example… who and what is that for? It's obvious when you lift the veil. Everything you see and consume is for external validation, there is always an agenda.
Gun to my head? I would say my heroes are anyone with a big social following who would tag back if blow enough smoke. Or companies we want as clients. That's clearly the correct answer in 2023. #Gymshark.
Failing that… Sarah Wilson Blackwell, Mike Winnet, Dan Kelsall and Rosa Mitchell.