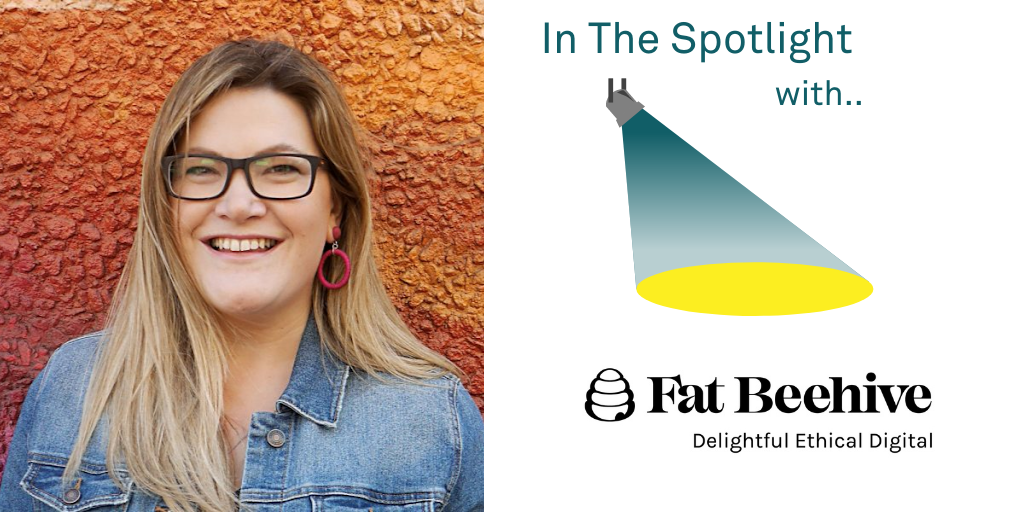 At Manchester Digital we like to interview our members to find out a bit more about what they do and their work in the Greater Manchester digital and technology sphere. This week we're speaking with Caroline Taylor, Head of Client Strategy and Partnerships at Fat Beehive.
What does your organisation do?
Fat Beehive specialises in charity websites. We do this because we all get up in the morning wanting to assist organisations in making people's lives better. Helping others is bound up in the philosophy of what we do, and we attract staff who deeply care about helping organisations with their missions. With 23 years' experience of working in digital strategy and web design for social good – we feel our clients are in safe hands!
Our focus is on building wonderful open-source websites, beautiful brands and delightful digital products for organisations that have a positive impact on the world. We offer a full range of digital services from web design and development, branding and visual identity to digital strategy, research and UX.
We've worked with an array of amazing clients ranging from well know organisations like Greenpeace to Health Poverty Action who tackle the very root causes of poverty, to organisations like the Human Dignity Trust who are changing the narrative around global LGBT law.
What do you think is currently the biggest issue facing the digital and tech Industry?
The tech industry has a problem with diversity - women and minorities are under-represented, with women in a leadership position in just 5% of UK tech companies and only four per cent of the UK tech workforce is black, Asian or minority ethnic (BAME). This lack of diversity is a problem in any industry but especially in tech where innovation is a key driver. If an organisation looks and thinks the same you also lose diversity of thought. This was most obvious when a digital soap dispenser was launched that did not dispense soap to black people because it couldn't recognise dark skin or a HealthKit app that didn't acknowledge women's menstrual cycles. Companies can not only avoid damaging mistakes like these but those with high levels of ethnic and cultural diversity are 33 per cent more likely to outperform their competitors, according to McKinsey's Diversity Matters report.
At Fat Beehive we try our best to advertise to and recruit from a wide range of backgrounds as possible and take measures, such as flexible employment to actively support women in the tech industry. However, there is only so much we can do if the issue is, due to historically rooted gender or race biases, women and BAME people are not encouraged to consider a career in tech in the first place. So we believe that we need to take positive action, such as work shadowing opportunities to BAME school leavers, if we are to see any real change. At the current rate, the gender pay gap will take 100 years to close - we can't afford to wait that long to close the diversity gap in tech.
What is your organisation's biggest achievement?
Earlier this year, Fat Beehive supported the launch of the Fat Beehive Foundation, which was set up as an independent grant-giving charity designed to support small charities with digital projects.
The Fat Beehive team has always had a say in shaping the company's future so I am really proud that it was collective decision to support the set-up of this charity and have committed to donating a portion of the agency's profits to the charity every year. The aim is to help out exactly those small charities doing incredible work who may be struggling to afford an agency, or even release any budget at all for a digital project.
Most charities in the UK are 'small' – some 97% have an income less than £1million and over half have less than £10,000. With all the fantastic frontline services that they offer, this often doesn't leave a huge pot for digital. We feel that's a pity, particularly as digital is getting more and more important.
In the first round of applications, the foundation received around 180 applications. The Trustees unanimously picked Spark Inside which is a fantastic organisation that delivers coaching programmes in prisons that encourage rehabilitation and contribute towards a reduction in violence and reoffending.
The Fat Beehive staff have also volunteered their time to help with some of the digital projects, supporting these charities to improve donation practices, branding, UX, UI, SEO and content writing for digital.
What would you consider to be your organisation's biggest challenge?
Like most organisations in 2020, the Covid-19 outbreak has meant that remote working has become the norm and we have had to quickly adapt. Luckily, we have always offered flexible and remote working for our staff so we were set up for this (although no-one could have predicted what would actually happen!). We were also able to learn from those who already were working remotely so see how we could best support the rest of the team.
One of our favourite parts of our project process is usually running workshops in person, so we have needed to implement some great tools, like Miro, that allow us to hold workshops remotely. We have also had to move fast and help our charity clients who have been hit incredibly hard, looking for new innovative ways to deliver services digitally or to improve the conversion rate optimisation for their donation processes.
However much we have been able to adapt, it has not been without its challenges. We are really aware of the impact that isolation and lack of face to face interaction can have on our mental health and its something that we have to be actively aware of as things continue.
The team at Fat Beehive are our priority. We have looked at ways to help people continue to keep a routine, whilst offering more flexibility to adapt to the individual challenges that they are also experiencing at home. We know that there isn't a 'one size fits all' solution to this, so continue to offer more support, zoom catchups, fun activities and team meetings, but also know that this isn't helpful for everyone, it turns out that not everyone likes organised fun!
What do you think the future looks like for Manchester's digital and tech sector?
The digital scene in Manchester continues to thrive, and we have a sense that more tech companies see Manchester as an important place to set up or have a base from which to grow and provide services. We hope that when the world returns to some normality, this will continue. With remote working becoming the new normal and benefits and relative job security this can bring, we expect this to have a positive knock-on effect of encouraging more people to consider careers in digital.
For us, a return to being able to attend events and conferences in physical spaces across the city can't come quick enough. We miss being able to network and stay in contact with the digital community, whether that's via events that Manchester Digital host and other regular meet-ups that have since gone online.
Tell us something we might not know about your company?
We recently became a certified B-corp! It's really exciting to be part of this community of change and we are so pleased that our initial score puts us in the top 10% of all B Corps.
From our tagline down, ethics have been at the heart of the Hive since day one. In fact, our first client was Café Direct, one of the pioneers of businesses that balanced people with profit. Since then we have always worked with charities and organisations that are committed to social good. We believe that being ethical, fair and championing diversity isn't a nice add-on - its an essential part of being a successful business. It wasn't good enough to just work with ethical clients – being ethical had to extend to how we treated staff, clients, the environment and our local community
But being an ethical company is also about continuous improvement and measurement – what attracted us to B Corp certification was the extensive and thorough assessment process which goes beyond a product or service certification. It is the only certification that measures a company's entire social and environmental performance – it is the Gold standard accreditation.
Thank you Caroline!
Want to raise your business's profile? If you're a member, contact thom@manchesterdigital.com to discuss featuring your content on our site, social media or newsletter. If you're not a member, get in touch today to discuss the benefits of membership.