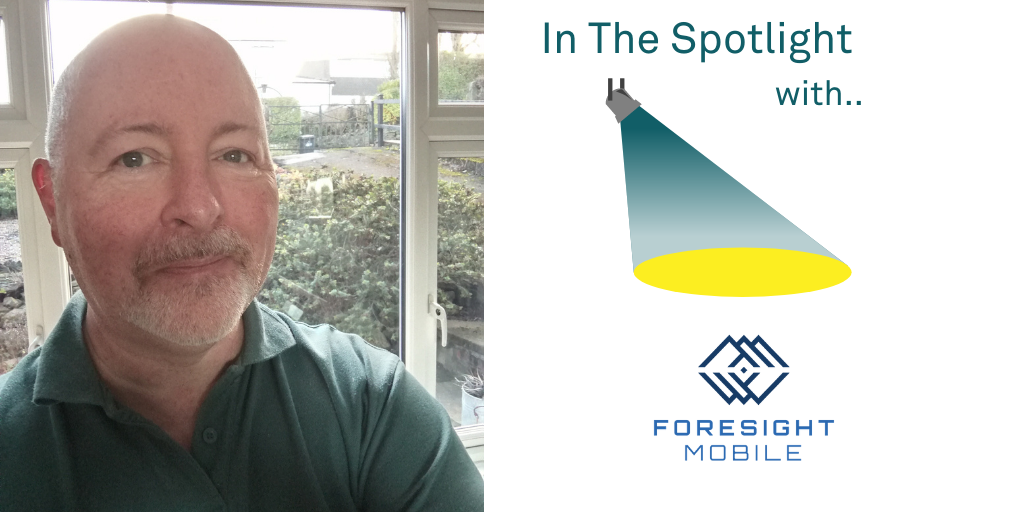 At Manchester Digital we like to interview our members to find out a bit more about what they do and their work in the Greater Manchester digital and technology sphere. This week we're speaking with Dave Francis, Business Development Manager of Foresight Mobile.
What does your organisation do?
Foresight Mobile is a relatively new Manchester-based company who develop mobile apps and SDKs for anyone from multinationals to small local startups. We've been going since May 2018, but we've all been individually involved in app development for much, much longer than that.
Our "Unique Selling Point" – terrible phrase - is that we specialise in Google Flutter. It's the latest, and best, software platform for developing modern mobile apps. As an added bonus we can also target desktop users with desktop apps and web apps from the same codebase, providing no-store in-browser apps and desktop functionality cost-effectively.
If you're going to have an app commissioned, there are two choices – either develop separate Android or Apple apps – expensive to build and maintain – or go "cross platform" – one codebase producing identical Android / iOS apps. Cheaper, faster to market, easier to support and maintain.
Without getting technical, Flutter and React Native are the two main development frameworks which represent the future of mobile app development. They're backed by major industry players and extremely popular with app developers. Flutter and React Native are now level-pegging in popularity but Flutter trumps React Native where performance and web support are concerned, giving our customers web browser support from the same codebase.
So, basically, we're cutting edge. You get a modern, futureproof app across mobile and the web quickly and cheaply.
What do you think is currently the biggest issue facing the tech industry?
Over the last few years we've consistently been approached by established B2B tech companies looking to expand their services into new markets and device categories. The expectations of business customers and end users are always changing, and tech products need to follow the market to stay successful. Quite often this means enabling access to your services through new channels.
We've been really successful this year helping our customers reach new markets through our SDK development services. We've helped established companies like Swrve expand into new mobile frameworks. We've taken embedded camera-based AI onto mobile devices, and expanded web-based customer service and video conferencing into native iOS and Android apps.
The technology service sector will continue to grow but the expectations of businesses and their customers will be for a consistent experience across the web, mobile and increasingly native desktop applications. Tech services will need to keep pace with this modern fragmentation, and we feel our technology choices and expertise help us to address this effectively on behalf of our customers.
What is your organisation's biggest achievement?
I was looking at the figures and – even with the challenges of the pandemic, we've grown by 200% this year. Foresight is a private company, we're not backed by any external capital, so we've grown massively – and safely – during a very difficult time.
We've gained some top name clients and consolidated our relationship with existing ones, and all this has been done whilst retaining a happy, friendly and professional atmosphere. We're a really good, friendly team who enjoy working together.
I'd also like to say that I think we can be all very proud of the quality of work we've done – we produce bespoke work, so the customer gets the best app we can write and we get something we're proud to showcase.
What would you consider to be your organisation's biggest challenge?
It's going to be a busy year. One of our challenges is going to be scaling the company up to meet demand, we're already planning on getting new developers and project managers onboard. Networking's been a problem in 2020 due to Covid, but hopefully there's light at the end of the tunnel there.
I think one potential problem in 2021 will be communicating the need for companies to embrace change and the adoption of digital solutions as soon as possible. There are going to be some who decide that, at some point, the world will revert back to January 2020 and the current pandemic is just a storm to be weathered. It's not going to happen, the world – and consumer habits – have changed. Any companies who convince themselves otherwise are going to be sailing in some very choppy waters.
In some ways, we lag behind the US, where, if you can show that a technology solution will produce a return on investment, a company will invest in it. Over in the UK, you have to wait for Finance Director sign off on projects, End of Financial Year, etcetera.
UK companies have to start realising that they can't do that this year. That's four months wasted.
UK companies should, I think, be realising that they have to plan for Digital Transformation as soon as possible, engage with the limited number of application suppliers out there and get a discourse going, before – quite frankly – the available digital providers get snaffled up. Otherwise they'll be either looking at overseas development – development is about timely two way communication, so there's always an element of risk offshoring a project - or paying above the odds to secure UK based resources.
There's also going to be a considerable lag in getting systems designed and in place – start in April, you may be looking at nearly the end of 2021 before you're up and running. My advice is – seriously – start talking to potential developers as soon as you can.
What do you think the future looks like for Manchester's tech sector?
I think the future's looking very bright indeed. Matter of fact, I wrote a blog article on the future of Manchester as a tech hub which is on the Manchester Digital website.
Covid has slightly skewed things, but I think there's going to be an exodus of talent away from London and Manchester is going to prove to be a giant magnet. Given the initiatives in place here – let's face it, it's a great place to live and work – the future is looking very bright indeed.
I'd say that Foresight is in the right location at the right time with the right software. So it's looking particularly bright for us.
Tell us something that we might not know about your company?
We're very "musician heavy" at Foresight. We've got guitarists, drummers, Gareth plays guitar in a band and I've got the biggest self built vintage analogue synth in the UK, I think ! If only we had the time to play.
Thank you Dave!
Want to raise your business's profile? If you're a member, contact thom@manchesterdigital.com to discuss featuring your content on our site, social media or newsletter. If you're not a member, get in touch today to discuss the benefits of membership.