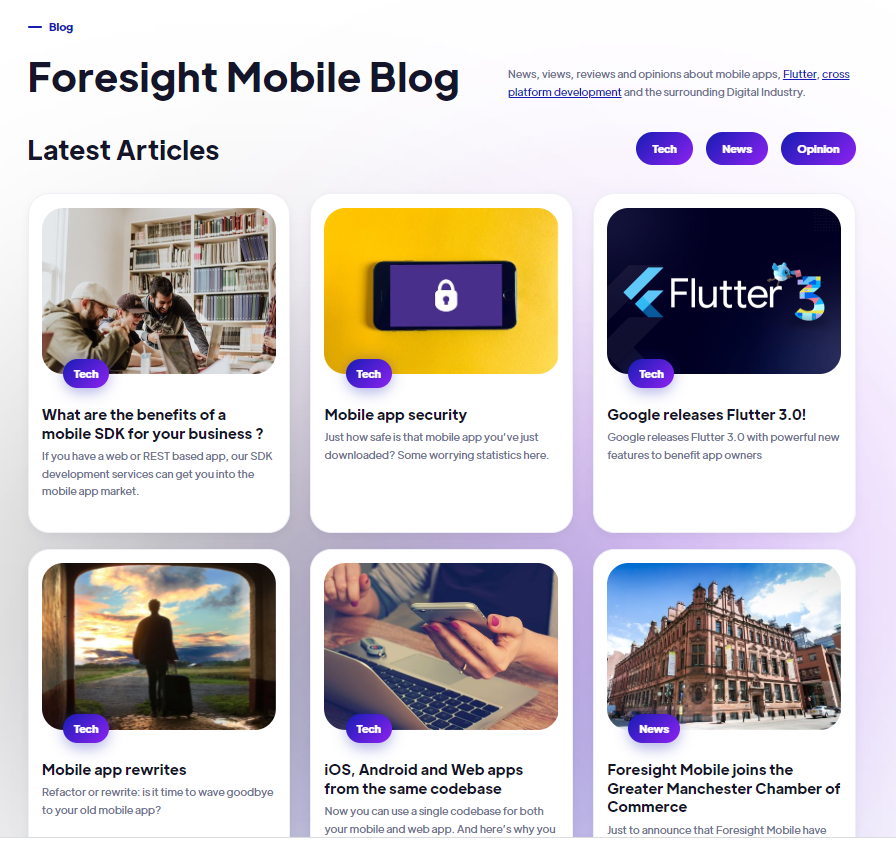 New website for Foresight Mobile


We're pleased to announce that Foresight Mobile has a new website.

Based in Cheadle, South Manchester, Foresight are a leading producer of cutting edge mobile apps. We have extensive experience in native Android and iOS app development, and specialise in cross platform app development frameworks such as Flutter and React Native.

Foresight were one of the earliest adopters of Google's innovative Flutter framework, which allows single codebase development across web, mobile and desktop formats. Flutter is becoming the go-to solution for the app development community, with massive uptake and a highly ambitious development roadmap, Flutter is rapidly replacing older frameworks such as Cordova, Ionic and Xamarin.

As well as being at the cutting-edge of Mobile app development, we also specialise in SDK development for companies wanting to enter the lucrative mobile market. We have extensive experience in writing SDK integrations for cross platform frameworks such as React Native and Flutter, as well as native extensions for iOS (Cocoapods) and Android (Gradle).

If you already have native SDKs for Android and iOS, we can help you expand into the cross-platform market, and if you already have a web or REST based service, we can assist you in bringing your products to the mobile ecosystem efficiently.

If you're interested in commissioning a mobile app or SDK, come take a look at our services on our new website. Click here to visit us - we're always happy to hear from you!