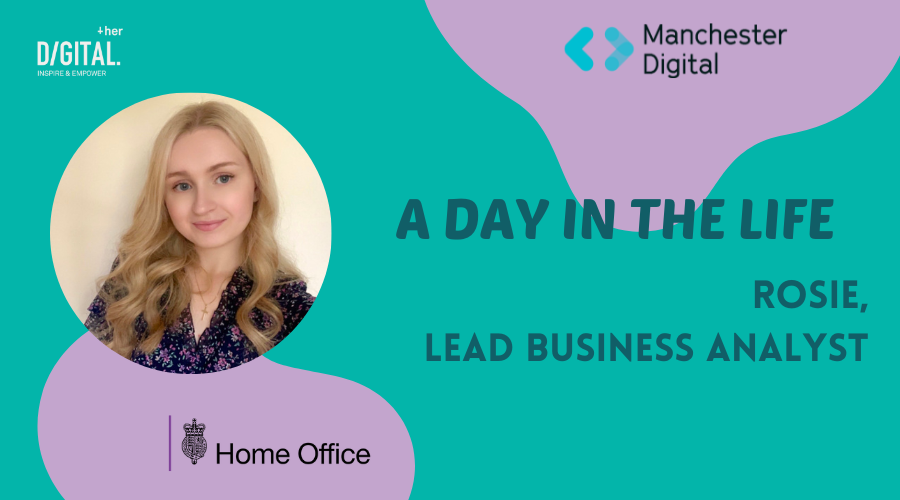 Ever wondered what it's like to work at one of Greater Manchester's leading tech employers or what specific job roles get up to each day?
Rosie is a Lead Business Analyst at Home Office.
We spoke to her to find out more about this role, her experience at Home Office and what an average day looks like.
Name: Rosie
Company: Home Office

Job Title: Lead Business Analyst
How did you get into your current role?
I had just left school and was keen to work somewhere with a strong sense of purpose. I joined back in February 2019 on an apprenticeship program in the Digital, Data and Technology (DDaT) department and haven't looked back since.
What do you enjoy most about working at The Home Office?
One of the things I love the most about my role is nurturing our early talent. I enjoy leading my team and working collaboratively across professions. I also enjoy the fact I can get involved with communities and initiatives – I'm currently helping to establish the DDaT Women in Tech 'ally-ship' workstream which is a new initiative. The objective is to design and deliver a programme to support women and address some of the barriers women can face within the workplace. It looks to equip employees with the knowledge, skills and confidence to identify and challenge any unacceptable workplace behaviour and support and empower women more generally.
What does a typical day look like for you?
It sounds incredibly clichéd, but no two days are the same for me. That's why I love my role so much! Every day brings new challenges and ways to stretch and develop myself. There is a lot to get my teeth into and a lot of different contexts to work in throughout a typical working day. I work in a diverse and growing portfolio. I spend my day attending meetings, setting the direction for pieces of work, managing our portfolio's demand pipeline, driving continuous improvement and supporting my team to be the best that they can be.
What excites you the most about the work?
The thing that inspired me to work at the Home Office was the opportunity to help develop and enhance products and services at the heart of government. The ability to make a real difference to the lives of people across the country is extremely exciting and is the most fulfilling thing about my role. If I can help make someone's day easier and brighter, I go home happy.
Have you learned anything new since you started?
I am also excited about the opportunity to constantly learn new things and develop my skills. I've achieved a number of internationally-recognised qualifications since I began my role as an apprentice. I've also learned how to interact effectively with others to achieve positive outcomes and build strong working relationships with a diverse set of colleagues and customers across a national organisation. I've also learnt a lot about myself – my strengths, my weaknesses, areas to improve. I don't think these valuable lessons should ever be underestimated or overshadowed by the qualifications I've achieved.
I would recommend the Home Office to everyone. The doors and possibilities this department has opened up to me has been unbelievable. I feel extremely lucky, proud and privileged to work in such a fantastic area of the Home Office.