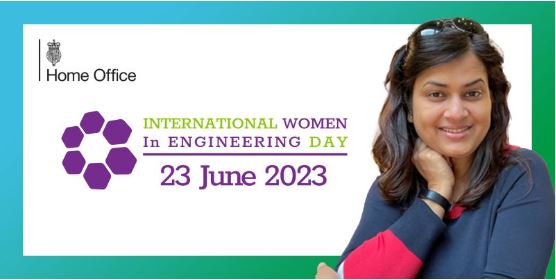 Senior Developer, Sudipa's story


What attracted you to apply for a position at the Home Office?
One of the reasons I chose to apply to work in the Civil Service and Home Office was because I previously worked in the public sector with my local council. Having seen how my engineering work made a difference at a local level, I wanted to broaden my horizons and do this on a larger scale.
I feel lucky to have joined the Home Office, especially as I get to work on high-priority projects that impacts positively on people's lives. There's never a boring moment here, and we've had great success in terms of streamlining our processes, becoming more data-driven and also being transparent with the communities we serve.
Improving the Home Office's digital capability is an important part of delivering critical government and public services. How do you and the team do this efficiently?
We work towards understanding issues and challenges, how we're going to solve them, and how we can then scale this across different functions. Our teams are made up of great people with a whole host of technical skills, so we can be flexible in choosing the architecture and platforms needed, for example when upgrading our Cloud technology.
It's really rewarding as a Senior Developer to see that my work is changing and improving lives for the better and I'm able to contribute to the Home Office mission to build a safe, fair and prosperous UK. Also, being able to work across services has allowed me to learn so much, and when we scale to meet demand, I've been able to upskill, progressing my knowledge and career at the same time.
How varied is the tech stack and do you receive any support in upskilling?
One of the biggest attractions for me when joining the Home Office was how varied the tech stack is. Depending on your role and function, you can develop in Java, .NET, you can be part of the Cloud team or get hands-on in the DevOps team. There are many different front-end and back-end technologies to explore.
Additionally, there's a lot of support for us to continuously learn and develop. We have O'Reilly Books, Microsoft Learning and accredited certifications, to name a few. There's also the opportunity to pair up with different teams and be mentored to learn even more.
More than ever before we're seeing women breaking into tech but there's sometimes a bottleneck effect; how can we see more progression?
When I first started my career, and as I've progressed, I saw that there were not many women in senior tech positions. However, I'm starting to see more and more women breaking through into junior and mid-level positions. Whether it's a lack of representation or accessibility, there have been barriers.
The good thing about working at the Homer Office is how diverse it is here. You can see yourself represented at all levels in the organisation, and there are groups and communities you can join to support your learning and progression. I also appreciate the level of effort the Home Office puts into making sure employees can maintain a good work/life balance, which could otherwise be a barrier for a lot of women with family or other caring responsibilities.
What benefits do you receive at the Home Office, and how do you manage a work/life balance?
We're very flexible here, working on a 40/60 hybrid working split. So, whilst you spend some of your time in the office, you can also work from home part of the time, and make use of the flexible working arrangements, depending on your role. For example, if you need to do the school run, as long as you maintain a certain number of hours, you can manage your workload to fit around your personal responsibilities. Working here has given me the flexibility to maintain my life at home and care for my two daughters.
Working in Sheffield I've found it very easy to commute to the office on my allocated days with accessible links from both Train and Tram stations. Also, there is good office environment and it's a nice place to collaborate with the Digital, Data and Tech teams.
We also have a great holiday allowance of up to 25 days on appointment, raising 1 day each year to 30 days after 5 years' service. There are opportunities to be part of various clubs and activities within the tech community too. I'd definitely recommend working here. If you're considering a role at the Home Office – go for it and apply!