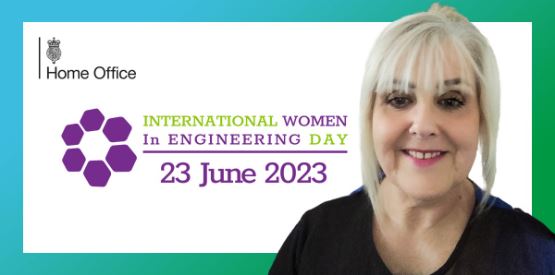 Software Engineer, Gaynor's story


What I do
My name is Gaynor and I'm a Software Test Engineer working on two projects in the Home Office. My role is to oversee the automation requirements within two projects, part of which involves testing to ensure the Gov.UK websites run successfully.
My career journey
My career started some time ago. Before joining the Home Office, I worked as a Personal Assistant for several years. It was during this time that I became interested in a new computer at work and found myself fixing the PC's I owned. This is when I realised I had caught 'the bug', which seems fitting now I'm in 'testing'.
I was then put forward for a role by an agency working with the Home Office. I chose to work in the department because I was impressed by the organisation's core values, found the work rewarding and I felt appreciated. There is also a diverse range of talented people with a wide range of skills and experience who are always willing to help.
I volunteered to help with on-boarding new joiners and security clearance applications, and found I enjoyed the challenge. I secured the role of Client Security Manager, where I was happy to stay for another few years.
One day, a colleague told me about a job being advertised for a Rules Engineer and I applied, slightly reluctantly because I didn't have technical experience. I was delighted then to be called for an interview and subsequently offered the role. I maximised the learning and development opportunities offered by the Home Office and went on to pass foundation and advanced level qualifications in Oracle Policy Automation (OPA).
Once the Home Office stopped using OPA, I secured a role as a Test Engineer in the Quality, Assurance and Testing (QAT) department. I have been in QAT ever since!
Impactful work
I have worked on several projects that I feel have made a real impact. For example, Gov.UK websites and applications that have made a huge difference in people's lives. One of them, for instance, was set up and turned around in record time, which allowed Ukraine nationals to apply for visas to settle in the UK.
Moreover, I worked on a project around the Future Borders and Immigration System (FBIS) visa routes. There were routes for applicants including students, skilled workers and more. I was part of a team of Test Engineers who set up test data, added new code, reviewed, tested, and merged code into the main repository, which now forms part of the live process.
Benefits of working in the Home Office
The Home Office offers good salaries and flexible working, which is important for people with younger children or caring responsibilities. I have met colleagues along the way who have been able to agree working patterns to fit in with their personal lives, which is perfect for this modern age.
The Home Office offers hybrid working, with a minimum of 40% office attendance and the chance to work remotely for the rest of the time. Job share opportunities are also available. Annual leave starts at 25 days per year, increasing by 1 day per year, up to 30 days after 5 years.
As you can see from my career journey, the opportunities for career progression speak for themselves. I don't think I would've had the chance to get into tech if I hadn't joined the Home Office. The Home Office also runs several wellbeing initiatives, and there are always new interest groups forming.
The Home Office is a great place to enhance your skills. It's also a good place to meet new people, and I've always found colleagues to be welcoming and supportive.
I would encourage women to consider applying for a QAT role in the Home Office. QAT provides assurance that services are being delivered to meet business needs. The department has consistently received Test Maturity Model Integrated (TMMi) awards, which are a worldwide standard for test process improvement. We currently have TMMI5, which is the highest standard.
The QAT community puts people at the heart of their business and gives their staff the chance to start out or continue their technical journey and learn new skills.