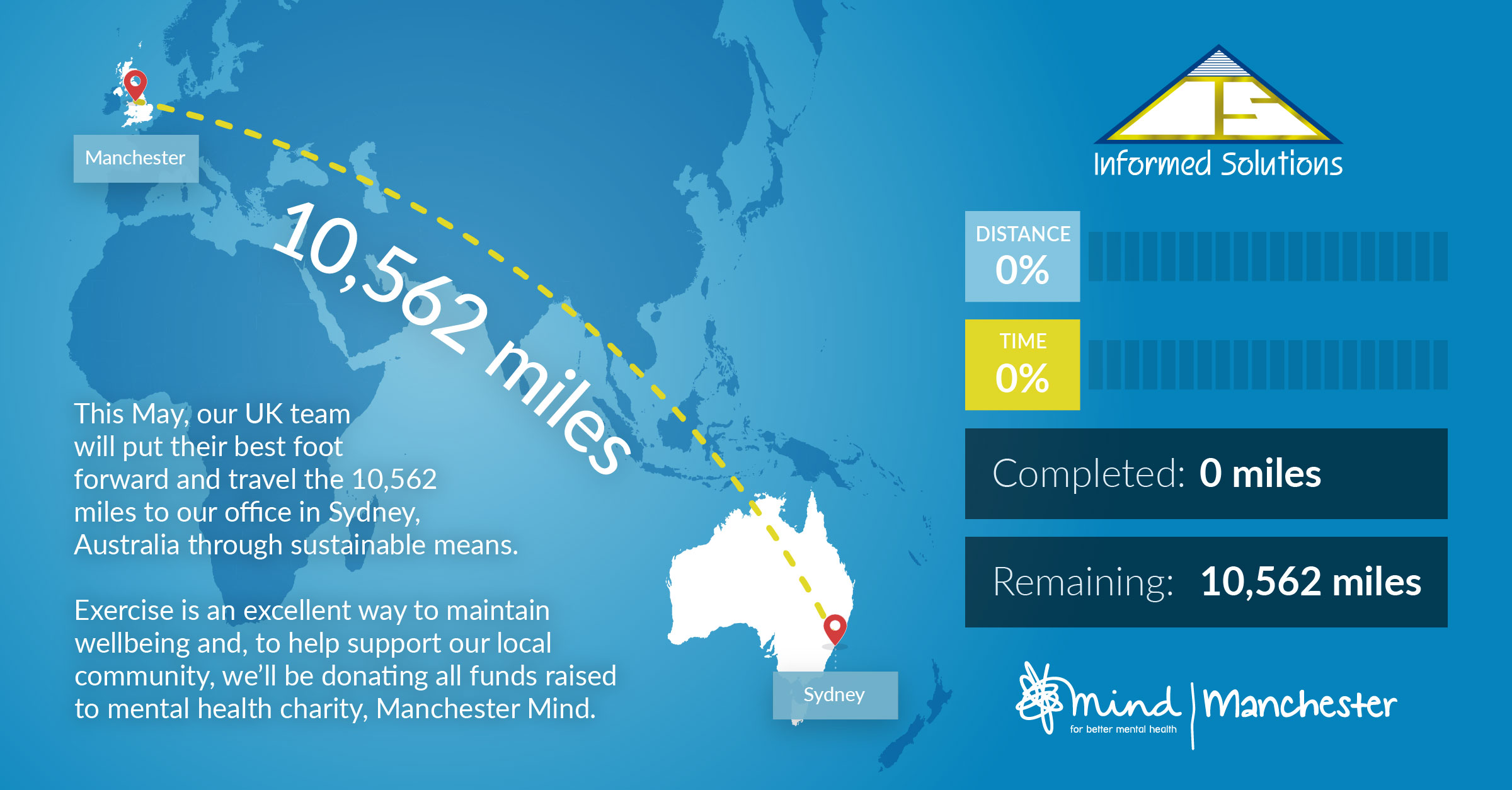 Manchester April 30th – Starting 1st May, Informed Solutions' UK team will attempt to travel the equivalent 10,562-mile distance between its Altrincham and Sydney headquarters in support of local mental health charity, Manchester Mind.
The month-long effort will coincide with the company's support of the 2021 National Mental Health Awareness Week. It will bring together two central elements of informed solutions mission and values; health and wellbeing for its people, partners and communities; and environmental sustainability, in particular the quest for cleaner air.
During the month of May, this timed race across the globe will be covered by teams of walkers, runners and cyclists with progress being tracked as it attempts to raise much needed funds for mental health awareness and support – an issue facing one in every four people in the UK each year.
Informed Solutions UK CEO Seth Finegan comments: "Our purpose is underlined by action and reflected in how we go about our work, the type of work that we choose to do, and through contributing to the sustainable social, healthcare, environmental, and economic development aims of the communities that we are part of".
"As the national manager for clean air zones in England, we have a keen interest and dedication to environmental sustainability. Earlier this month we achieved accredited carbon neutral status. We are now able to combine our passion for the environment with our dedication to health and wellbeing for our local communities, which has assumed critical importance in light of the challenges we have all endured over the last year.
"We urge our partners and local communities to get involved in the support of our people and Manchester Mind through May and beyond".
To support us in our challenge visit: https://www.justgiving.com/fundraising/informedsolutions