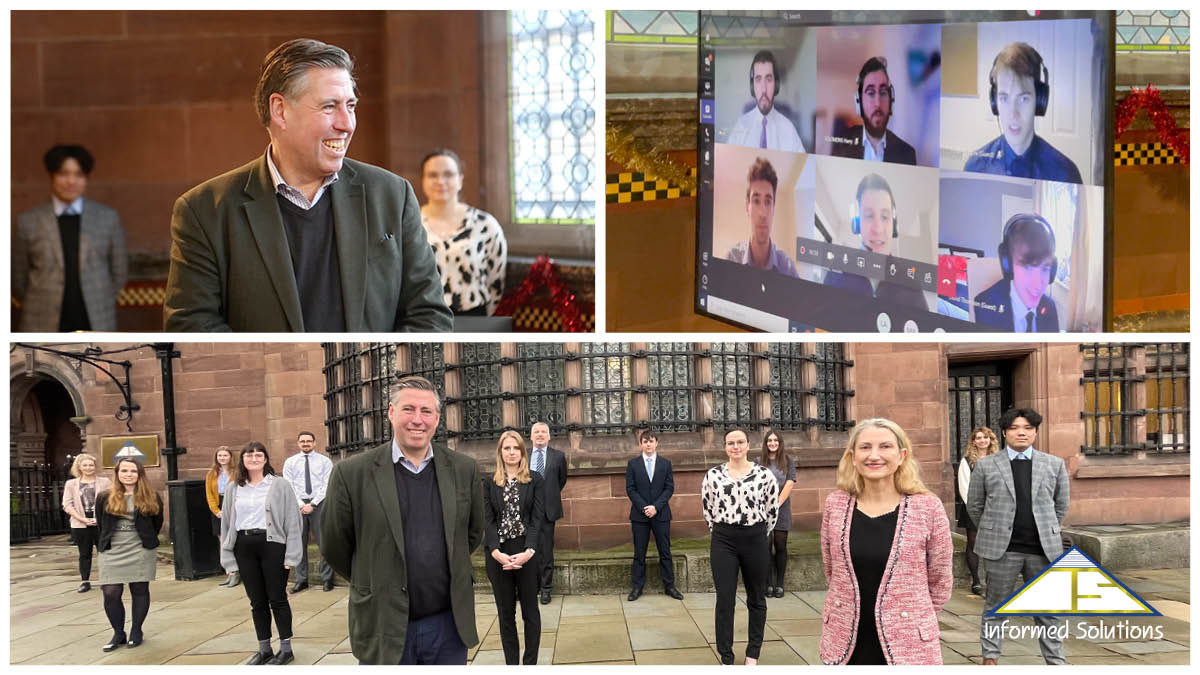 Manchester: 15th July 2021 - Over the last 18 months, Altrincham-based Informed Solutions has taken on 20 graduates into its internship and Graduate Associateship programmes.
Elizabeth Vega OBE, Group Chief Executive at Informed Solutions comments: "It's been a very difficult year for businesses in Altrincham, the North West and across the UK.
"Sir Graham has been our Member of Parliament for 23 years and has genuinely invested in the growth of our local communities. He is a strong and vocal supporter of our local businesses, and an influential advocate for the wider community that we are part of. We are delighted to welcome him to meet our graduate intake from 2020 and 2021.
"Even through such testing times, we are committed to taking on a new generation of graduates, helping them learn and develop, and providing opportunities for young talent to start a career in digital. We are currently faced with a situation that requires almost wholescale restructure and re-skilling of a national workforce at scale and are looking forward to seeing government initiatives that help small and medium sized businesses do more to help our workforce recover".
Sir Graham Brady comments: "We're immensely proud to have a successful, growing international business that is based right here in the heart of Altrincham, headquartered in The Old Bank – an iconic building that is such an important landmark for the area.
"It's a pleasure to come and meet companies that are committed to giving young people a chance. One of my big worries is that we've already come a long way through challenging times over the past 15 months, but we're also about to enter a period where there will be a lot of young people starting life after University without access to opportunities. We have to find a way of restoring and rebuilding career entry points, where the young can rebuild hope, truly feel they have a chance of starting a career and build a view that things can and will be better in the future.
"It is both encouraging and motivating to see Informed Solutions giving young people hope and opportunities as we travel through 2021, and I look forward to seeing like-minded organisations across the UK given the opportunity to invest in today's talent to secure our collective futures".