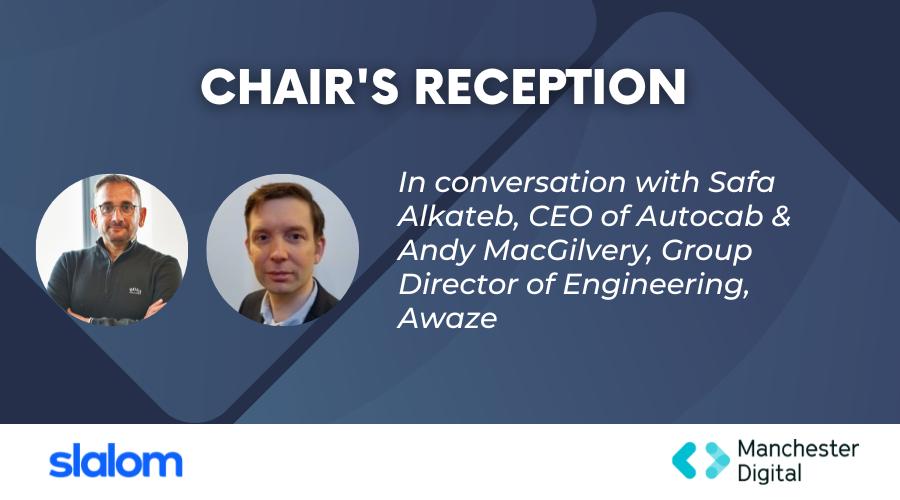 "When you compare availability of local talent, cost and quality of life factors, the tech scene here in Manchester is just as good as Silicon Valley, if not better"
Safa Alkateb, CEO of Autocab
On Thursday 15th December 2022, senior leaders from Greater Manchester's leading digital and tech businesses were invited to join us at the Tech Incubator for our final Chair's Reception event of the year.
The Chair's Reception, sponsored by Slalom, gave attendees the chance to network over a light breakfast before sitting down for an in-conversation session, led by Catherine Wilks, Senior Director at Slalom, with Safa Alkateb, CEO of market leading taxi & private hire booking and dispatch software provider Autocab, and Andy MacGilvery, Group Director of Engineering at managed vacation rentals and holiday resorts business Awaze.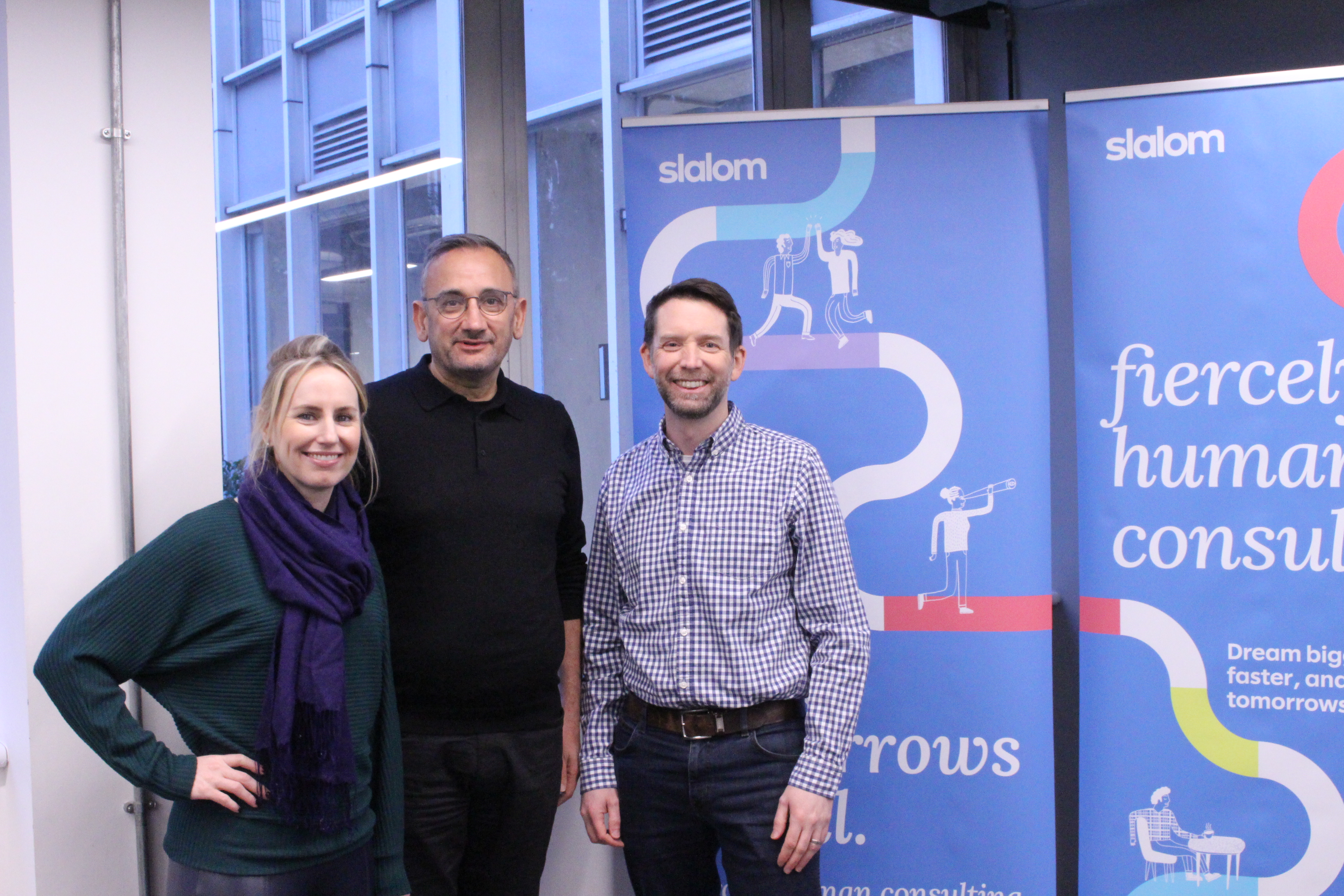 L-R Catherine Wilks, Senior Director at Slalom, Safa Alkateb, CEO of Autocab, Andy MacGilvery, Group Director of Engineering at Awaze
During an insightful discussion, both Safa and Andy discussed the big changes they had recently overseen with their businesses. For Autocab, it has been the acquisition by Uber following several years of growth and the pivot to cloud based software solutions for local taxi firms. Awaze meanwhile has seen a rapid digital transformation over the past few years, changing the way the organisation works as a whole. Both companies have moved their UK headquarters to Manchester in recent years.
For Awaze, Andy explained that it was a daunting prospect to move the company's headquarters to Manchester, whilst closing several other UK locations as part of a company-wide restructure. With the tech talent available in the Greater Manchester region it was the right move for the business, but getting the initial foothold in and making the first key hires was tricky.
As part of the process, Awaze moved from a project led to a product led organisation, with the emphasis placed on thinking about long running product teams, rather than trying to squeeze as much as possible into each project.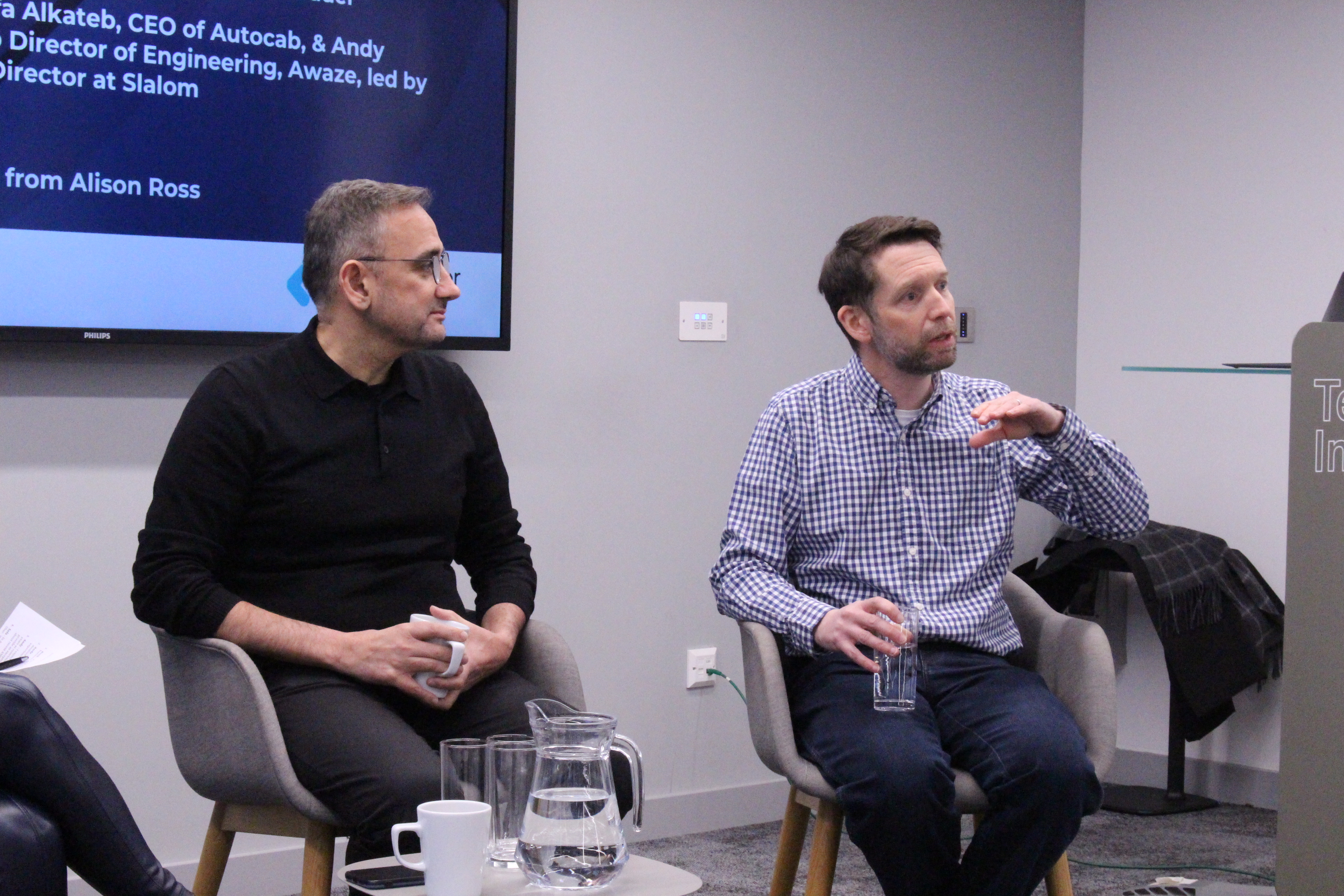 Andy MacGilvery (right) discusses Awaze's recent digital transformation and move to Manchester
Safa then explained some of the recent changes that have taken place within his business, as Autocab moved offices from Cheadle to Circle Square, just off Oxford Road in Manchester city centre, a move that gave them the opportunity to design an office from the ground up for the post-Covid world, giving their employees the opportunity to get involved with the process and tell them how they wanted to work. The result is an office that spans two floors, with half the space designed for collaboration, and a further quarter of the space dedicated to customer collaboration - "Innovate with Autocab" is something the business promises its client base.
For Awaze, communication and collaboration with their customers is equally important. The digitisation of the business enables them to communicate with greater ease with the guest portion of their client base, whilst property owners are invited to attend regular conferences and meet Awaze's product managers who are ready to share their latest innovations.
The travel industry was one of the worst hit by Covid-19, but during this period Andy explained how the business shifted four previously on-prem based monolithic applications to the cloud. When it was announced that Britons could holiday again (as long as they stayed within the UK), Awaze's sites were well prepared, and in a sign of a successful migration saw no major incidents following a 400% spike in traffic.
The conversation moved to Autocab's acquisition by Uber, and the impact this has had on Autocab's employees. Safa explained how the move has led to a new level of operation for the business, as they now have to work to an international standard, but this has been a move that has been embraced by his team.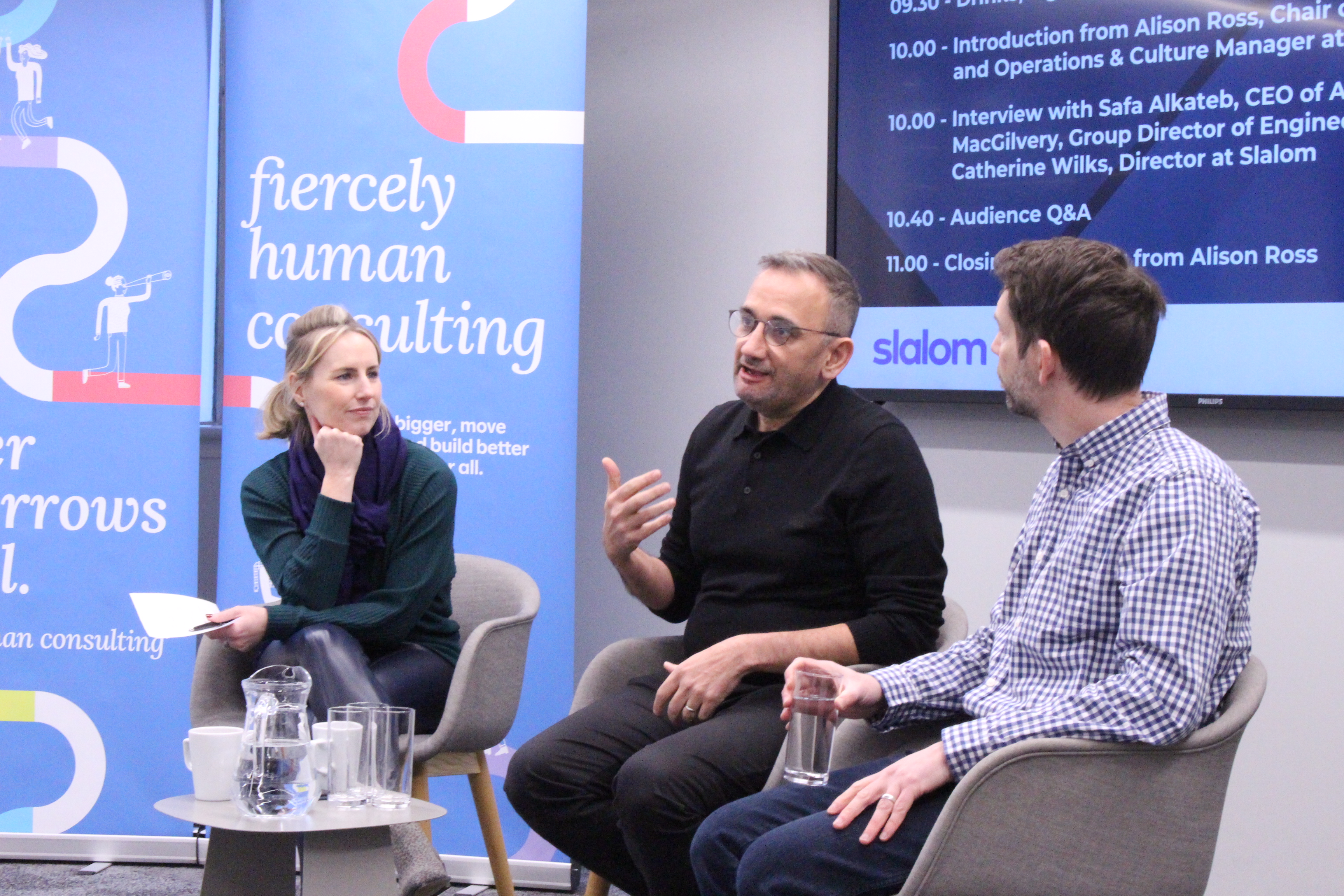 Safa Alkateb (middle) discusses the impact that Uber's acquisition of Autocab has had on his teams
According to Safa, the tech scene here in Manchester is just as impressive as what is happening in Silicon Valley, and our region is home to really smart, innovative people with the right attitude. We should be looking to innovate and change the world with technology, not just using technology to try and reduce costs.
On a final point, Safa suggested that you have to recognise that your business will operate on a different level following an acquisition and you won't be able to retain your old culture. At the same time however, you shouldn't give up what made your business unique, and it's up to you to demonstrate to you buyers that there was a good reason that they bought you in the first place.
Innovation is clearly key for both of these impressive businesses, and in Manchester they have found the perfect home with access to a wide range of digital talent. It was fascinating to listen to both Safa and Andy share some of Autocab and Awaze's recent journey with us in an intimate setting.


About our sponsor
Slalom is a modern consulting firm focused on strategy, technology, and business transformation.
They enjoy solving problems through collaboration; helping their clients to modernise, bring solutions to life and transform their culture. They put people at the centre of everything they do.
Find out more about Slalom here or for an informal chat, contact Paul Squire (paul.squire@slalom.com).
Get involved
If you would like to be invited to the next Chair's Reception event, members in our large and corporate tiers can ask to be put on the invitation list by contacting kate.wilson@manchesterdigital.com..
Our next Chair's Reception will take place on Thursday 30th March 2023.
Non-members can find out more about the benefits of membership benefits by downloading our membership brochure here.