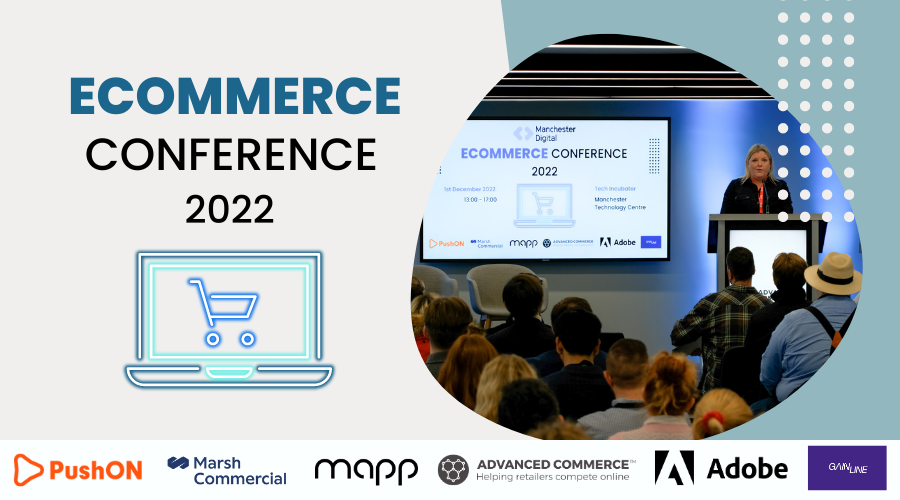 Manchester Digital hosted its first Ecommerce Conference on Thursday 1st December 2022 at the Tech Incubator, Manchester Technology Centre.
The success of Greater Manchester's ecommerce sector is well documented, with the region home to many innovative ecommerce brands, agencies and other businesses that support this thriving industry.
The sector has seen phenomenal growth over the past few years, but there are undoubtedly big challenges ahead as the UK slips into a potentially long and difficult recession.
Against this backdrop, it was fantastic to welcome over 130 guests for a packed afternoon of presentations from leading industry figures, panel discussions and networking.
The Ecommerce Conference was sponsored by Adobe Commerce, Advanced Commerce, GAIN LINE, mapp, Marsh Commercial and PushON.
The afternoon kicked off with keynote presentation delivered by Kristal Ireland, Executive Director at Rise at Seven, who discussed to a packed main room "How to create the perfect cross channel brand moment to drive sales".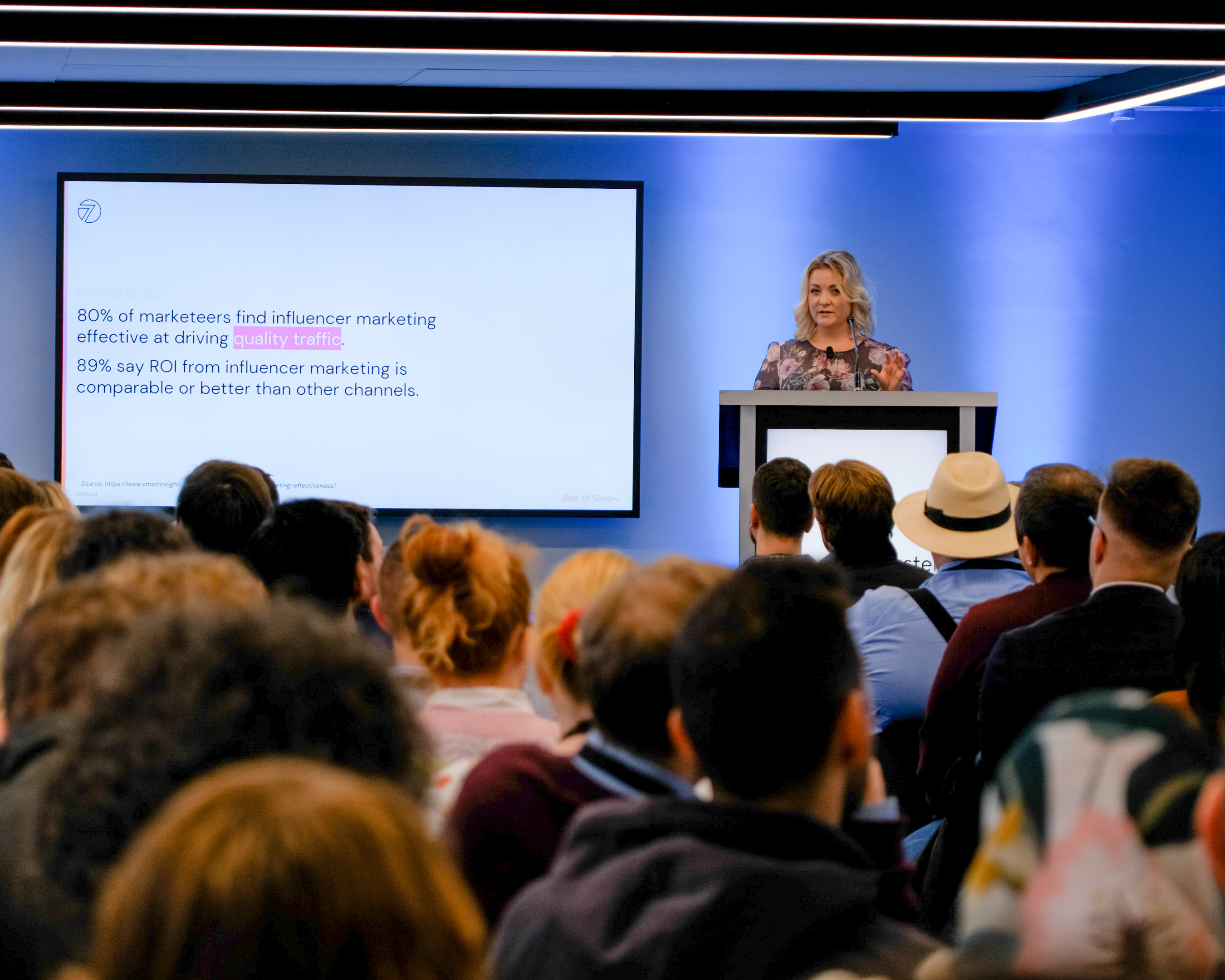 Kristal Ireland, Executive Director at Rise at Seven
Drawing on some fascinating case studies and recent projects that Rise at Seven have worked on, some of the key takeaways from Kristal's address were:
In the last 2 years, consumer search behaviour has changed faster than ever
Consumers are becoming impatient and want a result fast!
When it comes to Black Friday, you need to think how you can unthink your competition, not just outspend them
What makes people buy can be split into two categories - drivers & facilitators
Search is changing so every strategy and campaign Rise at Seven deliver is audience first
TikTok is creating huge demand for products and brands through influencer and creator campaigns
42% of TikTok users are aged between 30-49, so this audience shouldn't go ignored
The power of influence marketing shouldn't be underestimated, with 80% of marketeers finding influencer marketing effective at driving quality traffic and 89% saying ROI from influencer marketing is comparable or better than other channels.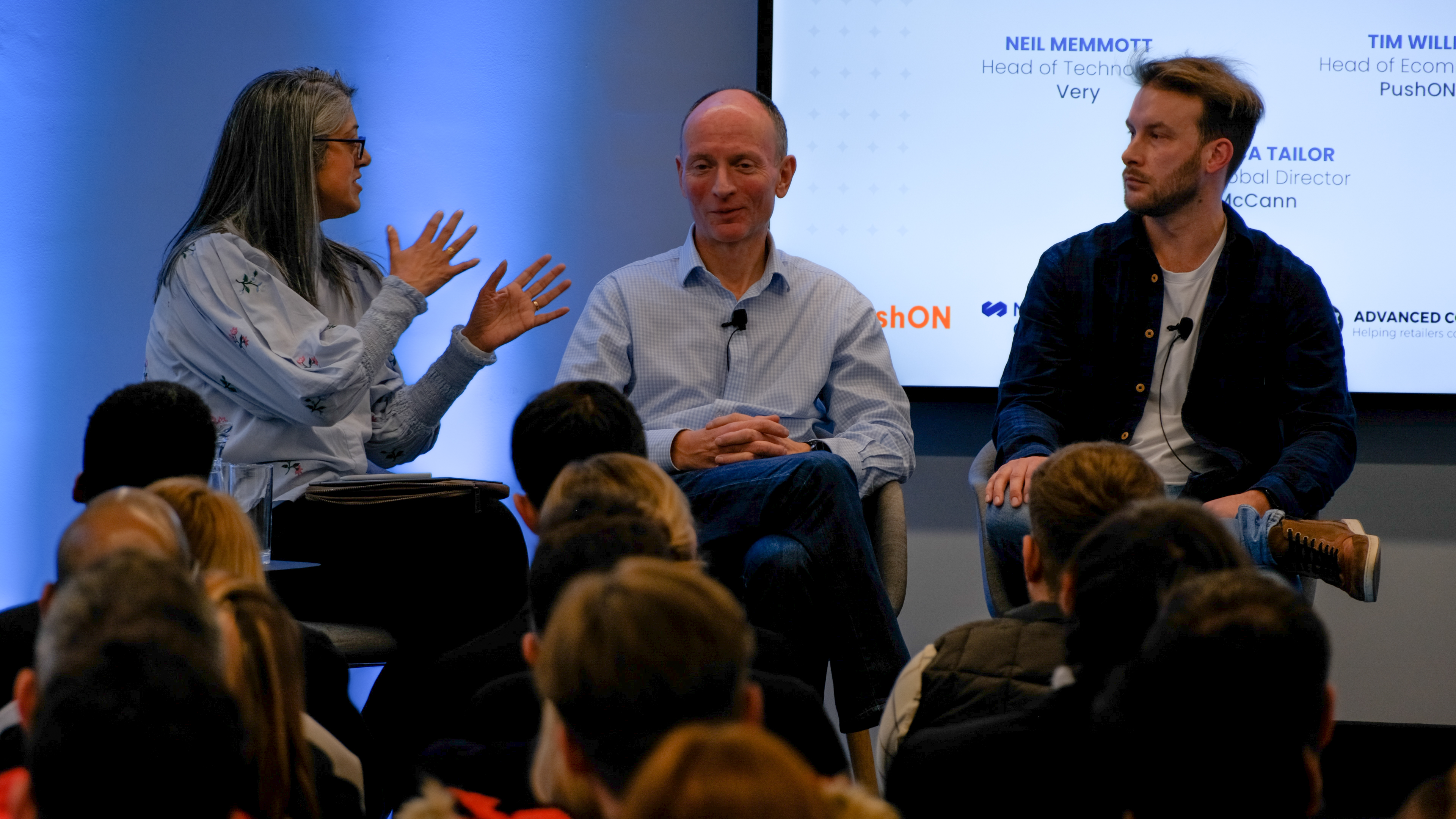 Retail panel L-R: Monica Tailor, Neil Memmott, Tim Willis
Our first panel of the afternoon asked the questions, "How are brands integrating new technologies into their businesses and what will have the biggest impact?".
The panel was chaired by Monica Tailor, SVP Global Director at McCann, who was joined by Neil Memmott, Head of Technology at The Very Group, and Tim Willis, Head of Ecommerce at PushON.
"At Very, we're continually enriching the consumer experience and trying to engage with the consumer. We need to give the consumer the confidence to buy, and not have to return."


Neil Memmott




"Consumers are now more willing to shop around, which has led to a more fragmented shopping experience than we had pre-cost of living crisis. The experience a consumer has on your website is now absolutely key."


Tim Willis




"The bounce back has happened, but not as much as we expected. The experience people expect across both online and in store is much more fluid, but customers expect a lot more online."
Monica Tailor


"In terms of sustainability, at The Very Group we're focusing on:
- circularity
- monitoring carbon footprint
- minimising miles products travel
- understanding the welfare of people in the supply chain
- making manufacturing as sustainable as possible"
Neil Memmott


"We could be a few years away from seeing what retail looks like in the metaverse. For now, brands should start testing the waters and see where their customers are with this sort of tech."
Tim Willis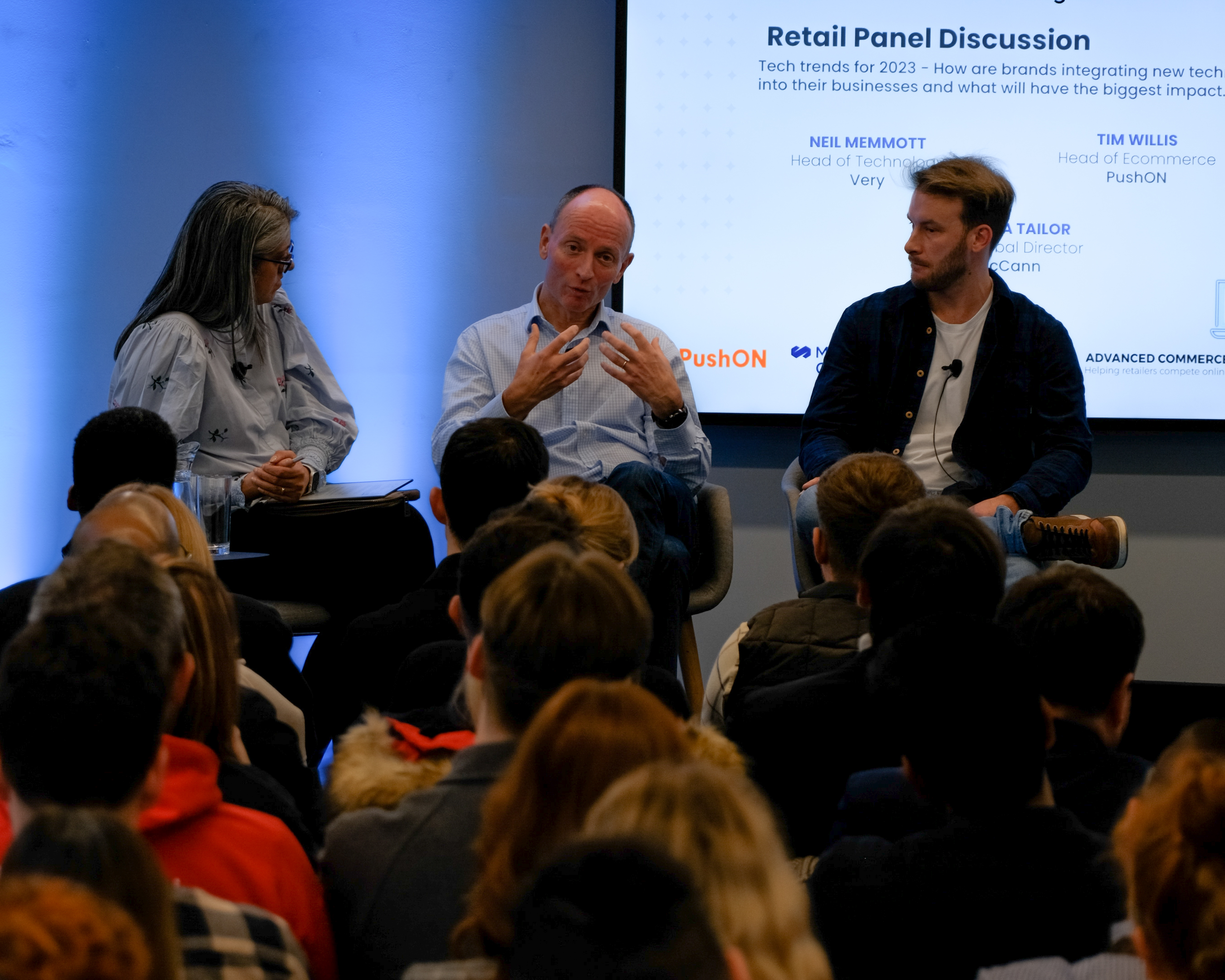 Retail panel L-R: Monica Tailor, Neil Memmott, Tim Willis
Following the retail panel, our first presentation in the main event space was delivered by Ricardas Montvila, VP Global Strategy at mapp, who discussed "Identifying largest revenue growth opportunities in 2023".
RR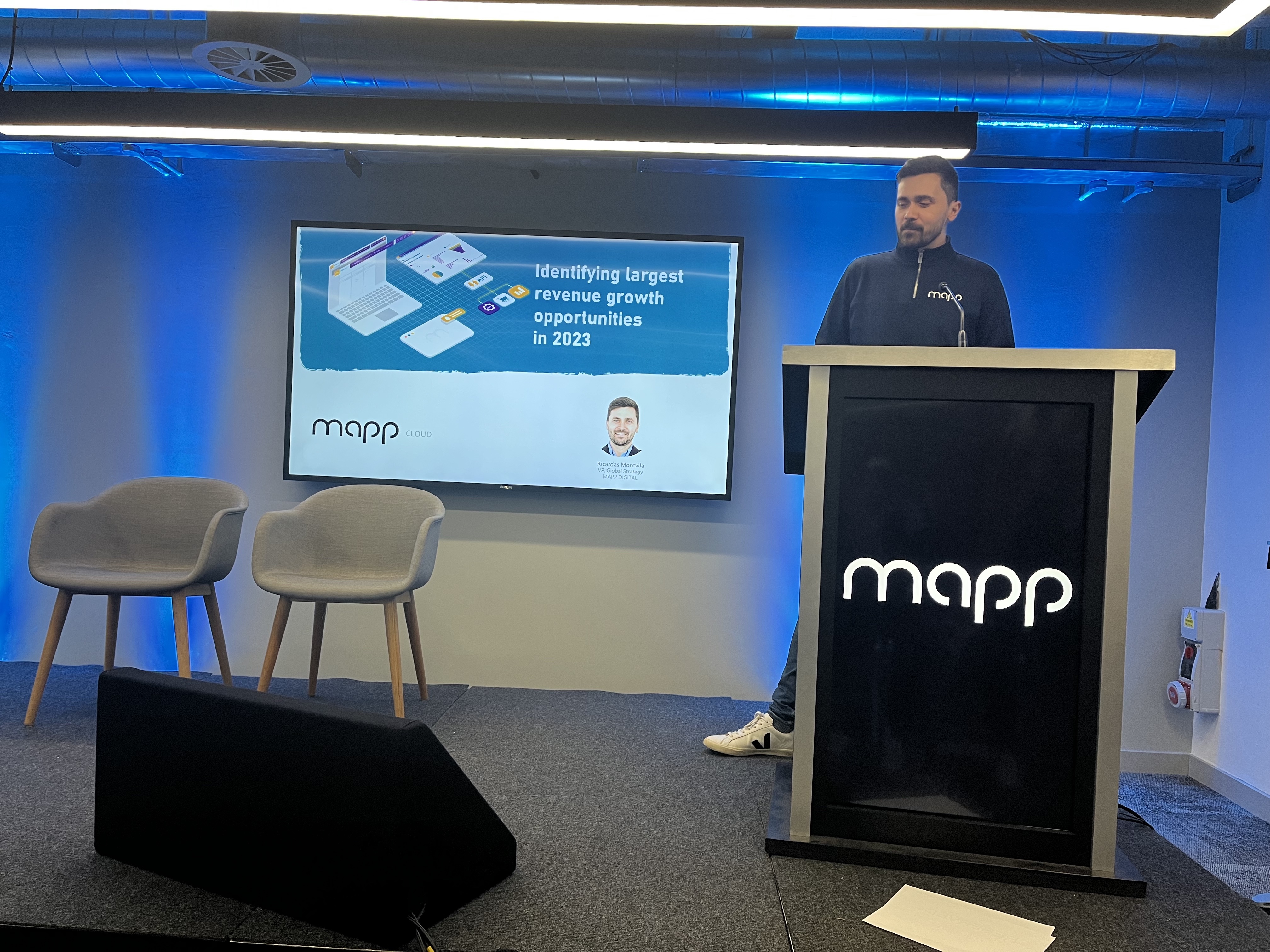 Ricardas Montvila, VP Global Strategy at mapp
Meanwhile, in the board room, Vladimir Mulhem, Technology & Innovation Director at Creative Content Works presented "6 Steps from CGI to Metaverse Ready".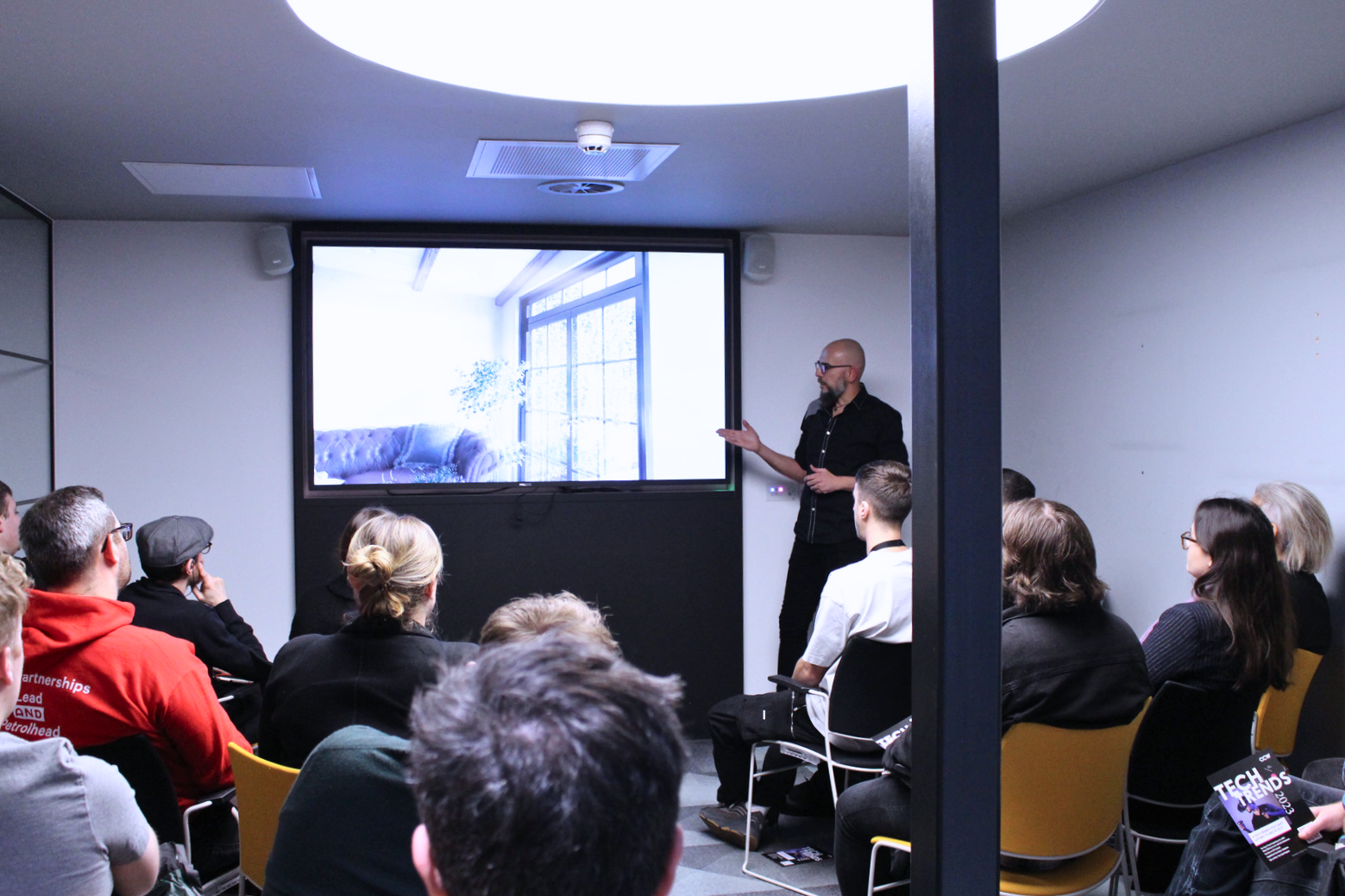 Vladimir Mulem, Technology & Innovation Director at Creative Content Works
Following a short break for networking accompanied by Gin & Tonics, our next presentation of the afternoon in the main event space was delivered by André Brown, Founder & CEO of Advanced Commerce (formerly co-founder and CEO of Attraqt/Fredhopper), who discussed "The disconnect between marketing and merchandising".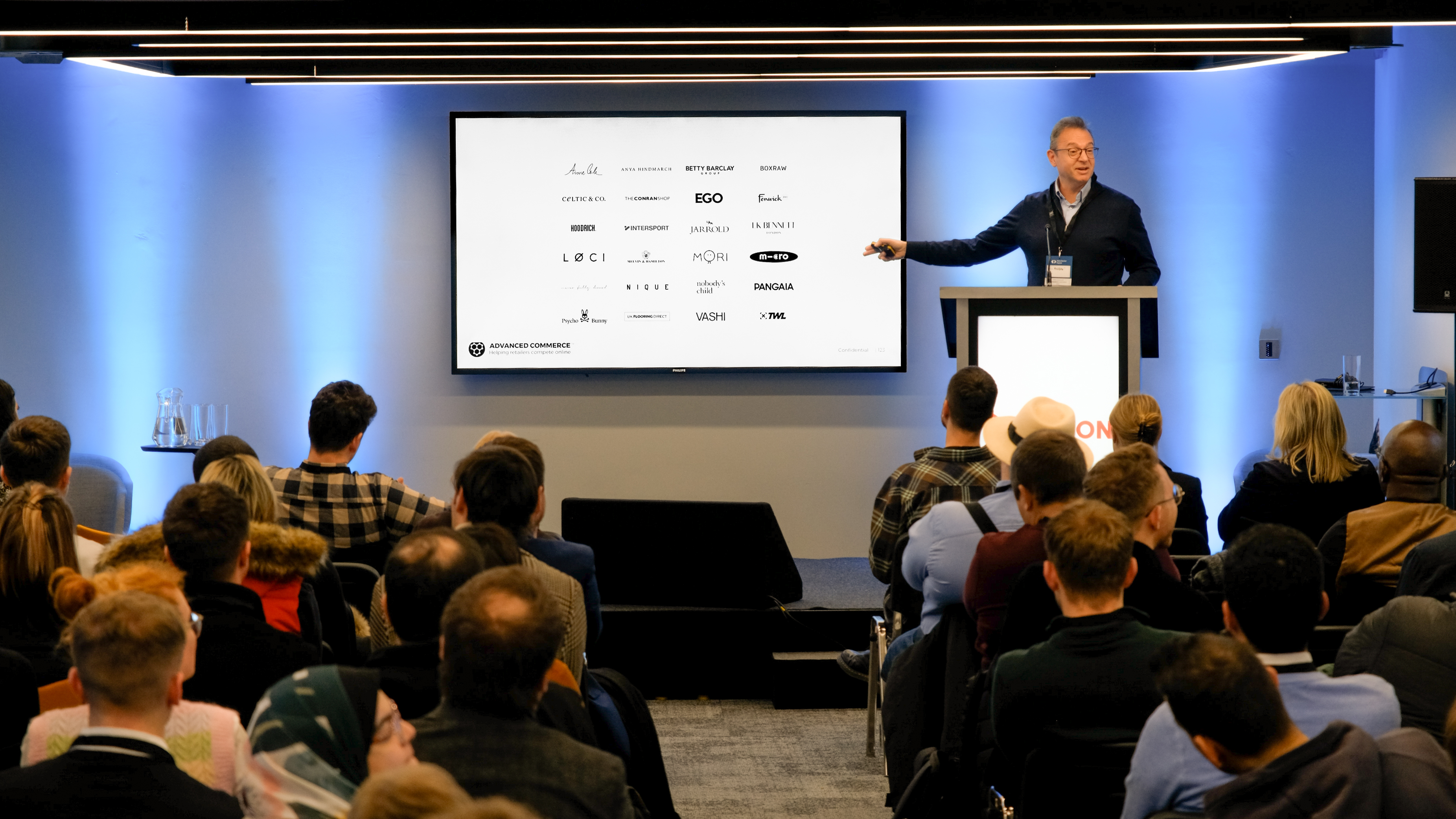 Andre Brown, Founder & CEO of Advanced Commerce
Meanwhile, the boardroom saw Marcus Hadfield, Chief Strategy Officer at Apadmi, and Adam Hopwood, Head of Product at Co-op, join together to present "Conversations with Co-op and Apadmi: How to build a loyalty app and drive 2.3 million downloads".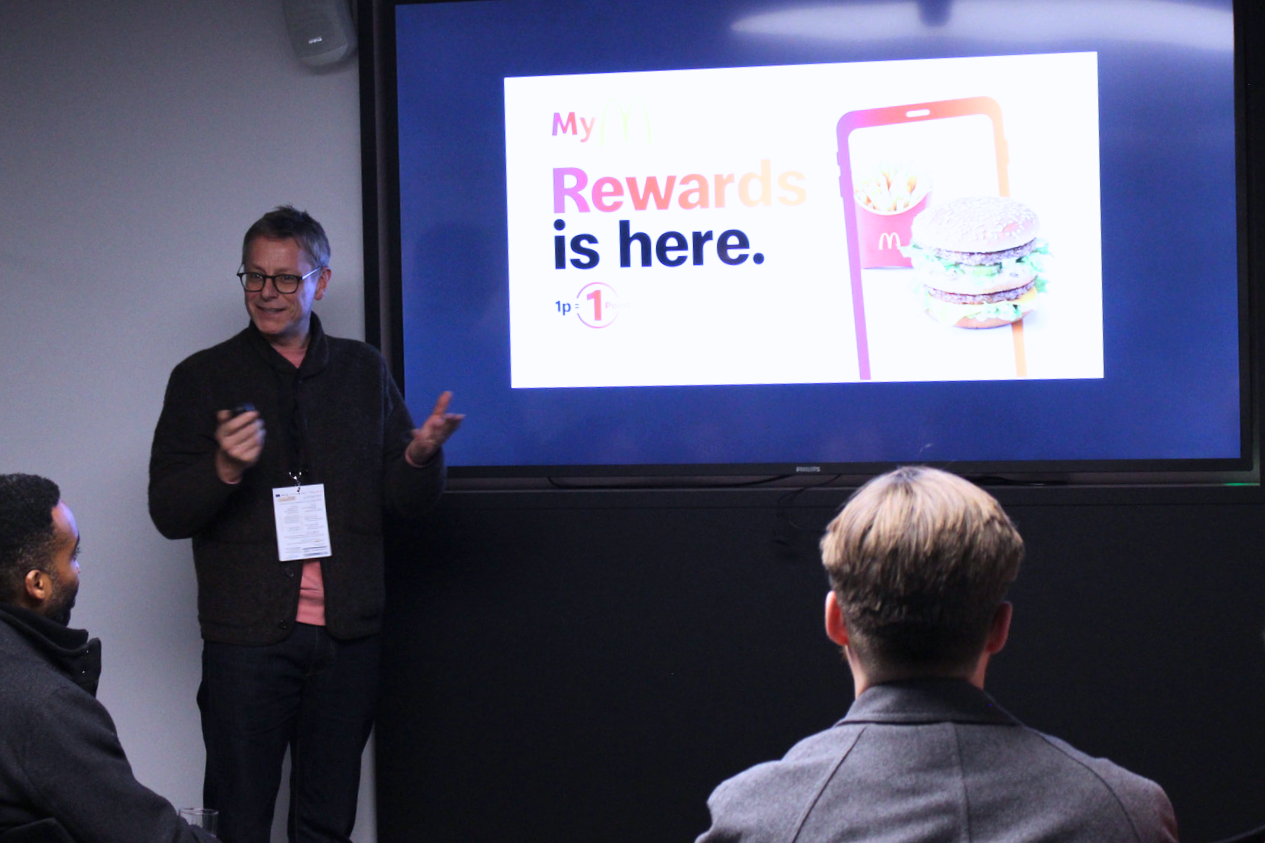 Marcus Hadfield, Chief Strategy Officer at Apadmi
For our final presentations of the afternoon, guests in the main event space enjoyed "How to accelerate growth in a challenging economic climate", delivered by Neil McKay, CEO of Endless Gain.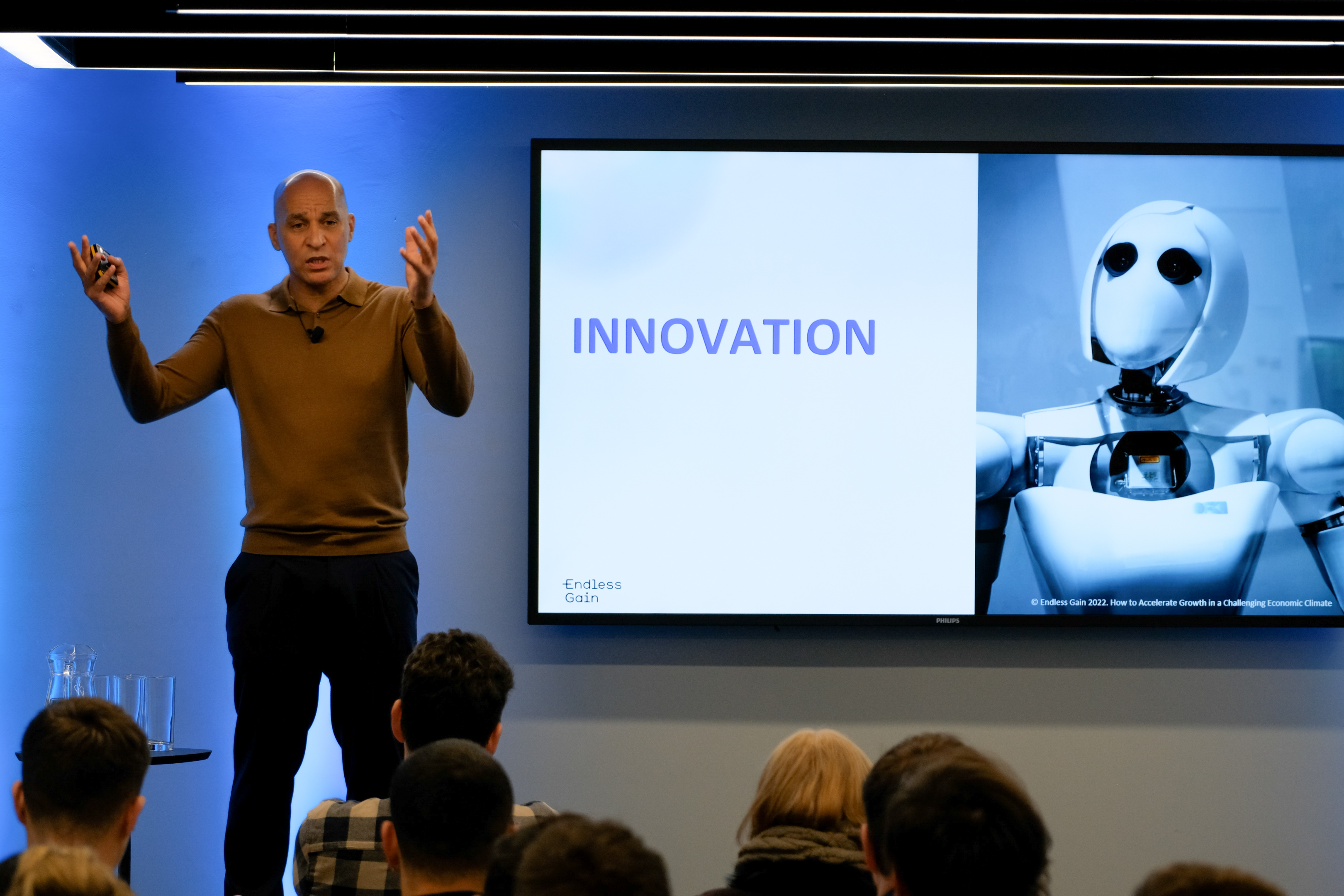 Neil McKay, CEO of Endless Gain
In the boardroom meanwhile, GAIN LINE facilitated an interactive sprint session, as they showed ""How to use Sprint methodology to solve your challenges in ecommerce".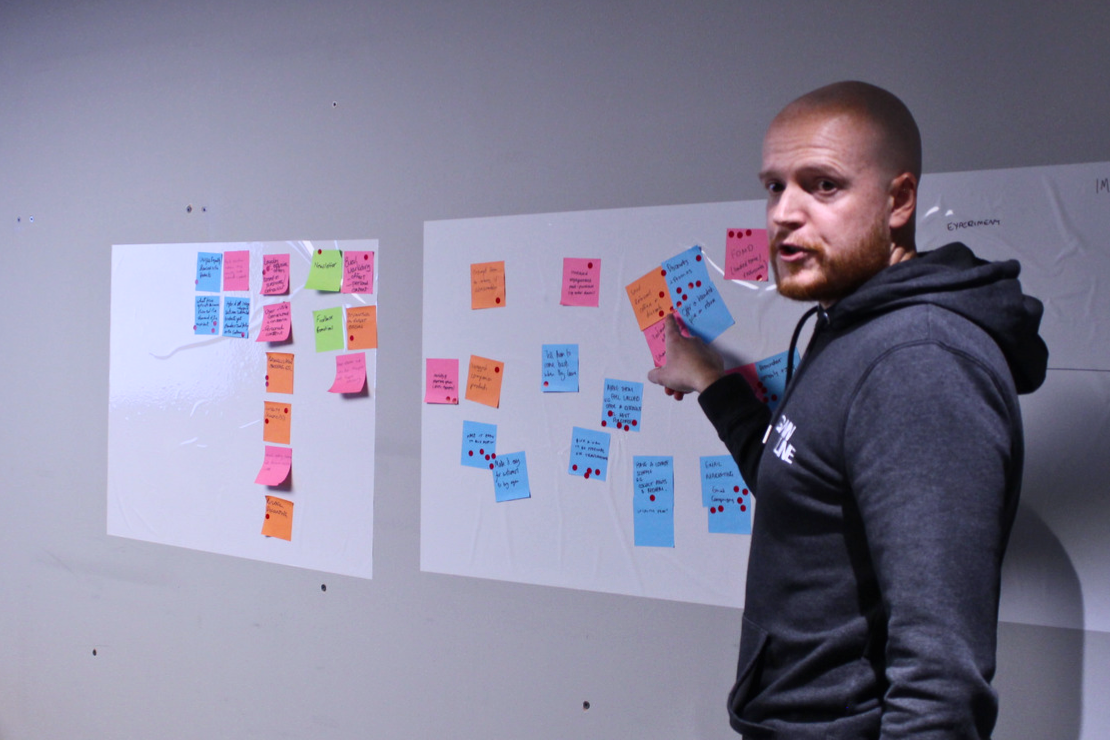 Kevin Williams, Technical Director at GAIN LINE
For our final session of the afternoon, all guests gathered together in the main event space once again for our second panel, this time focusing on the agency side of ecommerce as we asked "Is Composable Commerce the future?".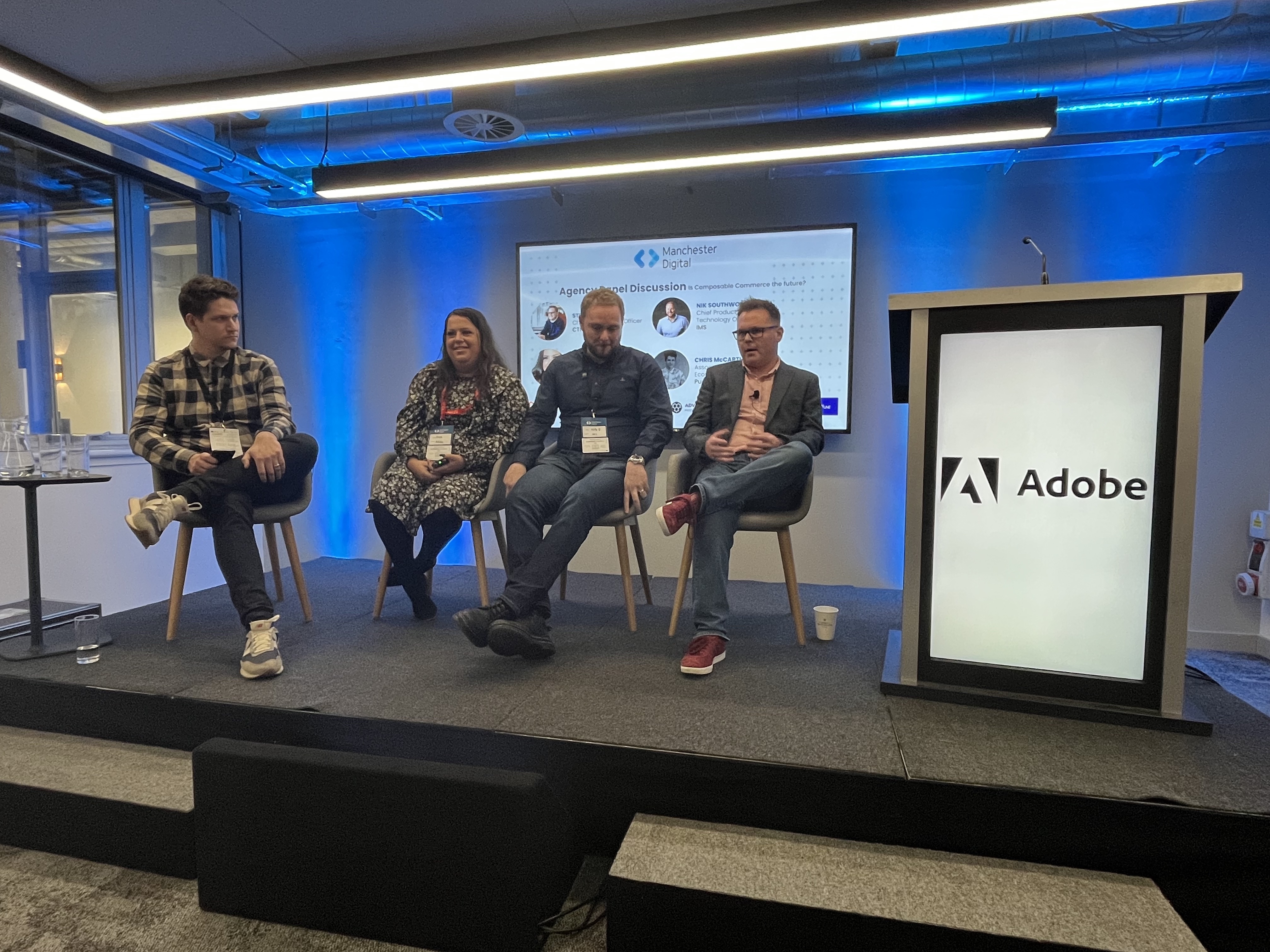 Agency panel L-R: Chris McCarthy-Stott, Stephanie Kershaw, Nik Southworh, Steve Gale
The panel was chaired by Chris McCarthy-Stott, Associate Director of Ecommerce at PushON, who was joined by Stephanie Kershaw, Partner Sales Manager at Adobe Commerce, Steve Gale, Chief Commercial Officer at CTI Group, and Nik Southworth, Chief Product & Technology Officer at IMS and previously Beauty Bay.
"The whole thing combined is a wheel, rather than the individual parts."
Steve Gale


"What we're saying now is we want the best of everything."


Nik Southworth




"With composable, it's evolution, not revolution - you don't need to start everything from scratch."


Steve Gale




"There are retailers who genuinely want to differentiate themselves in terms of their technology and grow their own teams."


Nik Southworth




"We look at the market in two segments - SMEs and Larger Enterprises. Plug and play isn't going to work for everyone, and true composable requires a lot of work and planning so just not possible for smaller merchants. We wouldn't talk about composable to all customers, as it isn't a one size fits all solution."


Stephanie Kershaw
Following the Conference, guests joined us at Tahi Eatery at Circle Square, as we gathered together to discuss the points that had been raised over the course of the afternoon, reconnect with old friends and make new acquaintances over sharing boards and drinks long into the evening.
Details of our next Ecommerce event will be announced shortly. Sign up to the Manchester Digital newsletter to keep up to date with all the latest news and announcements.