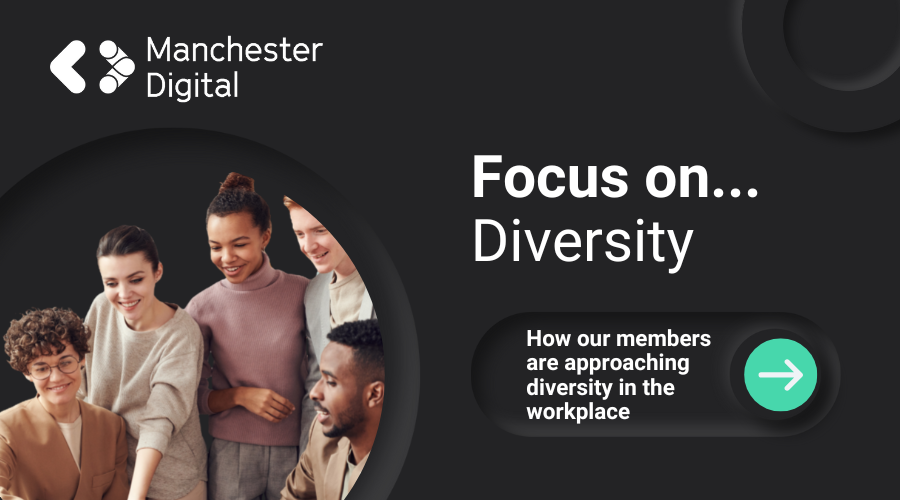 Focus on Diversity: How our members are approaching diversity
Bridging the diversity gap within the digital and tech sector is an important issue for the industry and wider society, and crucial in driving equality. A diverse workforce has positive implications for businesses, including a better understanding of customers and employees, better and more inclusive products and services, more creativity and innovation, and more talent to choose from wider skill sets.
We spoke to our members about their strategies for closing the diversity gap within their organisations and what they can share with the community on ensuring everyone has a place within the digital and tech sector.
We focus, we live, we inspire – We take care of our colleagues and future talents by creating an inclusive working environment as well as fair and equal chances to support each individual performing their best.
As a global organisation, we have a responsibility to embrace diversity, drive positive change and ensure that our business reflects our society. Inclusiveness is about each and every one of us feeling comfortable bringing our true selves to work each day and feeling valued for who we are and what we can do.
As a key part of our ethos, all of our managers have now gone through our "Diversity Wins" training programme – which will be made available to all colleagues in 2022. We also have five established Colleague-led Diversity & Inclusion Networks with a number of chapters to help drive our diversity and inclusion programmes forward.
As we work towards our Beyond 100 strategy and target of 30% diverse candidates in management by 2025 – we clearly see how diversity and inclusion drive success. Building a greater range of experience, creativity and inclusion enhances our ability to understand, develop, and attract the future talents, ideas and customers who will help define the next generation of Bentley Motors.
It's not a surprise to say that both tech and energy are industries that suffer from underrepresentation in non-white and female demographics. By getting involved in the community and speaking at, sponsoring and hosting events that support underrepresented groups in tech, we've been able to build a much more inclusive team and establish routes into the industry for people from more diverse backgrounds. We partner with schools in underprivileged areas of Manchester and London to talk to make sure students know the career choices available to them and offer work experience placements so they can try out for themselves roles that they may never have had any exposure to previously. We also hold annual tech and customer management internship programmes for women and those who identify with any Black, African or Caribbean background.
We understand that retention is as important as recruitment. We're the only large energy company with a gender pay gap in favour of women, and treat all of our employees as adults and individuals, with transparent and respectful communication, flexibility to suit everybody's needs, and a focus on work-life balance with unlimited annual leave. We also allow our existing employees to contribute to our Equity, Diversity & Inclusion (EDI) strategy, by getting involved in visits, training and writing content. EDI isn't one person's job at KrakenFlex, it is a group effort.
It is so important to us that EVERYONE is made to feel like they are truly welcome, safe and free to be themselves in Naimuri.
This is what drives our internal processes to ensure we create and have an ever-evolving inclusive and open culture.
We are passionate about creating a welcoming, relaxed environment during our recruitment process and this starts the very first time someone meets us, whether online or face-to-face.
Making sure we are conscious of bias (i.e - by being swayed by a football team a candidate may support) when interviewing is vital and we work hard to make sure that during onboarding and induction each new recruit is made to feel like a valued member of Naimuri. We ask for feedback regularly and run workshops with our new joiners to make sure we don't lose sight of this inclusivity.
At Naimuri, character is just as (or even more so) important as competence and we actively encourage candidates of all different backgrounds and identities (with varying perspectives and values) to join us, to ensure Naimuri is continually evolving and producing its best work in an inclusive and creative environment.
Continuous improvement is a cornerstone of Naimuri. We can always be better.
It is important that all voices and opinions are heard so as well as workshops and lean coffee meetings, we run surveys every 3 months that always include questions about how inclusive our people think we are and how we can make changes. This feedback is then shared across Naimuri and we take action based on the feedback received.
We have a number of internal power groups, which are driven by our people and their personal passions or topics which they feel are important to them and/or the culture of the business.
The Power Group members come together to create, promote, embed, and sustain their topic throughout Naimuri. At Naimuri we have a Diversity and Inclusion Power Group. This matters to us.
At Nimble, Equality, Diversity and Inclusion are at the heart of all we do. We celebrate differences and recognise the unique value and strengths that each individual brings to the company and culture.
Nimble is a safe space for people to be themselves and grow. Our open culture, ED&I events and training, ensure everyone knows the value of difference and we nurture and encourage behaviours that support a truly inclusive organisation.
We take time to understand every individual's goals and ambitions. Supporting them to achieve them, regardless of background. Everyone has a fair opportunity to thrive and meet their goals. There are frameworks for consistency, with room to tailor to individual needs built in.
We're a Disability Confident Employer and continually monitor our recruitment to improve accessibility, and remove bias and gender-specific language.
People are at the heart of what we do, and our number one focus throughout Nimble.
Lottie Robinson, Director of People @ Nimble Approach
Swiss Re UK is committed to building an inclusive workforce as we see this as key to business success. Earlier this year we undertook and achieved the National Equality Standard (NES) accreditation which provided strategic guidance on building an inclusive workforce.
Ensuring equal opportunities for all candidates through our recruitment process is important for us. We use specialist software, Textio, to screen our job descriptions and engage specialist recruitment agencies and programmes, including myGwork and CodeFirstGirls, to create a strong pipeline of diverse talent and reach under-represented candidates. We welcome job shares and part-time roles.
We have seven Inclusion & Diversity Networks run by passionate employees, with representation from various business units, job levels and diverse backgrounds and identities. Our Networks work with our senior leaders on our Inclusive Leadership Champion programme to enact change. For example, the Networks launched our UK inclusive language guide and masterclasses with the purpose of increasing education on key terminology and empowering everyone to talk about inclusion.
Through #inclusionstories we invite our employees to share real experiences that colleagues can connect with and better understand what it's like to stand in someone else's shoes. The stories help us to highlight different views on inclusion, encouraging our Swiss Re community to talk and think about these sensitive and important topics more openly.
To learn more please visit Diversity, Equity & Inclusion | Swiss Re.
You will need to speak to our People Team to find out what is their secret but the first step is how we recruit new colleagues – it is very much a two-way conversation where both sides get to find out whether they are the right fit for each other and cultural alignment is one of the key recruitment criteria. It doesn't matter how great your technical skills are if you do not believe in respecting everyone else and knowing that the more diverse we are, the better of a job we can do.
The other important component is that at Zühlke you will not find a "Diversity & Inclusion Committee" because we deeply believe that inclusion is an integral plan of everything that we do, and it is a consideration at each step – starting from recruitment to project work and everything in-between. Furthermore, we recognise that we are all different in many ways, so we make sure everyone gets the right support to bring their best, e.g. neurodiverse candidates can ask for appropriate accommodation throughout the recruitment process or special work arrangements for their day-to-day work.