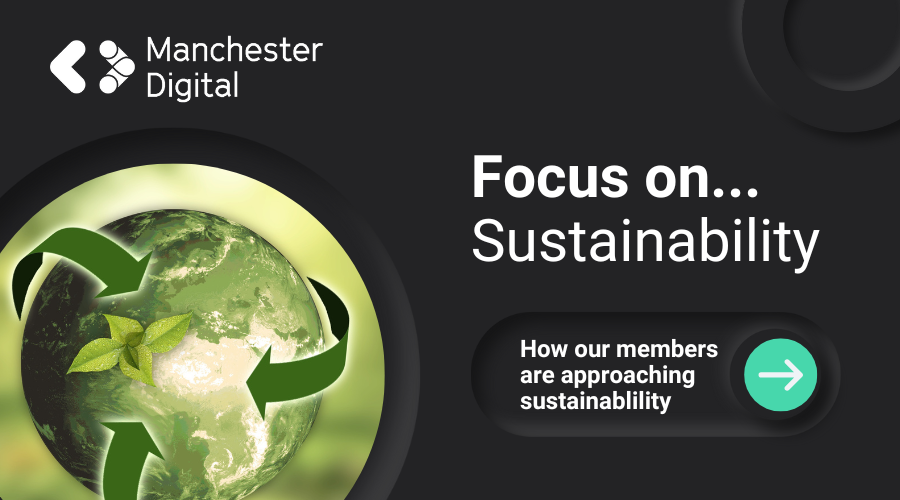 Focus on Sustainability: How our members are approaching sustainability
The climate crisis represents one of the greatest challenges facing our world. As the issue becomes more and more serious, it is encouraging to see many businesses taking steps to become more sustainable, cut emissions and reduce their carbon footprint.
As well as making a positive impact on the environment and society, it's clear that businesses who embrace sustainability and put it at the forefront of their strategy are seeing many valuable business benefits.
We spoke to some of our members to find out what steps they have taken to integrate sustainable initiatives and any advice and tips they can share with the community, featuring:
Few issues matter more than sustainability. As part of our commitment to reduce our emissions here at BAE Systems Digital Intelligence, we're looking at a number of innovations across the business to lower our carbon footprint.
One example is an app we're developing to monitor the carbon emissions of our software engineering teams, which we intend to roll out later this year. By asking some simple questions of our people, as well as utilising data relating to our various office locations, this app should prove to be a powerful tool in tracking emissions across the business. It will help us to identify trends and discover where the biggest areas for improvement are.
We're excited to be able to provide an opportunity for our people to see how small changes in their daily routines could reduce their carbon footprint on an individual level, as well as making a difference within their team and the wider company. Our long term goals even include monitoring the emissions produced by our use of cloud computing, and what changes could be made to the design, architecture, and implementation of our code to reduce energy consumption and improve efficiency.
Sustainability is not a race to the finish line, it is a journey. We must not see it as a stage for competition but as a platform to impart our knowledge, share best practices and champion a meeting of minds.
Bentley is on a journey to create a future driven by new technologies, materials, fuels and skills, in the pursuit of a progressive, new world: one in which the highest levels of luxury mobility are achieved with sustainable methods.
Implementing a holistic approach is integral, therefore we place sustainability at the heart of our Beyond100 strategy. Engaging sustainability as a core principle allows us to reimagine our future products and deliver a paradigm shift in every aspect of our operations. In the next decade, this will transform us into a values-led, end-to-end carbon-neutral luxury brand building exclusively battery electric vehicles by 2030.
On this journey, it is still important to have an end goal in mind. We aim to go beyond off-setting and create long-term positive impact through investment in projects that are climate positive. Through empowering our colleagues and suppliers we will keep making positive changes to stay on track for our ultimate goal to get to net zero.
DLA Piper has set a science-based target to halve its greenhouse gas emissions by 2030 compared to 2019/20 pre-pandemic levels. Approved by the Science Based Target initiative, the target spans DLA Piper's entire value chain, including indirect emissions from the firm's supply chain and covers all International offices. To support the 50% target reduction, DLA Piper is making a number of operational changes and has introduced several initiatives.
These include sustainable procurement, a thoughtful travel policy, carbon accounting, cloud-based data management for every office and an internal engagement campaign. The firm has also committed to sourcing 100% of its electricity from renewable energy sources by 2030, up from 61% at present.
The firm is currently examining the results of its first materiality assessment, which will inform its sustainability and ESG strategy. The firm is also committed to making businesses better by helping clients and communities transition to and thrive in a more sustainable future.


We're facing a global need to change the way we consume products, generate and use energy, interact with the environment, and travel.
At KrakenFlex and the wider Octopus Energy Group, we make sure all of our work is in effort to bring together energy generation (e.g. when the wind is blowing and the sun is shining) and consumption (e.g. when is the right time to charge my EV or put my washing machine on.)
Businesses can have an impact in this area too! If you have any processes that consume a lot of energy, thinking about when to schedule them based on when the grid is at its greenest is a great way to start. Secondly, when buying new hardware, ensure they are future proof and have the ability to be scheduled or remotely controlled (such as EV chargers with remote app support). This will ensure you're going to be able to have an impact in the future grid.
Naimuri are a tech business without a physical product, but the impact we have on the world around us is significant and we try our very best to instigate change..
We do this through….
Carbon Power Group
This is an internal group (led by employees) examining and challenging things which we do and looking at new ways to decrease our carbon footprint.
100% renewable energy
A quick call to our energy provider led to us swapping to 100% renewable energy for free and reducing over 3 tonnes of carbon equivalent per year.
Transport and Travel
Hybrid working is helping, alongside initiatives like our cycle to work schemes.
Make things easier to enable small changes
We have put our recycling area in the kitchen (instead of outside), and hope to put in electric charging points in the car park.
Sustainable servers
There are more sustainable cloud-based servers being offered and we chose to do testing on an Ireland AWS server, which is a more ethical choice.
Marketing
We have started to look at what we produce & suppliers we use to ensure we don't use anything which is damaging the planet or can't be recycled or is unethically sourced/produced.
Talk, share and listen
We continue to talk to our clients, our people, our academic partners and our friends in the wider Manchester tech community. Knowledge sharing and finding new ways and solutions to problems can again play a small role in enabling change.


For Zühlke, it is about businesses recognising that it is them, not individuals, who are driving the well-being of our planet and instead of suggesting superficial initiatives, like not using plastic straws in work cafeteria, to seriously look at their business model and address any negative impact they might be having on the environment.
This notably would be to undergo a proper carbon emissions assessment and aim for being carbon neutral or even negative through adjusting their processes rather than subsidising carbon charities as a way of "buying" carbon neutrality.
And on a basic level they should make sure they have a really good work culture prioritising well-being of their employees, because if we all would not need to worry about our day to day life, we would have far more mental and physical energy to make our planet a better place.