Now in its 11th year, Save the Children's Christmas Jumper Day prompts millions of people around the UK to don their jazziest jumpers in exchange for a £2 donation to the charity.

This year Christmas Jumper Day will take place on Thursday 8th December and Save the Children's campaign is encouraging people to make it a team effort by signing up via its site for additional support in getting workplaces, schools, and friends and family involved.
For the first time, it has also been chosen for the government's UK Aid Match scheme that provides grants to UK based Civil Society Organisations (CSOs) for poverty reduction projects in developing countries. For every £2 donated by the public the UK government will also contribute £2 of UK aid, up to £2 million, to help the charity's projects go further in changing and saving lives.
As Save the Children's media communications partner, Manchester-based MediaCom North is managing the media placement for the fourth year, and has implemented a new strategy that aims to maximise reach to relevant audiences travelling to schools and workplaces during the next four weeks, in the run up to the big day.
Rachel Green, Senior Marketing Manager at Save the Children UK, said:
"As well as increasing awareness of Christmas Jumper Day, this year's campaign has been designed to drive registrations via our online sign-up process – so the messaging is very much focused on how easy it is to get work colleagues, friends and family involved, making it a team effort to raise funds.
"By condensing the user journey to make it as easy as possible to sign up, create a JustGiving page and get fundraising resources we hope both individuals and groups will make the day super fun.
"Alongside resources, the web site shows how the funds will be used to help children around the world, and how every penny donated makes a big impact on people's lives.
"We're also running the day itself on a Thursday this year to reflect the change to many people's working week, and the increase in hybrid office and home working patterns. Our aim is to get as many workplaces, teams and schools involved.
"With the extra government funding we really hope that the campaign encourages people to spare just £2 this year to make this our best Christmas Jumper Day yet."
Chris Pollard; Business Director at MediaCom North added:
"In line with this year's focus on getting workplaces and schools involved again, the media planning has been shaped around 'owning the commute' through a combination of commercial radio and digital out of home timed to reach audiences on the way to work. The campaign is running nationally across all commercial radio stations through the Newslink Network, and is synced with Global's DOOH portfolio to maximise synergy. This approach is based on insight that by using these media channels in conjunction increases their overall effectiveness.
"These tactics are coupled with Online Video (OLV) advertising, PPC and display to further boost overall reach. We've also utilised Google's latest platform Performance Max (Pmax) to maximise sign ups for the event.
"After a difficult couple of years we want to bring everyone together on Christmas Jumper Day for fun and fundraising, and by catching people before work in the weeks before the day itself we're hoping it's fresh in their mind to prompt conversations in the workplace.
"With strong awareness and a clear call to action we can't wait to see the results and see workplaces, teams and schools coming together to have some fun."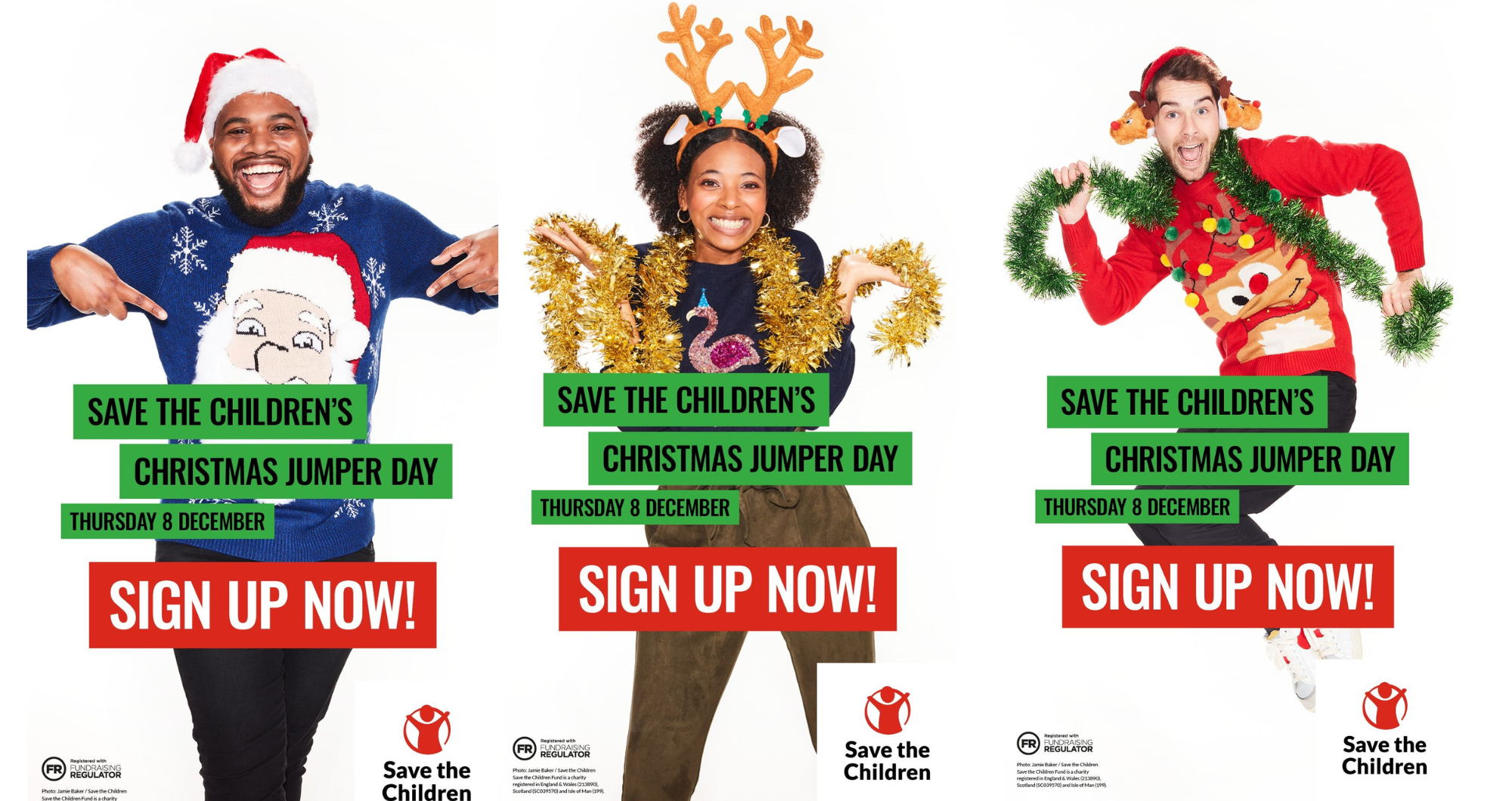 https://www.savethechildren.org.uk/christmas-jumper-day