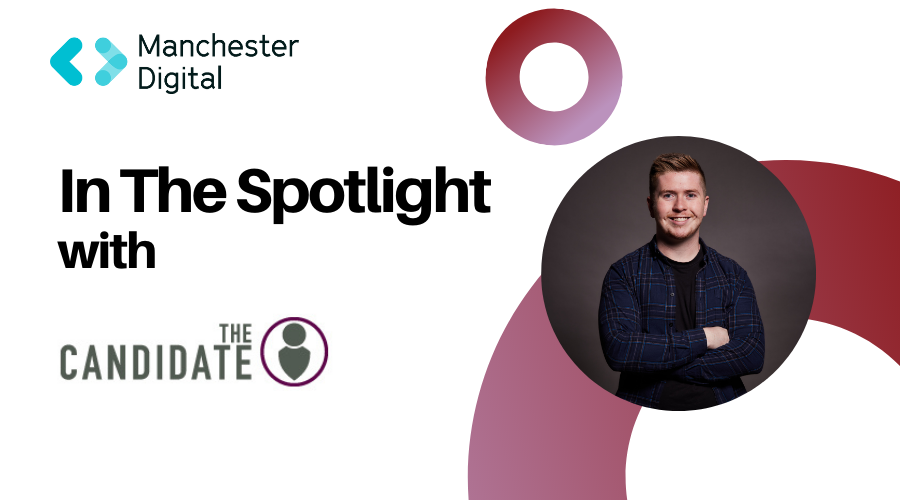 At Manchester Digital we like to interview our members to find out a bit more about what they do and their work in the Greater Manchester digital and technology sphere. This week we're speaking with Jack Such, Technology Recruitment Manager at The Candidate.
What does your organisation do?
The Candidate are the region's leading digital, marketing, technology, analytics & creative Recruitment Agency working both permanent and contract roles. We partner with the most ambitious & technically driven companies in their search to recruit the best talent into their teams.
As the Technology & IT Recruitment Manager, it's my responsibility to work with our clients to recruit every manner of role across the Software Development Lifecycle. With a proven track record of completing entire development team builds, to defining testing strategy through placing candidates into technical leaderships roles, we help drive organisational growth through positive talent acquisition.
Deep diving into our client's technical stack, culture & long-term goals, The Candidate forms real relationships where we provide value and constantly keep an eye out for ways in which our candidates and clients can differentiate themselves from their competition.
What do you think is currently the biggest issue facing the tech industry?
Without a doubt, the biggest issue is the immediate requirement for experienced talent who can immediately deliver on a project. Technology is set to continue it's year on year growth as the highest demanded sector for recruitment as we head into 2022. Although there is a wealth of new talent joining the industry through universities, coding camps, online courses & more, employers are searching for experienced individuals who can immediately join and make an impact. Since the Technology industry is home for UK & EU investment into the UK economy, the pressure is on for technical leadership to deliver on projects and this often results in less availability to train junior candidates. As a result, we are experiencing a wave of employers who are all searching for the same talent, at the same salary range, within the same region; and most of whom are reluctant to onboard a junior through fear they will move onto pastures new once trained.
What is your organisation's biggest achievement?
I have to say from a Tech perspective it has been the conception and delivery of the Tech Department. I re-joined The Candidate in March 2020 with the task of delivering tech for our current clients and more. If you had of told me the roadmap of then until now I would have never believed you, NEVER.
When covid hit our country hard and we went into lockdown, it was a scary time for all businesses. But soon we realised that our tech clients had never needed us more. We had to deliver the top talent in a business critical environment and we did. Covid has changed how we recruit forever, it has changed the needs of the businesses, it has changed the needs of the candidates and I am so glad that we have been there for our clients, joining them for the ride.
What would you consider to be your organisation's biggest challenge?
The Candidate's most pressing organisational challenge reflects that of the wider Tech industry. Operating in a talent short market, we are experiencing a bottle neck of talent with the influx of Junior candidates onto the market but the reluctancy for businesses to support them in their growth.
In a world based on deliverables & revenue, the Tech industry is currently being hit across the board with the demand for experienced individuals not matching up with the amount of experienced talent there is on the market. Businesses are competing for the same talent and that results in an incredible candidate dominated market.
What do you think the future looks like for Manchester's tech sector?
To sum up Manchester's tech sector in one word… Exciting.
Manchester is quickly becoming the Tech hub of the UK. Passionate technical leaders supporting innovative businesses who are making a real difference to the lives of their customers. Exciting landscape for career progression and the opportunity to use the most modern tech has enticed many away from more traditional career paths.
Not only are we seeing candidates relocate to Manchester to embody themselves in to the Tech culture, more and more businesses are transitioning their operations to Manchester which has resulted in an exciting period of growth for the region.
The future is simply exciting.
Tell us something that we might not know about your company?
The Candidate was started by childhood friends from Northern Ireland, Colin Telford and Brian Matthews. This shows in the culture that they have created, a highly successful business run with one eye on delivery but with other on its people's interests and these are both central to all decision making in the business.
Thank you Jack!
To find out more about The Candidate, click here.
Want to raise your business's profile? If you're a member, contact thom@manchesterdigital.com to discuss featuring your content on our site, social media or newsletter. If you're not a member, get in touch today to discuss the benefits of membership.