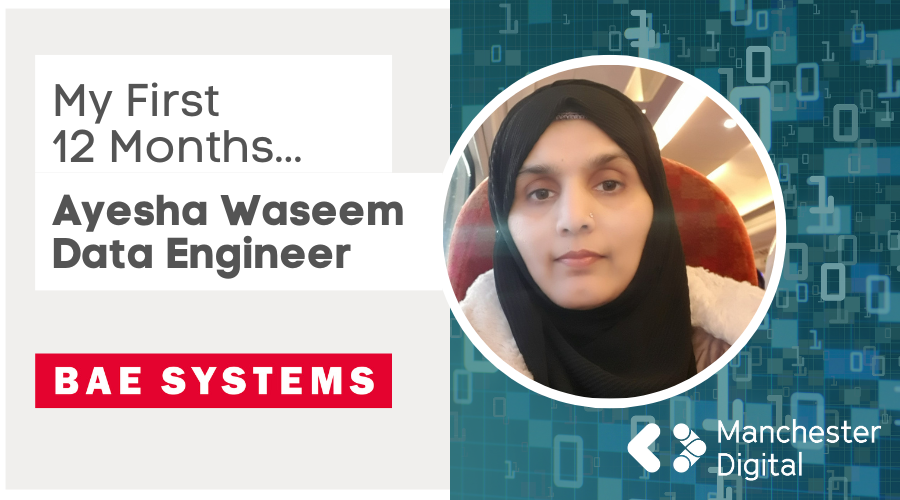 The first 12 months in a new role is a crucial time full of learning, building new relationships and establishing yourself within a business or organisation.
We recently spoke to Ayesha Waseem, Data Engineer at digital, cyber and intelligence experts BAE Systems Digital Intelligence, to find out about her journey into the role and how the first year has gone so far.

Name: Ayesha Waseem
Company: BAE Systems Digital Intelligence
Job Title: Data Engineer
What's your professional background and interests?
I've always been really interested in computer science and so that's what I studied. I had a few ups and down in my professional life but I continued my dream and completed my MSc in Advanced Software Engineering. This led me to my first UK role as a junior web developer. I took a career break when I became a mother before starting my journey as Data Engineer at BAE Systems.
What attracted you to this role and company?
I was looking for opportunities where I could learn more and take advantage of flexible working to balance my personal and professional life. Luckily enough, I found the perfect balance in this role.
What does a typical day look like?
We start our day with stand-up meetings, where we discuss our daily progress and any challenges. During the rest of the day, we continue with our pre- assigned tasks. The role varies from project to project – previously I was more focused on a blend of coding and research but now the main priorities are upskilling and research in machine learning.
What are the key challenges in your role?
Data engineering is a vast field and with growing data, it has more challenges. I believe the knowledge gap (about new tools and technologies replacing the old) is one of the key challenges.
What has surprised you most in the last 12 months?
To be honest, I am still surprised about how much I already achieved and learned as new joiner.
What are the best bits about the role?
I enjoy learning and this role offers endless learning opportunities with good career progression as well.
How would you describe the company culture?
The BAE Systems company culture is collaborative, inclusive and really welcoming. I have found it very supportive.
Can you share details of one project/achievement you are most proud of since starting in this role?
For my first project, I led the development of the cloud services part of the solution. This included provisioning of cloud environments, architecting and developing the cloud solution, testing of technology options and presenting and discussing options and plans with the customer. I am really happy that I completed these tasks on time.
Thank you Ayesha!
To find out more about careers at BAE Systems Digital Intelligence, click here.
If you're a Manchester Digital member and would like somebody at your company to be featured in our My First 12 Months series, contact thom@manchesterdigital.com.