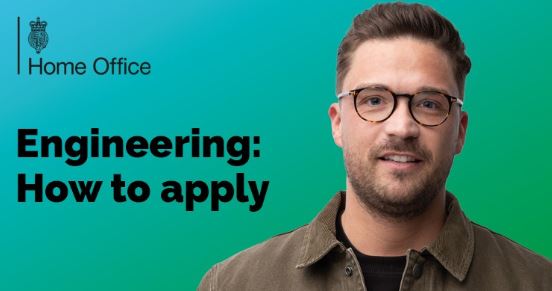 I'm George, the Strategic Capability Lead at the Home Office's Digital, Data and Technology team.
I communicate with people considering an Engineering career with us including people with Software, Infrastructure, Cloud and Network experience.
Our recruitment processes may seem unfamiliar and daunting, so speaking to people about the roles r can really help to build an understanding of our organisation, the benefits we offer and the application process.
There's lots of information about our Engineering profession on the Home Office Careers website, and you can apply for our vacancies via Civil Service Jobs. You can search roles without registering but will need to create an account, to apply and to track your application. You can filter role searches by job title and location and set alerts for the roles that interest you.
Once you've found a role you'd like to apply for, you'll see that our recruitment process uses success profiles, and our process consists of three stages:
The application
The technical test
The panel interview
The application – your CV and personal statement:
Your initial application would usually include two elements; a CV and personal statement (unless the advert states otherwise)
Your CV should include both your 'Employment History' and 'Previous Skills and Experience'
Your personal statement must be 500 words or less, unless the advert states otherwise, and cover why you're a good fit for the advertised position
We'll ask you to remove information that identifies you, for example your name, age or place of education. Our applications are judged on merit alone and do not consider your background, circumstances, race, age or gender.
Application tips
You must include information, examples and evidence that demonstrates your skills and experience
Your application must demonstrate how you meet the essential criteria listed in the job advert
Don't rush your application. Give yourself plenty of time to complete it. You can start an application and come back to complete it before the job advert closes.
The Technical Test
Once you have applied for a role, your application will be reviewed by two Engineers to ensure the assessment is fair.
Following the application review you will be notified if you have been successful and invited to complete a technical test if you pass the application stage. Detailed instructions about the test will be provided in your invitation.
The technical test is an opportunity for you to demonstrate your technical capability in a structured and transparent way. It will show how you go about problem solving and the methods you use. We have a variety of tests to assess different skills, technologies and languages depending on the role.
If you require reasonable adjustments for the technical test, just tell us and we'll accommodate you.
We will also provide an adequate timescale for you to take the test. It is not timed so you can flexibly take the test around other commitments. We want to provide you with the best opportunity to perform well.
Next, our Engineering community will review and score the test and you will be notified if you have passed. If you pass, you will be invited to a virtual panel interview.
Technical Test tips
We want you to show us how you approach problems, so take your time to understand and consider the problem you're being asked to solve
Be creative
Show your thinking as comments to help assessors understand your approach
Don't rush the test. Give yourself plenty of time to complete it.
The Panel Interview
If you meet the required standard in your application and technical test, you will be invited to an interview. This will be conducted via a virtual face-to-face panel. Ahead of the interview you'll be offered an opportunity to request reasonable adjustments if required. The interview will consist of three panel members including a chair, technical expert and an independent panel member.
For engineering roles it's likely that you'll be asked a combination of technical and experience-based questions (unless the advert states otherwise). Some may be closely aligned to the essential criteria in the job advert.
We map our roles to the Skills Framework for the Information Age (SFIA), and this is provided in job adverts to help you prepare for your interview.
At the interview we'll ask you questions based on the competencies listed in the framework.
Interview Tips
Review the SFIA document for the advertised role on the SFIA website or the PDF document in the advert to see what's required for the skill level
Familiarise yourself with the role before attending the interview. This information can be found on the Civil Service Job 'Advert Details' tab.
Prepare relevant examples / evidence when you demonstrated the skills and experience required.
We're a digitally-focussed organisation that develop products and services, but people are at the heart of everything we do.
If you're considering a position with us, it's an exciting time to join! We're recruiting in Manchester, Sheffield, Glasgow, Hendon and Croydon.
Hear from Imran, the Head of Engineering about his journey into a tech career and vision for the Engineering profession at.
Also you can hear from our Manchester and Glasgow Principal Engineer, Graham about the projects and services being delivered at these locations and why you should consider a career with us.
Good luck with your application!