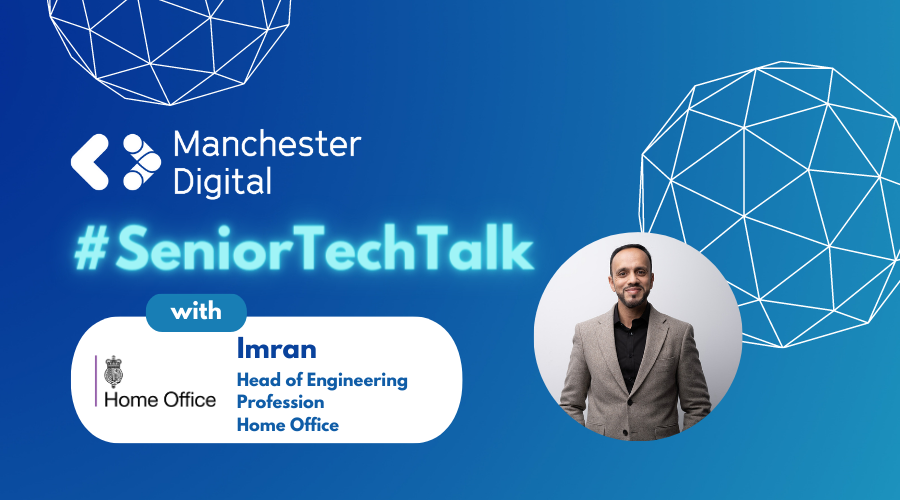 We sat down with Imran, Head of Engineering Profession at the Home Office, for the latest Senior Tech Talk to find out more about their digital journey and what opportunities there are to join them on their mission.
Could you begin by telling us a little bit about your role at the Home Office?
I'm Head of Engineering, so I have responsibility for governing the use of infrastructure technology across the department.
We have over 600 services across areas such as passports, border control, immigration, citizenship and policing. I've been lucky enough to have led the modernisation of several legacy Home Office applications and have experience in delivering digitally at both a small and large scale, with sustainable user centred data-driven products using internet style engineering, technology and architecture.
I'm also responsible for defining, developing, and embedding standards, guidelines and processes that promote best practice and consistent ways of working across our organisation. I maintain and promote the structure of the profession, developing recruitment and retention strategies, establishing consistent job descriptions, skills, proficiency frameworks, career pathways and performance reviews aligning to the central direction set by our Digital, Data and Technology (DDaT) Head of Profession.
But what I really enjoy is building an inclusive community of practice that enables civil servants across multiple projects and business areas to share ideas, discuss best practice and proactively help and support each other.
Could you tell us a little bit about the digital journey that the Home Office have been on and if there's been any big challenges that you faced along the way?
We've actually got a DDaT strategy which is published on GOV.UK and that basically describes what our plan is in terms of our digital journey and what we're trying to do. It's based upon 6 principles and the first one is all around trying to converge our technology.
Our convergence journey involves adopting technologies that are accessible, scalable and easily maintainable, such as open source and cloud technology. We want to create and embed further standards for the way we buy, build and run software to create more unity in our infrastructure. That one's really important to me because I'm responsible for delivering guidance and standards, especially around engineering. We've just launched a new guidance and standards site which is open source, meaning it's available on the internet.
It's really about coding and working in the open and that's something I'm passionate about.
The second principle is about creating shared technology products. What this means is designing a product for multiple use cases, made possible through the application of user centred design methods and processes. Where appropriate we will use existing external platforms which are used elsewhere in government and develop platforms in-house only when we determine through research that this is the most flexible and cost-effective way of meeting our user needs.
What this does is balance the need of new bespoke technology that adds value against the need for services that can be shared.
Without going into too much detail here, some of the other principles include being more product-centric, become data-driven and delivering effectively at scale and to embrace innovation.
Are there any recent projects that you or the team have worked on that you're particularly proud of that you can tell us about?
It would be really difficult to choose one or two over so many, but essentially every year our systems support visa applications, checks on border crossings, passport applications, police checks on people, vehicles and property, and these are all in the millions.
I spent the early part of my career building and supporting applications and infrastructure for the Police National Computer (PNC). These have evolved over the years, and I've overseen the entry into operation of many new apps which are linked to the PNC but provide more specialised services. These help protect the public and keep the country safe from those who would harm it.
These are really challenging areas which can rapidly change in the global environment we work in. This makes us one of the most exciting and stimulating government departments to work in. And if you work with us, you'll be making a real difference.
We all know how difficult it is to recruit for digital and tech roles. What is the Home Office doing to attract and retain top tech talent?
We look after our people and really invest in their careers and provide continuous professional development (CPD). We advertise all our external roles on the Civil Service Jobs website and we also offer early talent routes into our teams, such as apprenticeships and a digital career development programme to attract emerging talent.
We regularly hold online recruitment events and have a dedicated website for digital, data and technology roles. Our focus is on building in-house capability of staff and embedding a culture of learning that encourages professional development as a priority, that brings out the best in everyone who works with us.
This includes offering membership to the British Computer Society. We also have online learning platforms that are free to all of our civil servants to make use of, and there is access to O'Reilly, which has many technical courses and books that our employees have access to.
We've also launched and provide access to Cloud Academy, and again this is fantastic. It's a system where people can develop their cloud learning skills. It has various sandpit areas where people can go in and play around with various different cloud environments such as AWS, Microsoft Azure or Google Cloud platform. A sort of playground for techies!
These are the kind of CPD things which we've introduced that our employees really benefit from.
You have been at the Home Office for quite a while. Could you tell us a little bit about some of the career progression routes that are available to employees?
When I joined the civil service in 2001 what I found was that the career pathways were not as mature as the ones we've developed now. As I mentioned earlier, we have apprentices coming in as junior engineers, developers or DevOps engineers or infrastructure engineers.
And now we have clear career pathways that allow them to develop from a junior role into a developer role, then into a senior developer or senior engineer role, then into a lead and then into a principal.
Governing the jumps between each of these grades are industry practice SFIA skills, which stands for Skills Framework for the Information Age. We have at least 6 skills for each of those grades and it means that when an employee has their regular catch ups with their manager, they can have a meaningful discussion to say: "I'm at this particular SFIA level now, and if you look at the next promotion for me it would require me to jump up a particular skill level, and I think I'm hitting that."
They can then present evidence of how they're meeting the requirements and the manager has a really strong case to encourage that person to apply for the next role. As a result, we've seen a lot of promotions, especially within the area that I work.
How important is it for the Home Office to be part of the digital and tech community here in Manchester?
This is vital as traditionally most civil servant jobs, especially in tech, have been predominantly in the south. So, for me this is about levelling up, and levelling up is about increasing and spreading opportunity because while potential is evenly distributed, opportunity isn't.
Our Manchester office, which is in Salford, has exceeded all of our expectations. It feels really nice to be working in a modern office with lots of new people who are excited to be starting on their journey with the Home Office, and their enthusiasm is infectious.
We're really focused on creating an office culture where we don't work in silos in our own corner of the office, but we know colleagues in our teams.
As a result, we hear about career opportunities that are out there, and just have more friendly faces to chat with, whether in the kitchen, the café, or the office floor. That's the vibe we have in the office, and it really does feel like a friendly and supportive place to work.
Hear more from the Manchester and Glasgow Principal Engineer Graham about his career journey and the type of projects you could be working on, as well as the impact you could make working in these locations.
Finally, if somebody was interested in joining the Home Office, are you able to tell us a little bit about some of the opportunities that are currently available?
There are 9 professions within Digital, Data and Technology here at the Home Office and all have roles available within them. These are:
Within engineering we have infrastructure engineers, network engineers, software developers and DevOps engineers.
For our engineers, we have the most cutting-edge technology and applications written in Java, Node.js and Python. We also have full stack developers and SharePoint developers too. We're currently AWS's second largest public sector customer and we also have a Microsoft Azure Cloud estate too.
Our DDaT Heads of Profession will be sharing their visions with the Manchester Digital community in the coming months, but in the meantime, if you're interested in an engineering career where you can bring your technical expertise to our teams and make a huge impact on people's lives every day please apply.
You can read about the professions on our careers website in one of the above links, and find out how to apply for an engineering position with us in this article.
Finally, watch our Home Office employee benefits video to hear what you could be entitled to when you join our organisation. Best of luck with your career journey.
Thank you Imran!
Find out more about opportunities at the Home Office here.