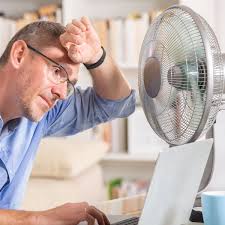 Finally, the UK finds itself in an uninterrupted period of exceptionally high temperatures. The summer we've all been dreaming of, except this year is yet again no ordinary year!
You may find that the respite of the office air-con is not available right now and your working environment looks unlike the summers of late.
You've set up the desk in a room in your house, the heat is unbearable, and your productivity levels are at zero. Let's look at some tips to keep you healthy, cool, and ready to tackle that all-important to-do list.
Take It Down a Level
If you are working in an office or room upstairs, it's time to head downstairs. Hot air rises, so the temperature upstairs will be a few degrees higher. Temporarily set up a workstation at your dining table if you can. Remember your posture and to not sit at your laptop for more than an hour without a 5-minute stretch and a drink.
Flexibility
I'm not talking yoga here, although that will help you in the long run with your physical and mental health. I'm talking about your working day. If your work allows, why don't you move the start of your day to earlier in the morning? Then you can be finished for mid-afternoon and enjoy some me-time or family time in the sunshine. Don't forget your sunscreen!
Stay Hydrated
When it's hot, you'll need to drink more water than you would do normally. If you're the sweaty type, then you will also need to replace electrolytes; banana, yoghurt, and avocado are all good sources of food that will balance any deficiency and they have the benefit of boosting your concentration levels too.
Remove Other Heat Sources
Some of your tech will be kicking out additional heat that you just don't need. Make sure you switch off appliances you aren't using and don't have lights on if there is enough natural daylight. It's a perfect time for a salad at lunch, as cooking will also increase the temperature in your home.
Keep Your Windows Closed
It might seem counter-intuitive, but keeping your windows closed during the day will keep the cool air in and the hot air out. You can open your windows later in the evening if the air has cooled down. Also keeping your curtains closed will block out the heat and stop your room from turning into a sauna.
Avoid Coffee and Alcohol
Sorry to be a bore but caffeine raises your body temperature. Coffee and alcohol can also act as a diuretic and lead to dehydration. Keep that beer or glass of wine chilling in the fridge for a relaxing and rewarding treat after your hard work!
So let's raise a glass (of water) to the sunshine and pray that the lovely weather and happiness that it brings is here to stay for a wee bit longer!
Emma is the founder of In-House Health, a health and wellbeing company that uses a data-first approach to improving health, wellbeing, and financial outcomes for digital and tech companies and their people.
If you'd like an informal chat about how Emma can best support you with employee wellbeing then book a time that's convenient here