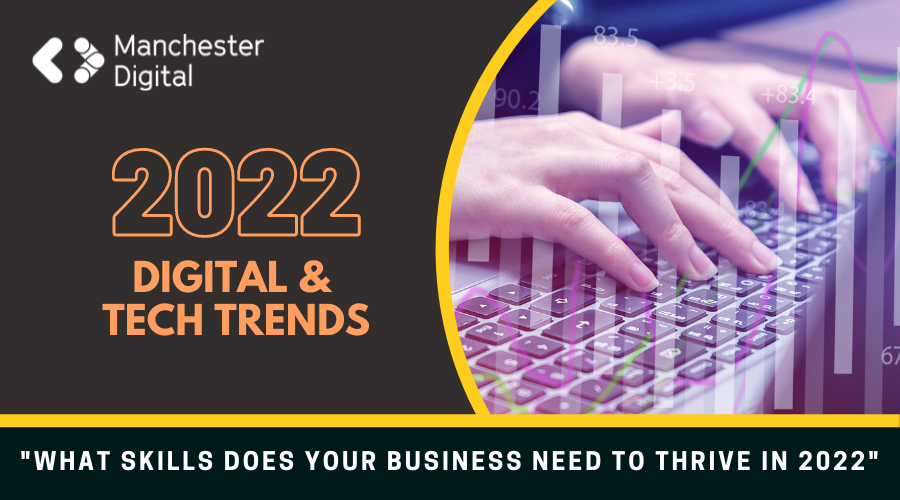 If there's one thing that we can confidently predict for 2022, it's that we'll continue to see a growing demand for specific technical skills across Greater Manchester's digital and tech sector.
Our industry is booming, accelerated in part by the Covid-19 pandemic, and with that comes an ever increasing skills shortage. It's an issue we know all about at Manchester Digital, and you can guarantee it will be one of the main topics of conversation at our Digital Skills Festival in February.
We're seeing more and more startups and scaleups across the sector, established companies are expanding and big names are choosing the region as a hub for their tech teams.
What's more, continual advancements in technology are driving the demand for even more niche roles that businesses need to fill in order to keep up with their competitors.
Software development, AI, DevOps, AWS, agile, data analytics, cybersecurity...there's a long list of skill sets that businesses need, and in some instances struggle to retain - especially since the move to remote working has meant geography is no longer a restriction for highly skilled professionals when it comes to new opportunities.
To help us understand what skills shortages exist across our growing sector, we spoke to a selection of our members to find out what skills they need for their businesses to thrive in 2022.
What skills does your business need to thrive in 2022?
Renee Hawkins, Chief Operating Officer
We've all seen the headlines for the 'war on tech talent' and the 'great resignation'. The technology talent market is hot and there are a number of in high demand skills. In general, anyone with strong Java development skills and any agile experience will be in demand.
Technology makes it easier for organisations to collect and store data, for businesses to leverage to make better decisions or create more tailored experiences for their customers. Data science, data engineering, artificial intelligence and machine learning are skills that are critical to spotting trends, extract knowledge and insights from data.
More companies are migrating to the cloud to reduce costs and to provide scalability, better collaboration and business continuity. DevOps, infrastructure and familiarity with various cloud platform services (Amazon Web Services, Microsoft Azure and Google Cloud Platform) are advantageous skills to have in your repertoire.
UX (user experience) design is an in-demand skill set to engage and retain customers in a world of increasing competition. Skills include visual design/communication, user experience research, information architecture and interaction design.
Every corporate executive has been briefed that cyber security must be a part of business planning. Even the big tech giants are vulnerable to cyber-attacks; in July 2020, Twitter suffered one of the biggest cyberattacks in its history. The 17-year-old hacker breached a number of high-profile accounts to promote a cryptocurrency scam. Cybersecurity skills include secure architecture and application development, vulnerability testing, threat modelling and incident reporting.
If you're curious about what it's like to work at Thoughtworks, then register for our monthly newsletter. Once a month, we'll send an email with relevant job opportunities, invites to career and tech events near you, and your first look at fresh content like Technology Radar and books from some of our thought leaders.
Lauren Sears, Recruitment Manager
Skills that are high in demand at the moment are technical skills, particularly those of Software Engineers/Developers. Not necessarily at a junior level as the popularity of coding bootcamps, particularly in Manchester is growing, however there seems to be an increasingly high demand, particularly in the North for senior .net developers. Large companies seem to be throwing huge salaries at their staff and increasing notice periods to prolong the exits of leavers. This means that skilled developers can leverage large salaries and competitive benefits package, as well as being attracted to contracts with lucrative day rates.
However, we are also seeing ex-contractors crave the security of a permanent contract, given that the economy's outlook remains somewhat unstable in the wake of Brexit and the ongoing pandemic.
One thing organisations have in their arsenal in the "War for Talent" is their culture. AccessPay; with our Glassdoor rating of 4.5 prides itself on our autonomous, diverse and flexible approach to work.
A high salary isn't always the end goal, especially now more than ever, if your organisation isn't supportive, flexible around working location or hours and generally a pleasure to work for, do you really want to be spending 50% of your waking hours during any given working day dedicating your time to it?
Jo Graham, CIO
Unless there is a seismic shift in the current global skills shortage the situation in 2022 will be much the same as 2021, where we have seen an unprecedented shortage of skills across all disciplines. There is not one area I would suggest is currently in a supply v demand optimum. Demand definitely skewed!
In anticipation of new skills required and needed in 2022, I anticipate extra demand in the data space as business starts to move from the pandemic focussed projects to more focus on AI/ML and data led efficiency programmes.
Looking ahead, I believe that the current situation has brought the need for businesses to create their own talent pipeline into sharp focus. Smart businesses are investing in early careers and apprenticeships and internal progression, as an alternative to competing in this very challenging competition for talent.
Sophia Bingham, Talent Acquisition
In 2022, we believe that the most in demand skills will be a good understanding of developing REST APIS and other related best practices in developing high scale web systems. Other key skills in demand will include creative and analytical thinking, originality, and innovation.
New skills that will be needed in 2022 will connect with entrepreneurial qualities, and those self – starters who are always looking for a better and more efficient way of working. It will also be crucial to understand cloud computing principles and frontend web technologies such as JavaScript. These skills will be needed in a modern agile environment, with attention to detail of proactive and data-driven results.
The global pandemic has highlighted the need for digital and digital technologies. Across the FinTech industry in 2022, we could notice an increase in demand for digital marketing roles, alongside software development roles. The talent acquisition in relation to these types of roles will need to focus on the candidates who are resilient and possess a willingness to continually learn.
The development of skills in 2022 will be connected to the technological drive which we have seen post Covid-19. These skills will be developed at a fast pace and the roles the industry creates need to be continually reviewed to fit the hiring criterions and the growing demand.
Matthew Walker, Client Business Development Director
With the North's ever-growing tech scene, we recently made the decision to open a dedicated Innovation Hub in the city to tap into the region's talent and make the most of its world-leading universities.
By mid-2022 we have set ourselves the ambitious target of growing a 100-strong team of highly skilled cloud, data, delivery and development specialists, which we expect to increase to 300 team members by 2025. The Innovation Hub is part of our wider commitment to upskilling people across the North of England and growing Manchester's already expanding repertoire of tech talent.
We firmly believe our Innovation Hub has the potential to be a nationally recognised centre of excellence. We will use our existing expertise across our business to upskill others in the region to become experts in the delivery of digital transformation, working alongside our partners which includes Amazon Web Services (AWS), Google Cloud, Microsoft Azure and Guidewire.
As Client Business Development Director for the Innovation Hub, I've been tasked with bringing in specialists into GFT's retail banking team to capitalise on Manchester and the North's expanding fintech sector.
Jack Such, Technology Recruitment Manager
What Skills Will be In Demand in 2022
The most in-demand skills in 2022 will revolve significantly around the modernisation of technical stacks. We've witnessed a shift this year of candidates moving jobs to be involved in the most modern environments possible. This shift will inevitably lead (and we are beginning to see this) to companies losing their employees to businesses who are more agile in their approach. It's already happening that old school tech houses who base their infrastructure on aging technology are unable to find talent. With the shift in many start-ups / scale-ups to a serverless JavaScript stack, there is excitement in the air for candidates and it's inevitable that the skills demand will follow as businesses try to keep up with the shift in candidate expectations.
Here at The Candidate, we are fully expecting the surge in serverless cloud technologies to continue to boom alongside more niche frameworks across hands on roles. The movement has already begun in that we are seeing many engineers move from traditional Microsoft technologies to bespoke frameworks such a Node, and with more and more investment flowing into companies with JavaScript at the core of all they do, we expect this to continue.
What Roles Could Be Created In 2022
An absolutely vital role which we see to evolve in 2022 is Product / Project Management across the software development life cycle. Traditionally, project & product management has always been about creating a structured and organised avenue in which software projects can be brought to life. As we're witnessing the shift in UK investment towards Tech (more and more – of course there has always been investment in tech but not at the scale we're seeing today!), we expect more and more hands on technical engineers will move into product / project management in order to help transpose their knowledge into real commercial management of projects.
Start-Ups & Scale-Ups are in desperate need for passionate individuals who can both help manage their technical growth, but also keep a weathered eye on their commercial growth and this will leverage towards a huge opportunity in this market.
How Will Skills Develop In 2022
2022 is set to be yet another record breaking year for Tech. Here at The Candidate, we are expecting Tech in 2022 to follow suit for the 'Great Redundancy'. What we mean by this, is that we've seen a wave of new talent join the industry in 2021 – many of whom find their first role with the ideology of growing and learning. As skills across tech are modernising quicker than business can shift their infrastructure, we are heading towards an environment where if you are not sustainable and technology based, you'll lose your talent to a business who is.
If you are not creating an environment in which modern technology can be implemented, you'll lose your talent to those who are. To put simply, technical skills will continue to thrive and excite those across the industry. The most advanced companies will create spaces in their operations for individuals to challenge their needs and create a fully serverless, modern framework based technical stack – and those who don't will fall victim to the rapid modernisation of talent across a corporate structured employment world