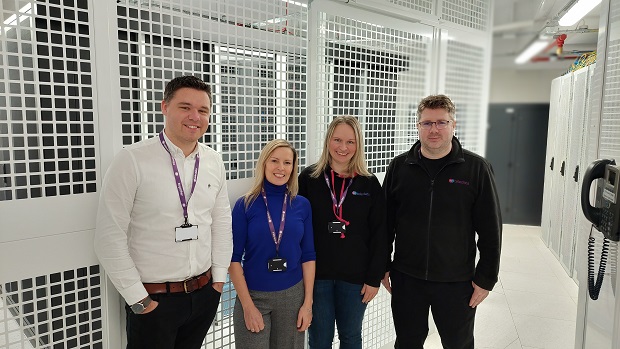 Following its acquisition by Datum Datacentres in September, Manchester data centre operator Teledata has started the new year with the announcement of four internal staff promotions.
Seb Graham, former Commercial Development Manager for Teledata, has been promoted to Group Head of Sales for the Datum Group.

Vicki Edgley, HR Manager for Teledata has taken the role of Head of People for the Datum Group.

Anna Nicholls, former Head of Marketing for Teledata has been promoted to Group Head of Marketing.

Lee Veitch, Teledata's Data Centre Supervisor has been promoted to Data Centre Manager at Teledata.
These internal promotions follow two new hires for Teledata in the last month - Luke Carter joined the business as Infrastructure Engineer in December while Kane Friend has been hired as 1st line / 2nd line support engineer.
Further key department heads at Teledata will be taking on critical responsibilities as the group continues to grow its service and support portfolio to maximise combined capabilities. The group will be making further announcements to this end as it evolves further along its 2023 roadmap.
Teledata was acquired by Farnborough-based data centre provider Datum Datacentres in September. This marked the first regional bolt-on acquisition for Datum as part of its regional expansion strategy. Datum was acquired by Funds managed by the UBS Asset Management (UBS-AM) Real Estate & Private Markets business (REPM) in September 2021 with the intention to expand into key regional markets.
Commenting on the promotions, Matt Edgley, Director for Teledata said: "Teledata's acquisition by Datum Datacentres presents a huge opportunity for growth, both at a business level and for our team. As we continue to expand our operations as a group with a national presence, it's essential that we have the right people in roles. We're proud to announce these very well deserved staff promotions as we continue to build an outstanding team of people that is dedicated to providing enterprise-class service."
Dominic Phillips, CEO of Datum, added: "I'd like to extend my congratulations to Seb, Vicki, Anna and Lee and wish them all the best in their new roles. We're excited to be heading into 2023 as a group - our new national presence will allow us to better serve our partners and customers across the UK. There are exciting times ahead for the Datum Group and we're delighted to have the Teledata team on board as we continue with the next stage of our expansion plans."
Datum Group will build two new data centre facilities over the next 12 months. Scheduled to come online early 2024, FRN2 in Farnborough will provide 600 footprints on the ground floor, with scope to double this capacity on the first floor. MCR2 at the Teledata site in Manchester will offer up to 25,000 ft2 of space, 4MVA of power and over 1,000 new server racks.