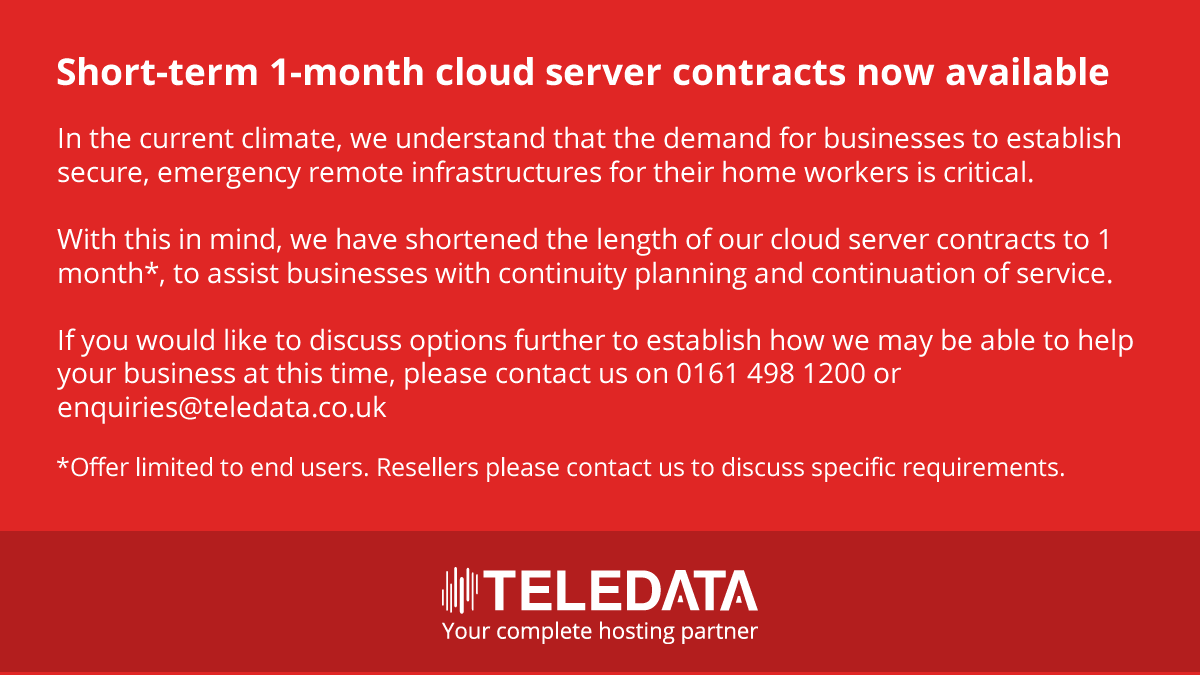 Manchester data centre and cloud hosting provider, TeleData, has reduced the length of its cloud server contracts to 1 month for any business that requires a short term contract in light of Covid-19.
Matt Edgely, TeleData commercial director said; "In the current climate, we understand that the demand for businesses to establish secure, emergency remote infrastructures for their home workers is critical."
With this in mind, we have shortened the length of our cloud server contracts to 1 month, to assist businesses with continuity planning and continuation of service."
Based in Wythenshawe, TeleData provides colocation, cloud hosting, workplace recovery and data centre services to businesses across the UK. The firm has recently invested a six figure sum into its CloudActiv platform, which provides customers with truly resilient cloud hosting and effective disaster recovery of business-critical data and applications, as well as £1.5 Million into energy efficiencies and £125k into advanced security technologies.
TeleData's solutions are designed to enable organisations to protect their applications, data and online presence from the damaging effects of downtime, and to make the most effective and efficient use of technology with secure and scalable hosting platforms tailored to business critical needs. The building has some of the most sophisticated security of any data centre in Europe, with an on-site police-linked, NSI Gold Approved, BS5979 certified control room and alarm receiving centre making TeleData unique in the UK.
For more information, please contact TeleData on 0161 498 1200 or enquiries@teledata.co.uk; or find more information on the TeleData website here.