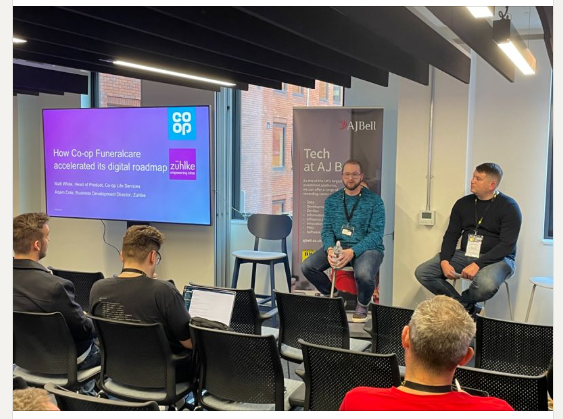 Tech consulting and engineering firm Zühlke UK today announced that it has been appointed to provide a dedicated software engineering team to support the Co-op's 110+ Engineering team.
The Manchester-based Co-op Group is an £11.5 billion revenue business with four units - food (UK's fifth largest retailer), insurance, legal, and funerals (UK's largest funeral provider) - each with a range of applications, some very new and some legacy.
The central Co-op engineering team provides high-quality support, maintaining and developing this wide range of applications across the business units.
The appointment, worth a minimum of £8 million over three years, will see the Co-op's engineering capacity increased by at least 25% through Zühlke's global delivery centres based in Porto in Lisbon, Belgrade in Serbia, and Sofia in Bulgaria. This team, which will be entirely dedicated to working together with Co-op, will initially be for 25 core roles providing software engineering, platform engineering and quality assurance.
Gary Wardley, the Head of Engineering at Co-op said: "The Co-op is going through a really exciting phase of growth. Co-op Engineering has seen a demand increase of 30% this year alone in responding to Customer and Member needs of digital capabilities, meaning we needed the ability to flex our internal capability and capacity to deal with the said peaks in demand. We constantly strive for improvement, aiming to enhance quality and achieve delivery excellence by adopting innovative solutions that give us a competitive edge. To achieve this, we reached out to several major tech suppliers, seeking proposals that would help us control costs while offering something unique."
Wardley highlighted the positive impact Zühlke had on their Funeralcare business over the past two years.
We find Zuhlke likeminded and their engineering excellence mirrors our own capabilities in a way that delivers on a solid partnership. Additionally, Zühlke seamlessly integrated with their teams, demonstrating their expertise and professionalism.
The exceptional quality of their work made Co-op comfortable with transitioning from a specific project client/supplier transactional relationship in to forging a closer partnership with Zühlke.
Adam Cole, Director of Business Development at Zühlke, said:
"The Co-op has an incredible history that drives a huge sense of purpose at the business to deliver for its members and colleagues. Like other large established businesses, it has a wide range of complex software engineering needs and the challenge of having to continuously innovate while integrating numerous core and legacy software systems.
Creating fantastic and innovative solutions despite such complexity is within our comfort zone, and Zühlke is delighted to be able to partner and embed itself into Co-op's engineering team."