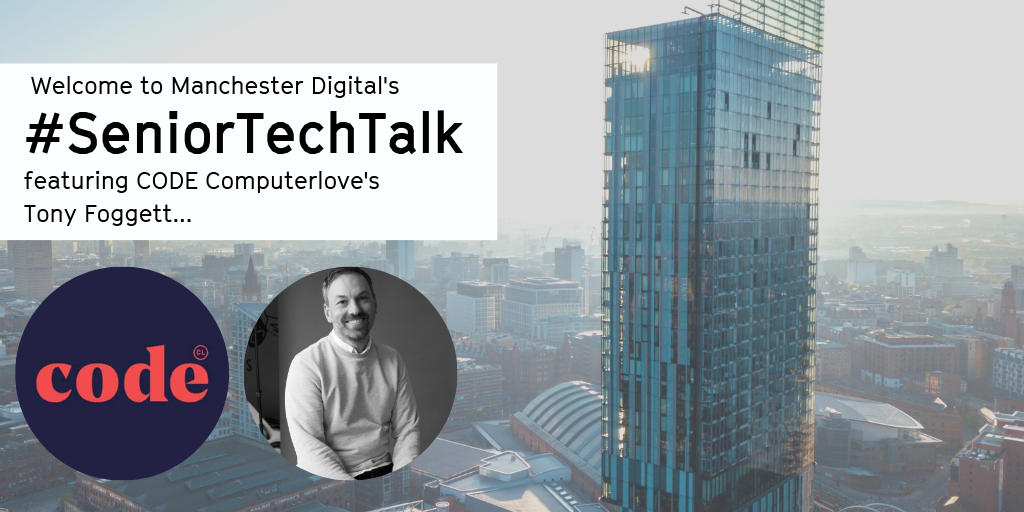 Code Computerlove is one of Manchester's most iconic tech companies. That's why we wanted to spend some time with their CEO, Tony Foggett, to find out a little bit more about the company.
In this fascinating interview, Tony talks about the biggest challenges in the last twenty years. He also describes the culture and capability that exists within the organisation, the importance of Manchester Digital's #DigitalFutures programme and what he would change if he could do things differently….
Could you introduce yourself and your role within, within the business?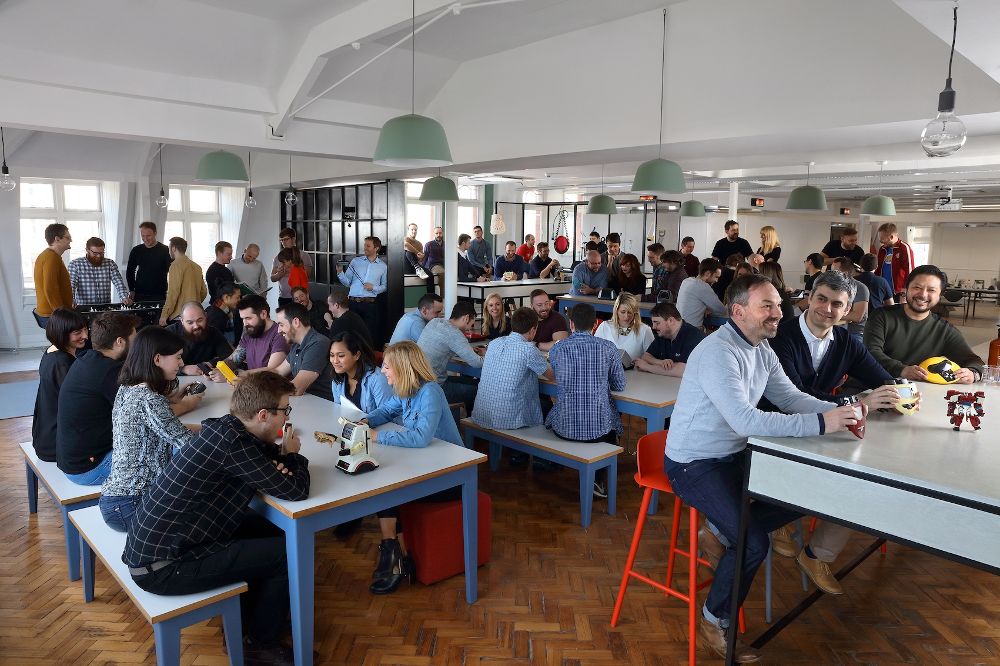 I'm Tony Foggett, CEO of Code Computerlove. Obviously, my role has changed throughout the years we have been going. But now, my main focus is on the external side of Code, looking at things like direction, where next, profile development and representing Code across the industry, too.
What were your predictions when you first set up CODE in 1999?
In '99, the three of us could see that the wind was blowing towards a future of digital, but we couldn't predict the scale. There was no such thing as a smartphone, YouTube was in Beta, social media wasn't even on the horizon at that stage.
We hadn't had web 2.0 but what you could see was the way that technology was changing and shifting the way people did business. Whether that was streamlining processes or improving customer service; we did a lot of laptop sales aids in those days; introducing things that supported the salesperson by putting assets at their fingertips.
We knew, instinctively, that digital would make a big difference in the way that people did things. Could we have ever predicted the scale of that? No. We knew we wanted to be digital specialists and that was at a time when we were the outliers and digital was seen as that thing the geeks did. We could see it would be more mainstream.
In these 20 years, what would you say are the biggest changes that you've seen come in?
One of the big things is that digital has become life; it's moved from the outer rim to part of our day-to-day. So much so that if you leave your house without your phone you feel uncomfortable. It's so integral to our lives now couldn't do without it. And you forget that we started Code in an era where we totally could.
I think one of the interesting things that's massively changed for us is the level of customer centricity, and understanding of the importance of meeting consumer needs. When we set started out, it was an era of advertising and marketing, where it was about injecting a message into people's heads rather than looking at consumer's need and understanding how to meet them.
Digital, places control in the hands of the person with a button – from that moment onwards, you then had to think about what it was they were looking for, what they wanted, what they're looking for to get what you wanted done.
There's a very fundamental difference there.
How have Code adapted to meet these changes and evolve over the past two decades?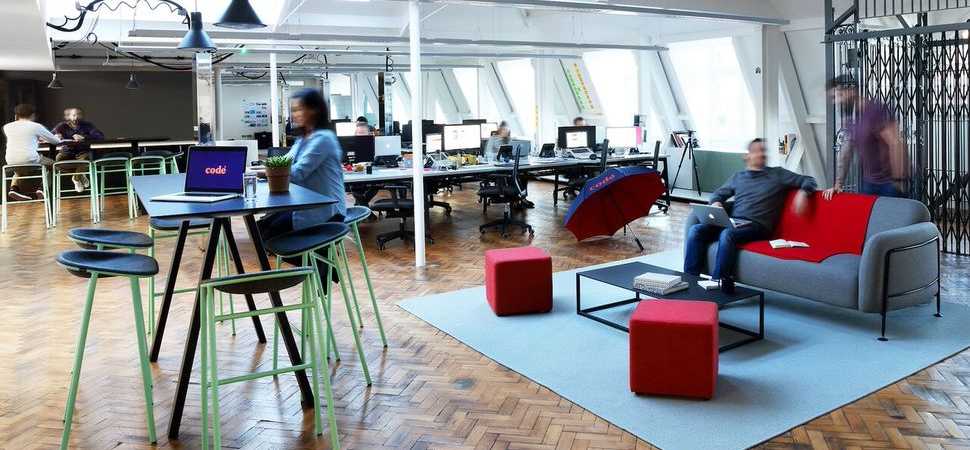 Code has changed regularly and often. We started out building CD-roms in 1999 and I suppose by 2001 we were almost entirely building websites and that was in an era where people knew they needed websites but not why.
So one of the big shifts for us was moving from a place where we were fascinated with producing things to actually understanding how we can make an impact with those things.
That's what has really stood Code in such good stead throughout the rest of its life – our ability to understand how to make an impact with the things that we're creating and how to deliver a return on investment for our customers, through digital.
What actions have you taken to meet those challenges?
I think one of the bigger shifts has been looking at the different ways that we deliver what we do.
More recently, there's been much more emphasis on the consumer journey, understanding the relevancy of technology or digital in their lives. And then using that to leverage value for our customers.
Again rewind 10 years, and our clients were saying we need a website. We need to get out there. And we were facilitating that. Now it's very much that the job we do is much more research-led. Helping them to understand their customers, understand what their customers need and want, and the way that they can leverage those moments to achieve what they're trying to.
It feels like we are at a point of change with some of the emerging technologies. Companies have an instinct that they should be looking at AI, they should be doing more of the data, they should be looking at machine learning, but not necessarily knowing how to, would you say that's correct?
Yeah, I think that's been the same story with technology adoption over the last twelve years, it's just that the technology is changing. Each new technology that comes along, the people at the front of the curve are finding more fascinating than the consumers. We're always asking 'what's the opportunity here and can we leverage that opportunity to get ahead of our competition?'
The problem is when we start investing heavily in actual platforms without testing whether those decisions are right.
This line of thinking has led to the emergence of more of a product and innovation mindset in Code and is why we no longer see ourselves as an agency but as a product and innovation company.
That's because we bring a test-and-learn and an evolution mindset, which means we can limit the amount of exposure a client has around developing a product or a new technology.
Actually, finding there is no opportunity is a good answer too. Because it means we've saved the client a lot of money in wasted platforms. In my experience, I've seen a hell of a lot of money wasted on massive products or platforms that no longer exist.
Do you believe this approach encourages innovation?
Very much so, and for many reasons.
For one, it democratises the process. If we're running a design sprint with with a client, we're involving them in that process alongside our designers and developers. So the ideas come from lots of different places. That means it's much more collaborative.
Plus, the sprint itself is designed in such a way the it cuts a lot of waste and inefficiency.
We also have user-testing labs in-house where we can gorilla test ideas for low cost in the hands of real users and get feedback immediately.
All together this means you often get to an outcome much faster than the old way of doing it.
Our Agency Insights report found that 34% of agencies said the recruiting talent was their biggest problem. Would you say that's the case of Code?
Yeah, I think so but not in every discipline.
Code is a talent business. So the quality and capability of the people that come through the door directly relates to the quality and capability of the organisation.
Although Manchester has enormous potential because of the critical mass of talent here. And businesses come here because they think there's this wealth of talent, but we're all fishing in the same pond.
I've always said, we're not just trying to catch up with the demand of new entrants or new technologies or the number of businesses in the region. We're trying to catch up with the digital revolution that's happened over the last twenty years in which digital has become ubiquitous in our lives.
At the same time that the pipeline hasn't been growing anything like the needed rate.
This threads back to why Manchester Digital is so important. Programmes such as Digital Futures – a programme aimed at getting more young people into the sector is really key because digital, believe it or not, is still very new even within our school system as a career path. School and university education pathways are slow to change and we're still working with a system that is, ultimately, not in line with what's needed in terms of the scale of supply of talent or the speed in which new roles are created.
The importance of involving industry in that is two-fold. In influencing the educationalists involved in that pipeline is helping them to understand what life is like in the industry. But also, industry involvement can bring the career opportunity to life in the minds of those people who might be considering, or more importantly might not be considering, a career in tech.
This is important, particularly when you come to gender. I think what drives a lot of the gender issues in terms of lack of women in our industry is the perception of a career in digital at that early age while they're making those early choices around it.
That's why programmes like Digital Her are so important. We need to use industry managers to show young people, one-by-one if needs be, this is what it's like to work in tech, not those god-awful IT classrooms they're used to.
Away from skills, could you describe the culture here at Code and how you attract new staff?
I think our culture was formed when there were only three of us and we've stayed true to a really simple idea of pursuing brilliance through collaboration and continual improvement.
That's how I describe the culture here.
We're a business that's built on talented people coming to a place to do the work of their lives.
Ultimately I see my job as creating a platform that allows people that opportunity. What we've focused on is creating the right culture, processes, space and environment for people to work well together, collaborate well, to learn and improve themselves, and to stay focused on the quality of output that we need as a business.
Generally, this is an industry of craftspeople people who enjoy the process of creating things, of using their knowhow or learning. Our role is to create the right place for that.
If you do this well, you tend to attract good people and then you tend to do good stuff and your clients are happy, word gets out to new clients and old clients stick around too.
There's a really simple business model that sits underneath all this – the virtuous circle
In it, you try to get the best people into the business, keep them motivated and focused on producing quality work.
You create a great experience and product for your customers and so your customers keep coming back and they recommend you to other people.
And then as a business, you end up with profitability and growth, fame and fortune, which attracts better people that produce better work so you get better clients and so it goes.
You'll find this model behind every most successful and long standing service business.
I mention long standing because this philosophy is a long-term game. There is a short-term game which is you stick a load of people in the room and you work them like dogs and you just focus purely on profitability. The problem with that is you can't rev the engine forever. What's important as a business owner is that you create value for the staff. This will in turn create value for the clients and that will create value for you and the business.
What has been the impact of joining MediaCom North?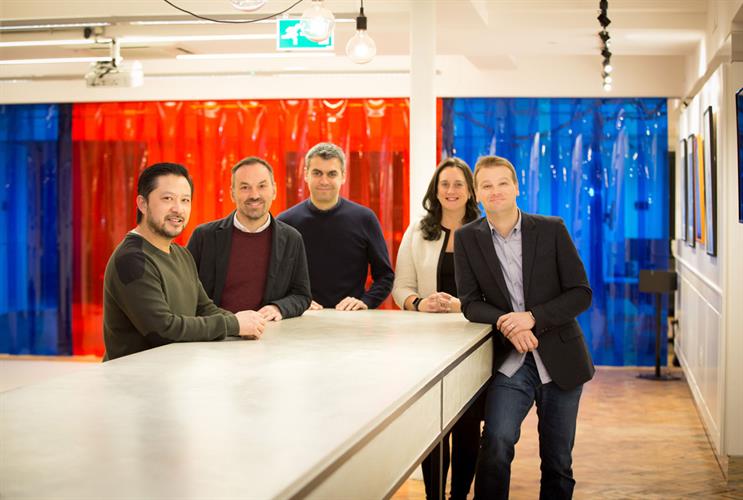 It's opened opportunities into different kinds of organisations. We recognise our strength is in working with organisations where the outcomes matter. When they spend a lot of money on media, they tend to want to get a return on that investment and so they're the ideal client for us – we've been introduced to some great opportunities as a result of that.
The benefit is that we're now able to really influence the entire end-to-end journey – improving performance via our conversion rate optimisation team or our analytics team, or our UX function. It all works really well in tandem with a media organisation as we can deliver improved return on investment for the millions they may be spending on driving people to a site.
From a cultural perspective, we do different things but like us, inherently, they are very focused on outcomes and understand the relevancy of talent and the need to look after that. There's a nice cultural fit.
What does Code have on the horizon for the near future?
The opportunity for Code is what we can do as a group alongside MediaCom North. I think the first couple of years of this new venture has been about steadying the ship.
What we haven't really done yet is to start to create the end-to-end products and an offering that we can put together when we bring all our capability together. MediaCom's data capability, for instance, is frightening and when we bring that together with our insight and conversion rate optimisation research, there's quite an exciting partnership ahead.
As well as that its enjoying the benefits of the new, product-focused mindset we've focused on creating – introducing processes that are very much the prevailing approach the industry is moving towards.
The interesting thing with all this is in the growth in internal capability. What we're finding is that the role of the digital partner is not about taking something away and doing it in the corner and then coming back to show it of; it's actually supporting the client's internal teams in being more effective in the way that they develop what they do.
Working alongside them, their teams working here or maybe us just providing a layer of that capability and augmenting the people or teams that they've got in place. It might be about working at different stages of product development. They might be looking after their core product suite, but we might be helping them to look at the next set of products that they need to evolve and just doing the innovation piece for them.
As such, we're just about to launch a standalone design studio focused on that innovation piece. And, that decouples more of a development capability we have here and that fits alongside the client and their teams.
We're fortunate enough to be one of only six businesses in the UK on the BBC design roster.
For them, we don't do any development, instead we support them with innovation part, working with their own teams. We're also looking to launch a similar performance studio, too.
It's all being done with the understanding that the old ways of working are over, really. Organisations like ours need to need to work out which bits they can do better than everybody else – that's why a client wants to come and work with you
Do you think Manchester's agencies should be more collaborative?
I definitely do. It's important, as an organisation, for you to know what you're strong at and to stick to that. When opportunities come up that take you into places that aren't your areas of strength, then you need to find other people to deliver on that.
I would never advocate doing things you know that you're not confident in. This is what I like about what we've created with MediaCom North, really because I believe in the idea of collaborative specialists. That's fundamental within the culture that we've set up from the beginning.
What made us good was we were specialists in our different areas but we were naturally good at working with one another and now we've scaled that up to a company level. If you have respect for one another's specialisms then you get much, much better results.
Finally, over the course of 20 years, is there anything you would go back and do differently?
I wish we developed our own products earlier. We've been building products for other people but something like the success of The Higher Lower Game we created a couple of years back is far more profitable than being a service business.
And actually, you know, in 2001 we were developing our own content management systems that we didn't productise and sell. Also, in 2003, I think we developed one of the first social media platforms for a brand in The Huggies Club – it just hadn't been done before and we didn't see it as something that could have been turned into a piece of software. I think if we had productised some of the innovation that we've developed for other people, then I wish we'd done that.
That said, it's been a really wonderful ride developing and continually innovating on for different organisations and new challenges.
Want to feature on our site?
Get in touch with thom@manchesterdigital.com if you want your company featured on our website, social and newsletter.