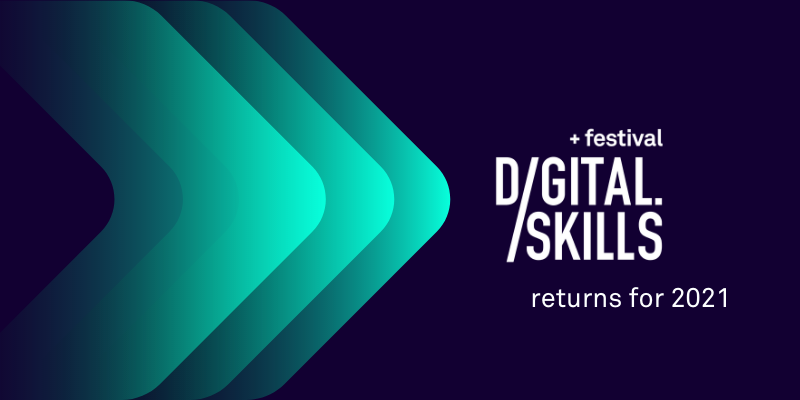 The Digital Skills Festival is one of the important dates in the Manchester Digital calendar, and we're delighted that the week long event is set to return in 2021.
The festival attracts leading industry professionals, educators, students and tech job seekers along with well respected industry thought leaders and innovators. All events are completely free to attend, whilst Manchester Digital members have the opportunity to sponsor or exhibit a stand.
Digital Skills Festival 2021 will take place between 8th February and 12th February, and for the first time will be held entirely online. Whether you're an employer looking to connect with some of the region's top talent, a professional working in the space looking to enhance your knowledge or a jobseeker/student looking to find out more about the careers on offer at some of Greater Manchester's leading digital and tech companies, we're confident that 2021's event is going to be our biggest and best yet.
The Agenda
Held across five days, the agenda for the Digital Skills Festival 2021 will be as follows:
Monday 8th February - Skills Conference
Tuesday 9th February - Experience Day
Wednesday 10th February - Talent Day
Thursday 11th February - Professional Development Day
Friday 12th February - Professional Development Day
To find out more about what's planned for each day, click here.

How To Get Involved
Businesses
There are several ways that businesses can get involved with the Digital Skills Festival, ranging from sponsorship packages or taking a stand at Talent Day to sending your employees to learn more about the latest trends and developments within the sector.
If you would be interested in sponsoring the event, we have several packages available to suit any budget. Download a sponsorship brochure here or for more information phone 0161 238 8642 or email kate.wilson@manchesterdigital.com.
If you would like to meet some of the region's top talent looking for new opportunities and the digital and tech stars of tomorrow, register your interest in taking a stand at Talent Day here. Each year over 1800 graduates and job seekers attend, and this year we're anticipating more than ever.
This year's Digital Skills Conference is set to cover topics such as employment post-COVID; what the tech industry needs to bounce back; growth areas and some emerging industry trends, along with the launch of our annual Digital Skills Audit. Tickets for your employees are free and can be booked here.
The Experience Day will bring to life the world of work for Greater Manchester's young people. If you're interested in hosting a session to give schools an experience of what it's like to work in digital and tech, whilst helping to build the future talent pool, let us know here.

Job Seekers and Students
Talent Day is the largest specialist careers fair in the North, giving you the opportunity to meet 40+ of the leading digital and tech businesses in the Greater Manchester region with upwards of 250 vacancies on offer. Whether you are nearing the end of your degree, found yourself looking for a new role or considering a switch to a career in digital, Talent Day is a fantastic opportunity to take the next step in your career. It's free to attend, and tickets can be purchased here.

Industry Professionals
If you're a professional working in the digital and tech industry, there are several ways that you can be part of the Digital Skills Festival. Monday's conference is free to attend, and you can join other professionals alongside education experts and policy makers to discuss and share strategies for tackling the skills issues facing our industry.
Thursday and Friday's Professional Development Days will consist of several workshops covering topics such as leadership, AI for business, accessibility, innovation, managing culture, data driven businesses, google cloud, security and much more. If you want to hone your skills, knowledge share and learn from your peers or you're considering a career move, then these free workshops offer a fantastic opportunity to do so. Full details on these sessions will be released soon, but for now you can register your interest in attending and we'll send you more information as soon as it's released.

Schools
If you represent a school or college in Greater Manchester and would like to get your students involved with our Experience Day so that they can get a better understanding of what it's like to work in the digital and tech sector, please call 0161 238 8642 or email josh@manchesterdigital.com.
For more information on the Digital Skills Festival 2021 click here, or email thom@manchesterdigital.com with any questions you may have.