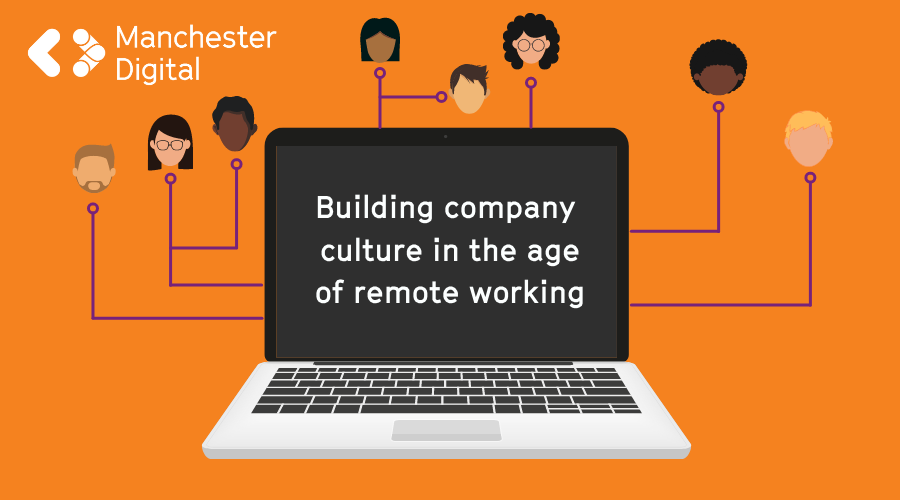 Whilst some companies in the digital and tech space had made steps towards embracing remote working pre-Covid, the events of the past year have led to a huge shift in the way we work and has seen many businesses in the sector operating on a fully remote basis for the first time.
With company culture at the heart of how many businesses now operate, the sudden move to remote working led to companies having to quickly address the problem of building and maintaining a company culture that reaches employees in various locations who rarely or never meet in person.
To understand how some of our members have tackled this issue, we've published a series of editorials that highlight the different approaches these businesses have taken to ensure their company culture thrives whilst their teams work remotely, taking into account onboarding new team members, health and wellbeing, socialising, new tools and technologies and thoughts on what the future may hold.
Featuring contributions from Access, AND Digital, Apadmi, Chalkboard, Code Computerlove and Infinity Works, we've collected some of the highlights from these features below, plus links through to each article.
Recruitment & Onboarding
"Remote recruitment has been successful - we have recruited from across the UK and beyond, and are currently looking further afield for specialist roles. The strategy is actually enabling us to grow far quicker than when we had a single base in one city to work from."
"We use an internally built pre-onboarding tool that involves regular communications, an intro to their buddy, profile creations, pre-joining tasks, sharing profiles of other new joiners, bootcamp schedules, and FAQs. All of this is aimed at establishing early connections, build a community, and overall better prepare our new ANDis ahead of their Onboarding journey. Starting a new job is always an emotional time, especially remotely. These little touches remove uncertainty and allow more space to focus on the exciting journey ahead."
"After a new member of the team starts, it's also good to use checklists, pre-recorded videos, etc. to guide and automate the first week. That's not to say take the human element out of it. Use the lists and videos alongside meetings with others in the team, and perhaps a team coach/buddy, to make onboarding repeatable and effortless. That way, everyone gets a consistent onboarding experience, and nothing important is accidentally missed."
Health & Wellbeing
"Through our mental health champions, awareness weeks, and allowing people to share stories and be vulnerable, we're helping build a culture that has a sense of community – one that tries to be accessible and inclusive."
"To improve the wellbeing of our teams, we've introduced mindfulness sessions with an internal mindfulness coach, weekly yoga sessions and moved our Cross-fit sessions to Zoom. It's important that we've continued to promote activities outside of working hours for our teams as it helps to stimulate personal growth and alleviate stress - whilst also forming new friendships and passions outside of the 9am-5pm routine. We're all spending a lot of time at home at the moment so anything we can do to help our staff to feel more at ease, we've put it in place."
"As well as being able to operate effectively as a team while working from home, our overriding concern was for our people, for their wellbeing; so we devoted a huge amount of time and energy into introducing daily team catch ups, weekly one to ones, online social gatherings and monthly company updates, all of which we still do today - and will continue to do so indefinitely - regardless of any return to the office programme. Why? Because it works and because I do believe we will never be a purely office-based culture again. Our culture has gone virtual, not through 'chance', but because we have been able to successfully create this culture."
"We invited several of our Mental Health Champions to Mental Health First Aider training to give them the tools to help people who might be struggling. We use our messaging service to do 'Mental Health Check Ins' with people and ask how they are doing. We launched a 'Wellness Action Plan' which people could use to capture how they are doing and what support they need from us."
Socialising
"Now that we're all working from home, we've noticed that it's easier to forget to take breaks. By setting up Whereby rooms, we can now hop into a virtual space whenever we want and 'grab a drink' with whoever is there. The unpredictability is nice and familiar — just like stepping into the office kitchen when you don't know who will be there."
"We've also maintained the social aspect of Apadmi Life with themed nights across our social calendar, from cocktail making to big prize bingo, gin tasting to Apadmi's own version of 'The Chase', maintaining the social aspect of our community has always helped us all to feel more together whether remote or in 'real life'."
"Team socials would normally be focused on games, food, and laughing. Rather than the Friday drink and catch up in the Clubhouse, we opened a drop-in Zoom call and asked everyone to bring a drink and have a natter about which serial killer documentary they were watching that weekend.
We set up 'Bubble Buddies' for those who were living on their own and wanted someone to chat to or game in the quiet evenings, and also created 'AND Connect' where each month everyone receives the name of another ANDi to book in a social catch-up."
Professional Development
"Alongside the fun and games that we've managed to incorporate into our virtual form of Apadmi Life, we've also invested in our people and used these periods of down time to equip our teams with the latest skills and training. It's vital that our teams can continue to lead the way within digital innovation so we've supported them with courses such as Agile Scrum Training and gaining Microsoft and AWS Accreditations."
Productivity
"One major trend we're seeing is the greater adoption of agile working. This is not only increasing productivity but can also support mental health and reduce stress too.
A big win for agile in terms of aiding productivity is that it's all about shared visibility and that this drives closer collaboration within teams, compared to many other ways of working. I feel this is why it's being so widely adopted since employees have been working remotely."
Tools
"Our recent intake of Academy students embraced Discord, which is typically used as a communication method in the gaming community, to work seamlessly together on projects. It was a great way for them to gel and co-operate with each other in a virtual world. A few of them then ran a talk to the whole company about the success of using it and other people have now adopted Discord."
"With the use of agile-related collaboration tools, home working can arguably be as efficient as face to face ways of working. Teams use a shared online Kanban board to visualise work to be done, which is accessible by all and updated daily. Everyone is accountable and there is no need for additional reporting. Simple routines, such as a 10 minute daily check-in, keeps teams connected and focussed."
"One interesting choice we have made is to use Slack for basic real-time comms, but we use a product called Twist for more structured decision making in written form across the team. That's because we needed a way to keep track of individual decisions and Slack didn't do a good job of that, whereas Slack has a great ecosystem of apps and so it's useful for informational channels and team chat."
"Productivity has proved higher than ever, thanks to collaboration tools such as Google's Jamboard, Trello and Monday.com, which have helped us work together using the same engaging principles as we would do in HQ. We prefer laptops to desktops and aim to work as innovatively as possible with our clients so adopting new remote measures was pretty seamless, our teams were supported with the latest tech so they could work as they did in our HQ, at home."
Looking ahead...
"In reality, no one knows what will happen next and what the 'next normal' will look like,but it will take a brave company to go back to strictly being back in the office 9-5, five days a week, but at the same time, not everyone wants to go fully remote."
"I think for many businesses like us, it will mean offices will be remodelled. The office will be much more geared towards 'their purpose' – for meetings, for creative inspiration and socialising, for example.
With remote working and distributed teams, a single location becomes much less relevant to a business, but meeting up and collaborating is hugely valuable and desirable to most, so we will accommodate this when the time is right."
"We don't have all the answers but who does? This is a novel situation for everyone. We know if we keep making contact with our people, truly listening, and finding new ways to show them that we care that we can keep culture and engagement high. Most importantly, start planning for the return of after-work drinks, lunchtime catch-ups, coffee at our desk, beer gardens, and giving everyone you love a big hug."
Thank you to all of our contributors: Access, AND Digital, Apadmi, Chalkboard, Code Computerlove and Infinity Works.
Read each member's article here:
If you're a Manchester Digital member and would like to feature in future features, please contact thom@manchesterdigital.com. Not a member? Find out more about the benefits of membership here.