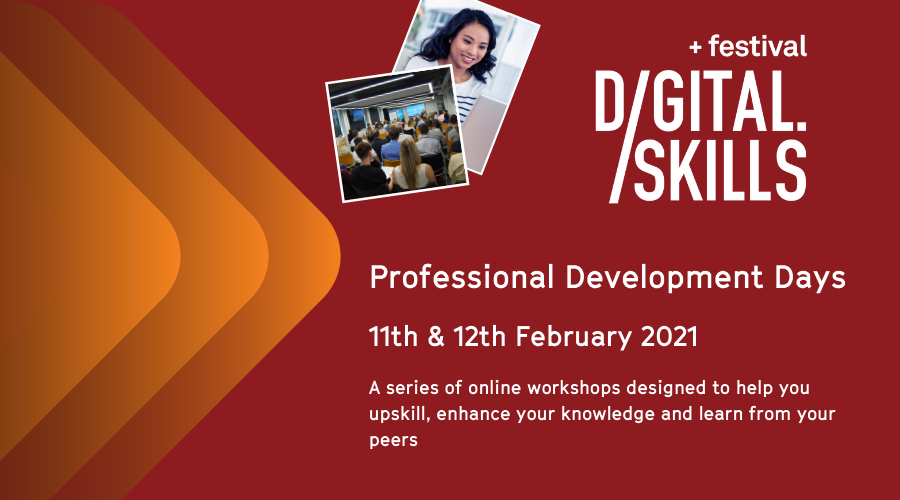 The Digital Skills Festival is set to return on Monday 8th February 2021, and as part of the week long event we'll be running two days of workshops, masterclasses and taster sessions aimed at industry professionals and delivered in partnership with Manchester Digital members.
The Professional Development Days will take place on Thursday 11th February and Friday 12th February, with all sessions delivered virtually. Sessions are free to book and open to any industry professional looking to hone their skills, knowledge share or learn from their peers. Students, recent graduates or those considering a career move into the digital and tech sector are also welcome to attend.
Sessions include:
Anti-racism: how we're creating a culture of change
Thursday 11th February 10.00 - 11.30
In this session, DfE Digital will be exploring the initial and key steps they are taking to become an anti-racist organisation and create a culture of change. Members of their team will be on hand to talk about the steps they are taking and answer any questions you may have.
Building Accessibility into the Development Process
Thursday 11th February 11.30 - 13.00
In this talk Rachel Breeze, Senior Developer at Sigma, will explore and demonstrate why accessibility is important for consumers and users; why the whole development team should consider accessibility and inclusion.
How to prepare for a job that doesn't exist yet!
Thursday 11th February 13.00 - 14.30
Join McCann Manchester, The Hut Group, and the University of Salford to explore the fast emerging digital and creative technology skills and find out how industry can support the next generation, preparing them for their exciting creative and digital futures.
Creating an Inclusive Workforce
Thursday 11th February 14.30 - 16.00
In this session Gillian Arnold of Tectre will talk through the elements required to create an inclusive workforce and what you can do to bring inclusivity to your technical workforce.
The role of a Technology Project Manager
Thursday 11th February 16.00 - 17.30
This session will be delivered by Codurance, who will provide an overview of the role of a Project Manager in the Tech industry, who may be suited to this type of role and hints and tips to start a career working as a Project Manager.
Introduction to Programming
Friday 12th February 09.30 - 11.00
Northcoders' Introduction to Programming workshop is the perfect starting point for anyone who is curious about digital. Delivered by Jonny Rathbone, Head of Engineering at Northcoders, all you need to attend this session is a laptop, an internet connection and some curiosity about code.
Taster Session - Adobe Animate
Friday 12th February 11.00 - 12.00
Animate is used to design vector graphics and animation for television programs, online video, websites, web applications, rich internet applications, game development and other interactive projects. Over this session run by Sync, Adobe trainer Alan Rankin will demonstrate how to use Character Animation for Infographics.
Structuring User Analytics For Success
Friday 12th February 12.10 - 12.50
User analytics is well established at Auto Trader but breakthroughs in the cloud, big data and streaming technologies offered clear benefits. This talk will describe how we formed a cross-functional cross-tribe team to focus on User Analytics and how we used Snowplow Analytics to move our capabilities on.
Democratising Data – How We Built A Self-Serve Data Platform
Friday 12th February 12.50 - 13.30
The Data Engineering squad at Auto Trader have been working to build a cloud-based data platform. Our mission was to empower us and our customers to make informed data-driven decisions, by democratising access to data and promoting a self-serve platform. We wanted to increase our capability for complex analyses and data-science-led data products, while making it easier than ever before for new users to access the data they need.
We'll walk you through the architecture of our data platform, and the various tools we're using to fulfil this mission, including Apache Spark, Databricks, Google BigQuery and Looker.
People-first Design Systems - with Dan Donald
Friday 12th February 13.30 - 14.15
Having some kind of design system has been increasingly seen as vital to any large website but how do you go from not having anything shared to a mature system? This talk aims to wander through our journey so far and illustrate some things you can try when you start or encounter a similar kind of thing.
Project to Product: How we are changing the mindset at musicMagpie
Friday 12th February 14.30 - 15.30
Ben Walker and Andy Dutton, Senior Product Managers at musicMagpie, will talk about the challenges of shifting the mindset of a traditional project-based organisation to one of Product and the opportunities and successes the new approach has brought.
How to get ahead in a career in tech
Friday 12th February 15.30 - 17.00
Dr Julian Bass, BCS Fellow, will be providing insight and guidance on how you can further your career, and gain recognition as IT professional through gaining Chartered Status (CITP and CEng).
Further sessions will be announced soon.
For more information on the Digital Skills Festival 2021 click here, or email thom@manchesterdigital.com with any questions you may have.